Live Wire: Montreal electronic feminist dream pop
When Raphaelle Standell-Preston moved from Calgary to Montreal around six or seven years ago to pursue music, she roomed for a time with Claire Boucher, or Grimes, who has since gone on to become a star in the new wave of Canadian indie, but Standell-Preston is also making her mark.
As roomies, both women were around 20 years old and diving into an experimental indie scene based around a venue called Lab Synthese, which Standell-Preston, interviewed for this article by e-mail, described as "a hub for the undiscovered community there." In 2009. that Montreal scene, fueled in part by arty student types from McGill University, gave rise to the music label Artbus Records, which helped a new wave of bedroom-produced glitchy electronica develop more ambitious but still DIY ideas about pop and rock songwriting. Artbus has so far produced a small but notable catalog, including Grimes' first album as well as multiple releases by two bands fronted by Standell-Preston: Blue Hawaii and Braids.
Blue Hawaii first made it to Taipei last year, playing an intimate show at Legacy Mini. Next weekend, Standell-Preston brings her other band Braids — actually her first band — to The Wall.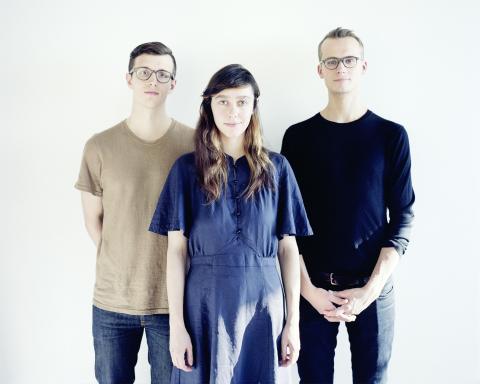 Montreal-based Braids, labeled as 'natural electronica' and 'dream pop,' plays at The Wall next Friday.
Photo Courtesy of White Wabbit Records
Braids is a trio, featuring Standell-Preston on vocals and keyboards, Austin Tufts on drums and Taylor Smith switching between bass, guitar and other instruments. All Calgary natives, they feel themselves to be part of a more general "Canadian scene" and come from a generation where using computers to make music is as integrated into the process as using instruments. It's a place where genres like shoegaze, laptop pop, dream pop, glitch, chillwave and others all sort of spill into each other.
A couple of the labels that have been tossed at Braids include "natural electronica" and "dream pop," which Standell-Preston has embraced.
"To a degree, labels help sell records," she says. "People like deciding what genre they're into, and it helps in the sharing and discovery of music. Unless you're differentiating between metal or jazz, labels within indie rock are just fun adjectives that people can get behind, and I can get behind 'natural' and 'dream!'"
So who are their peers? Braids has performed with (and deeply impressed) Deerhunter, and also Asobi Seksu and Toro y Moi. Lately, Standell-Preston claims they're really into Caribou, both for his music, his humble attitude and the way he tours. They also love other Calgary bands like Azeda Booth and Viet Cong.
Standell-Preston's voice is a major part of Braid's defining character. Her vocal delivery has been compared to Bjork's, and can certainly also be compared to Grimes' — all these women deliver their own perversions of lyrical beauty, with pristine high notes soaring over dirty beats and beautiful, dynamic vocal passages giving way to the quirky, broken meters that bring everything crashing down to reality. Her singing also reminds me of Lizzi Bougatsos from Gang Gang Dance in the way it leaps out of a normal rock song to become something almost (but not really) operatic.
Standell-Preston says her singing style is self-taught. "I haven't really trained my voice, at least not properly. I'm learning how to train it so that I don't injure it. The tone that I have grown into is hard on my vocal chords, so I'm currently learning how to be safe in singing the way I do."
In Braids, Standell-Preston also dares to be very personal with her lyrics. On the new album Deep in the Iris, these includes touchy issues like dating in the era of Internet pornography.
In the song Sore Eyes, Standell-Preston sings, "Watched some porn and surfed till my eyes got sore again/Now I'm feeling gross and choked like everything I don't want to be a part of/The girls with balloons and men with batons shoving it hard/Two people being porn stars."
That is actually the chorus of the song — a description of late nights sitting at a computer by yourself in total solipsism. It's offset by the verses, which play out the problem of how to deal with actual interpersonal relations: "Make believe that I'm in touch with myself/Do the kinds of things I watched from someone else/There's you and there's me/And we both go together easily."
The new album's budding hit, Mini Skirt is meanwhile a manifesto of contemporary feminism. Standell-Preston lays out the old double standards, declaring, "I'm the slut, I'm the whore, I'm the bitch/the one you hate/There's a name for this kind of man/a soft one at that/womanizer, Casanova, Lothario." Then, using the trope of her mini skirt, she announces her right as a woman to possess a sexuality and not feel guilty about it. "It's my little mini skirt/think you can have it?/My little mini skirt/It's all mine."
When I asked about the song, Standell-Preston said, "The inspiration for that song first came from the sheer intensity of the instrumentation. It demanded a vocal performance that was forward, aggressive and confrontational."
"Because of that demand," she adds, "I began speaking about my deep frustration with how women are objectified and scrutinized in their sexuality. I'm speaking about my experiences as a woman, others' experiences, and my observations within culture. I'd like to make this statement for any audience who will listen!"
Braids performs with Physical Chemical Brothers (理化兄弟) at 8pm next Friday at The Wall, B1, 200 Roosevelt Rd Sec 4, Taipei City (台北市羅斯福路四段200號B1). Tickets are $1100 or $900 in advance through www.books.com.tw or at White Wabbit Records.
Comments will be moderated. Keep comments relevant to the article. Remarks containing abusive and obscene language, personal attacks of any kind or promotion will be removed and the user banned. Final decision will be at the discretion of the Taipei Times.