Celebrating the DIY spirit
Maker Faire Taipei has doubled in size each year since its inception in 2013, with over 1,000 "makers" participating in this weekend's event
Make no mistake. At Maker Faire Taipei 2015, a two-day festival beginning tomorrow at Huashan 1914 Creative Park (華山1914創意文化園區), you will encounter plenty of engineers, science students and techno geeks presenting their brilliant experiments and inventions. But you will also run into the tinkerers, do-it-yourself (DIY) enthusiasts and craftspeople showing off their gadgets.
In its third year, the event is aimed at fostering Taiwan's DIY culture, which has gained popularity worldwide and has been made easier by new technology such as open-source software and hardware. An important player in this global trend is Make, a US magazine launched in 2005 that focuses on DIY projects and collaboration. In 2006, Make hosted the first Maker Faire in San Mateo, California, and similar events have since popped up across the globe.
In 2011, the magazine made its Chinese-language debut in Taiwan as Make: Taiwan. Two years later, the magazine launched Maker Faire Taipei. The event has grown since, with 250 exhibition booths and more than 1,000 "makers" participating this year.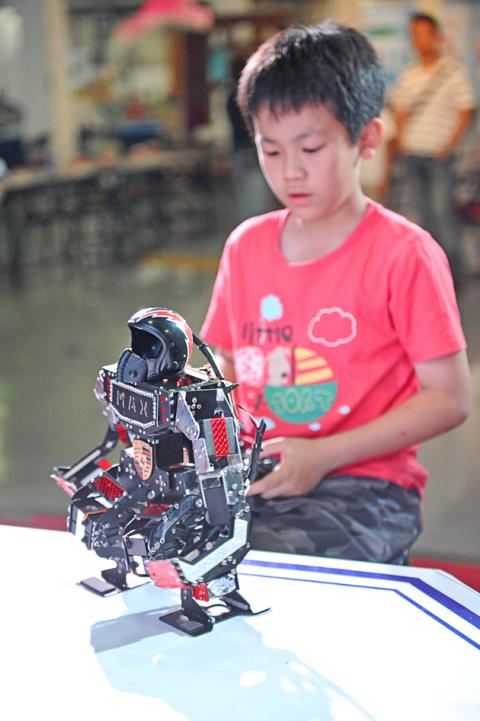 A scene from last year's Maker Faire Taipei.
Photo courtesy of Maker Faire Taipei
"We believe that everyone can be a maker, and everyone is welcome," says Hong Hui-chun (洪卉君) of Make: Taiwan.
So what exactly does Maker Faire Taipei have to offer? You'll have to visit the festival to find out.
Hong says makers are a "casual, free-spirited species," which means that they will most likely wait until the last minute to finalize their products.
A scene from last year's Maker Faire Taipei.
Photo courtesy of Maker Faire Taipei
"Even I don't know what exactly the makers will bring until I go to the fair," she says.
A big hit last year was the Iron Man helmet. Modeled after the one worn by Robert Downey Jr's character in the franchise, the helmet detects the user's moving speed and displays it on the visor. Monsker (鋼鐵人實作聯盟), the maker club behind the device, plans to return this year.
"It will be an advanced version of last year's design. That is all they can tell us," Hong says.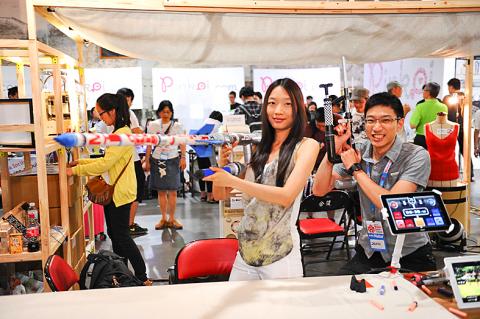 A scene from last year's Maker Faire Taipei.
Photo courtesy of Maker Faire Taipei
Another showpiece from last year is the prototype of an all-in-one 3D printer developed by FLUX, a design team comprised of several National Taiwan University students. The group raised nearly NT$50 million through Kickstarter to build the invention.
ENTREPRENEURSHIP
Events such as Maker Faire provide a platform for young entrepreneurs to test the waters for their products. Companies can also introduce their latest open-source tools to the DIY community. However, such participants at the fair are mostly foreign corporations such as Intel and Autodesk. MediaTek (聯發科技) is the only Taiwanese firm that has participated so far.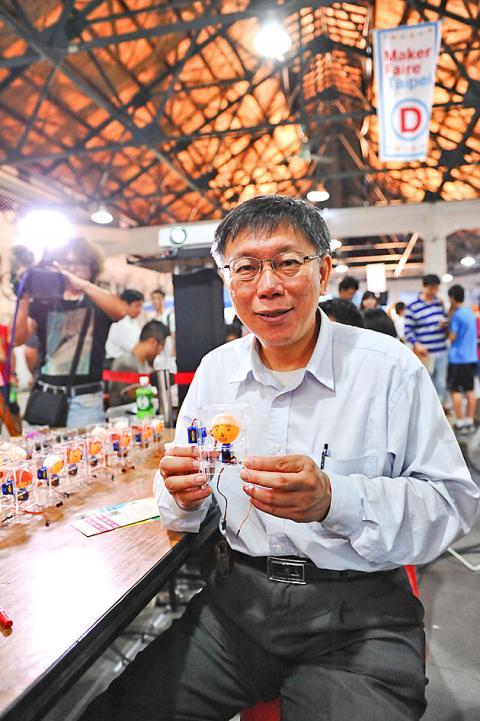 Taipei Mayor Ko Wen-je was a celebrity visitor at last year's Maker Faire Taipei.
Photo courtesy of Maker Faire Taipei
Hong says that it will probably take some time for Taiwanese companies to start connecting with the maker community.
"They are evaluating if it is worth reaching out to makers," she says. "Taiwanese enterprises come from the tradition of original equipment manufacturer (OEM). They are used to doing business in massive quantities. To them, the maker community is simply too small."
FUN FOR EVERYONE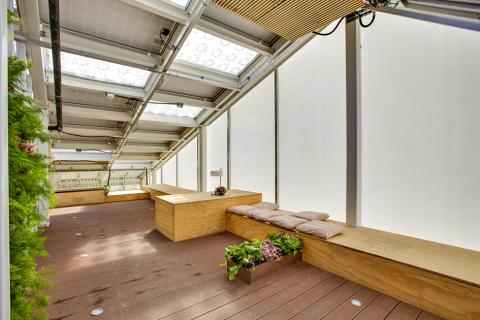 The energy efficient Orchid House is one of the many exhibits at this year's Maker Faire Taipei.
Photo courtesy of Maker Faire Taipei
While Hong can't pinpoint what exactly visitors will encounter at the fair, she says electronic devices are a perennial favorite with local makers. Meanwhile, trends in maker technology can be identified by looking at each year's projects. In 2013, for example, 3D printing was the hottest thing. This year, many projects focus on the Internet of Things (IoT), which refers to the network of physical objects — from household appliances to urban transportation — that are connected to the Internet, enabling them to exchange data without human intervention. Among the IoT-related projects, Orchid House is an award-winning energy-efficient home developed by students at National Chiao Tung University.
If you are as technologically challenged as this reporter, fear not. The fair will have plenty of DIY activities, workshops and demonstrations that even a nine-year-old can understand.
A series of contests involving DIY machines such as robots, drones and mini-4WD cars will also take place. My personal favorite is Hebocon, a robot sumo-wrestling tournament originating in Japan that features crude, low-tech robots, designed for people who have no idea how to build a robot. To ensure fair competition, entrants are penalized for incorporating high-tech features.
MAKER'S EXCHANGE
Robot fights aside, Maker Faire Taipei also facilitates face-to-face communication between makers and aspiring makers through a series of forums. Many speakers are founders of local makerspaces, such as MakerBar Taipei and Fablab Taipei. Hackerspaces, fablabs (short for fabrication laboratories) and other makerspaces function as community workspaces where people with common interests can gather to work on projects and share resources such as knowledge, skills, tools and equipment. In Taiwan, these spaces have been springing up over the past few years.
The one-week long FabLab Asia Network 2nd Conference, with participants from all over Asia, wraps up at Maker Faire Taipei this weekend, furthering the exchange of ideas.
Publication Notes
Event notes
What: Maker Faire Taipei 2015
When: Tomorrow and Sunday from 10am to 5pm
Where: Huashan 1914 Creative Park (華山1914創意文化園區)
Admission: Free
On the net: www.makerfaire.com.tw
Comments will be moderated. Keep comments relevant to the article. Remarks containing abusive and obscene language, personal attacks of any kind or promotion will be removed and the user banned. Final decision will be at the discretion of the Taipei Times.