Startup lessons from Silicon Valley
British startup founders should say 'yes' more, scale up faster and make their employees rich, say experts from both sides of the Atlantic
The pace of development in California's Silicon Valley shows no sign of slowing. With the ranks of Facebook, Google, Yahoo and Apple calling it home, the Valley has cemented its place as the world's top destination for tech startups.
Such is the level of the Valley's success, copycat clusters have sprung up across the globe. Imitators include Silicon Dragon, Cape, Fen, Canal, Beach, Savannah and even Welly, all hoping for a slice of the Valley's magical formula for building game-changing startups.
California's biggest cluster was not an overnight success. Depending on who you ask, the Valley started out as early as the Victorian era, giving it a 100-year head start over its closest rivals in London and New York. Five specialists explain why the Valley has the edge.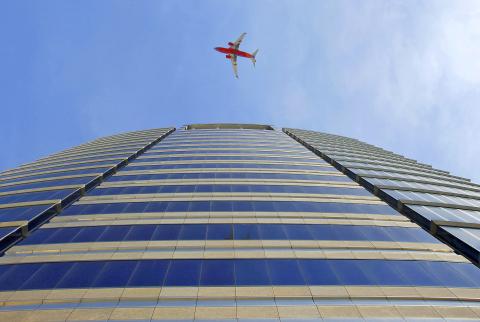 An airplane flies over an office building in Sunnyvale, California, in this file photo. Silicon Valley has given rise to Facebook, Google, Apple and a number of copycat clusters around the world.
Photo: Bloomberg
Americans in the Valley are known to avoid skepticism, take risks and dream big. They say 'yes' and are comfortable with trying new things, adopting new technology and innovative ways of working. It's this positive thinking that many believe leads to disruptive new startups like Airbnb and Uber.
"Brits usually respond with skepticism to new things and find reasons why it won't work, rather than reasons it will work," says Sophie Adelman, UK market manager at Hired.com, a marketplace for top technical talent with new offices in London. "Skepticism kills creativity and innovation and encourages conservatism."
"Successful Valley entrepreneurs think bigger and scale their businesses faster than their European counterparts," says Renaud Visage, co-founder and CTO at Eventbrite, an events Web site with offices in San Francisco, London, Argentina, Sao Paulo and Melbourne.
"The Valley rewards the inherent risk in both by making funding widely available to both and allow the true disrupters' growth to reach maximum velocity," Visage adds.
The risk paid off. Eventbrite sells over US$1 billion worth of tickets every year and has raised over US$200 million of venture capital.
FUNDRAISE MORE THAN YOU NEED
London's scene recently recorded its best-ever quarter with a record-breaking US$682 million funding raised for tech startups . But for many, funding continues to be a big challenge. In the current economic climate, raising a seed round of around £50,000 is relatively straightforward. But once startups gain traction, accessing the next level of funding is tough, leaving them at risk of an early failure.
"Entrepreneurs over here realize that a smart fundraise generally means raising more than they probably need," says Andy McLoughlin, US-based co-founder of Huddle, an enterprise collaboration platform with offices in London, San Francisco and Washington. Huddle has raised US$89 million to date. But while raising money may be easier on America's west coast, choosing the right investor is more important than ever.
"Founders look for people who can help them hit their next milestones. Social proof (where the money came from) means a great deal here," McLoughlin adds.
Step into the Valley and you will soon hear the phrase "pay it forward." Widely acknowledged to be an important part of the tech scene's culture, pay it forward is the art of giving to the community and helping it grow. Founders of startups of all sizes devote time to mentoring the next generation, hosting meetups and making important industry connections.
"When comparing us to the Valley, it feels like we should be doing a lot more," says Melina Jacovou, founder of Propel London, a digital recruitment business launched in 2001. Jacovou has worked with many of Britain's leading tech startups, helping them acquire talent from the Valley and further afield.
MAKE YOUR EMPLOYEES RICH
In the UK, employee incentives might stretch to the occasional ticket to a football game or away day if you are lucky. But in the Valley, founders are more likely to hand out equity to their employees. Competition for talented staff in the Valley is hotter than ever, with technical hires being poached from company to company. Offering share options gives employees a sense of ownership in the business and crucially keeps them loyal.
"Have large employee pools. Make the people who work for you rich," says Hussein Kanji, partner at Hoxton Ventures, an early-stage venture capital fund specializing in European startups. Kanji has previously worked at Accel Partners, Sun Microsystems and Microsoft.
Comments will be moderated. Keep comments relevant to the article. Remarks containing abusive and obscene language, personal attacks of any kind or promotion will be removed and the user banned. Final decision will be at the discretion of the Taipei Times.