The odd math of medical tests
Testing has become to the US' medical system what liquor is to the hospitality industry: a profit center with large and often arbitrary markups
Len Charlap, a retired math professor, has had two outpatient echocardiograms in the past three years that scanned the valves of his heart. The first, performed by a technician at a community hospital near his home here in central New Jersey, lasted less than 30 minutes. The next, at a premier academic medical center in Boston, took three times as long and involved a cardiologist.
And yet, when he saw the charges, the numbers seemed backward: The community hospital had charged about US$5,500, while the Harvard teaching hospital had billed US$1,400 for the much more elaborate test. "Why would that be?" Charlap asked. "It really bothered me."
Testing has become to the US' medical system what liquor is to the hospitality industry: a profit center with large and often arbitrary markups. From a medical perspective, blood work, tests and scans are tools to help physicians diagnose and monitor disease. But from a business perspective, they are opportunities to bring in revenue — especially because the equipment to perform them has generally become far cheaper, smaller and more highly mechanized in the past two decades.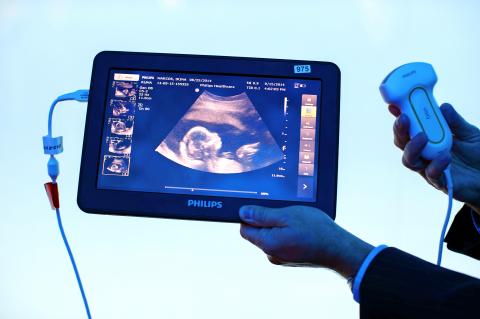 An employee holds a portable ultrasound system in early September. Even though testing such as echocardiograms, ultrasound pictures of the heart, have become more pervasive in US hospitals, prices continue to go up.
Photo: Bloomberg
And echocardiograms, ultrasound pictures of the heart, are enticing because they are painless and have no side effects — unlike CT scans, blood draws, colonoscopies or magnetic resonance imaging tests, where concerns about issues like radiation and discomfort may be limiting. Though the machines that perform them were revolutionary and expensive when they first came into practice in the 1970s, the costs have dropped considerably. Now, there are even pocket-size devices that sell for as little as US$5,000 and suffice for some types of examinations.
WHAT GOES UP, STAYS THERE
"Old technology should be like old TVs: The price should go down," said Dr Naoki Ikegami, a health systems expert at Keio University School of Medicine in Tokyo, who is also affiliated with the University of Pennsylvania's business school. "One of the things about the US health care system is that it defies the laws of economics, and of gravity. Once the price is high, it just stays there."
With pricing uncoupled from the actual cost of business, large disparities have evolved. The five hospitals within a 15-mile radius of Charlap's home here charge about US$5,200 on average for an echocardiogram, according to an analysis of Medicare's database. The seven teaching hospitals in Boston, affiliated with Harvard, Tufts and Boston University, charge an average of about US$1,300. There are even wide variations within cities: In Philadelphia, prices range from US$700 to US$12,000.
David Wiener, chairman of the advocacy committee of the American Society of Echocardiography, acknowledged the price disparities but said he did not believe they were greater than those for other medical services and procedures. He attributed the variations to multiple factors, including how many hospitals and doctors perform the procedure, state regulations and the need to subsidize poorly reimbursed services.
In other countries, regulators set what are deemed fair charges, which include built-in profit. In Belgium, the allowable charge for an echocardiogram is US$80, and in Germany, it is US$115. In Japan, the price ranges from US$50 for an older version to US$88 for the newest, Ikegami said.
Because Charlap, 76, is on Medicare, which is aggressive in setting rates, he paid only about US$80 toward the approximately US$500 fee Medicare allows. But many private insurers continue to reimburse generously for echocardiograms billed at thousands of dollars, said Dr Seth Stein, a New York physician who researches data on radiology. Hospitals pursue patients who are uninsured or underinsured for those payments, he added.
And American doctors, clinics and hospitals tend to order lots of tests. "It's one of the most lucrative revenue streams they have," said Eric Topol, a cardiologist at Scripps Health in San Diego who studies echocardiography. "At many hospitals, the threshold for ordering an echocardiogram is the presence of a heart."
A MIRACULOUS ADVANCE
Charlap's internist required his first echocardiogram before he had elective cataract surgery at the University Medical Center of Princeton at Plainsboro. The echocardiography professional society specifically advises against ordering the test for preoperative assessment of patients with no history or symptoms of heart disease.
Using sound waves transmitted through a wandlike device applied to the chest, echocardiograms show the heart's walls in motion, the tiny valves flipping open and closed and the blood streaming through them. They can be vital before surgery in patients with weak hearts, because general anesthesia and blood loss during surgery can bring out otherwise silent problems.
Charlap had no cardiac symptoms and took long daily walks with his dog. Cataract surgery involves only local numbing, not general anesthesia.
But health considerations are not the only factor driving the use of echocardiograms in America. In Britain's National Health Service, all echocardiograms are done in hospitals without charge. There are about 250 echocardiogram centers in the country, said John Chambers, a cardiologist at St Thomas' Hospital in London who studies echocardiography.
By contrast, in the US, buying an echocardiogram machine is a good investment for an entrepreneurial practice. The number of echocardiograms ordered by cardiologists in the US rose 90 percent from 1999 to 2008, a 2012 study found. There are far more places to get one in New Jersey than in all of Britain, according to the Intersocietal Accreditation Commission, which accredits medical facilities.
While MRI scanners are large and cost many millions of dollars, even high-end echocardiogram machines are generally rolled around on wheels and cost under US$300,000, about one-third of the price three decades ago when adjusted for inflation. Laptop-size systems cost US$30,000 to US$100,000 — used machines even less — and are suitable for all but the most complicated cases.
Three years ago, the echocardiography group helped develop guidelines for appropriate use of the test. "We all recognized what we needed to do," said Parker Ward, a cardiologist at the University of Chicago, who helped write the guidelines. He noted that noncardiologists ordered many of the unneeded exams, and that new applications, such as screening cancer patients for early warning signs of heart damage caused by chemotherapy, might expand the use of the tests.
While academic hospitals have led the call for more targeted use of echocardiograms, not all doctors comply, and "it's a black hole what's going on in offices," said Rory Weiner, a professor at Harvard Medical School. There is not even a good estimate of how many of the tests are performed in the US, although it is clearly in the tens of millions annually.
The profit margin on the test is impossible to calculate because purchase prices for the machines are secret. GE declined to provide price information for its machines in the US or other countries. Nor would it reveal how many machines it sold in the US, other than to say that one-third of its global sales — US$330 million out of US$1.1 billion — were in this country.
WHY SUCH STUBBORN PRICES?
New Jersey had the nation's second-highest echocardiogram prices in 2012, 8.4 times Medicare's approved rate.
In a statement, the hospital in Princeton that performed Charlap's first, more expensive echocardiogram noted that "the vast majority of customers" paid much less than the listed prices. It added that its pricing reflected the need to offset losses because many programs, including Medicare, reimburse less than the cost of delivering services.
But that cost must cover some expenses in the US found in other medical systems.
The area around Princeton has had a spate of hospital building in the past five years. The University Medical Center of Princeton at Plainsboro, not connected to Princeton University, cost more than US$500 million to build and has an atrium decorated with artwork from the hospital's permanent collection. "It was like a luxurious museum," Charlap said.
American hospitals and doctors also spend far more on administrative costs than those in any other country. Even for a relatively simple test like an echocardiogram, commercial insurers often demand preapproval, and a host of middlemen and staffers are involved.
Although medical groups cite malpractice lawsuits for the high prices in the US, some studies suggest that is not a major factor. California, which caps malpractice liability for noneconomic damages, has the highest average charges in the country for outpatient echocardiograms, according to a recent study in the Journal of the American College of Radiology.
What did predict price in a region, according to the analysis? The more machines, the higher the bills. "You would think increased competition would cause price to go down, but it's the opposite," said Stein, the study's author, who was then a student at Temple University School of Medicine.
A year after his first echocardiogram, Charlap had another, at Harvard's Beth Israel Deaconess Medical Center, that showed he needed a valve replacement. He feels better than ever, but the valve needs monitoring. How to do it?
New miniature echocardiogram machines fit into doctors' white-coat pockets and, placed on the chest during an office exam, provide a snapshot of the heart. No longer do physicians have to listen for subtle clicks and whooshes through a stethoscope. Even primary care doctors in training can use the devices, which cost well under US$10,000, to detect basic problems with a few hours of instruction, according to studies.
Such machines are widely used in other countries and at some medical schools, but have received a lukewarm welcome in the US. Charlap's internist has not used one on him.
"It brings US$350,000 imaging technology to the bedside as a screening test, at almost no cost," said Topol, who added that it would be useful on hospital rounds. "But it's not being embraced because of our model of payment."
Comments will be moderated. Keep comments relevant to the article. Remarks containing abusive and obscene language, personal attacks of any kind or promotion will be removed and the user banned. Final decision will be at the discretion of the Taipei Times.