Restaurant review: Liouduei Kitchen (六堆伙房)
Situated down an alley off the busy Heping East Road (和平東路) or Dunhua South Road (敦化南路), depending on where you come from, there is an unassuming restaurant serving authentic Hakka dishes to nearby office workers and local residents. As comfort food, the fare at Liouduei Kitchen conjures up an image of home, where a resourceful mother transforms simple ingredients into rich, flavorful meals on a next-to-nothing budget.
Take Hakka stir-fry (客家小炒, NT$163), a dish indispensable to Hakka cuisine, for example. It is easily cooked, using common ingredients such as bean curd, fatty pork, dried squid and shrimp, red pepper, scallions and celery. But when all these ingredients are put together, they create a rustic zest best paired with a bowl of steaming rice.
Liouduei's version of this Hakka home-style dish surely hits the spot, properly seasoned, not too salty or oily.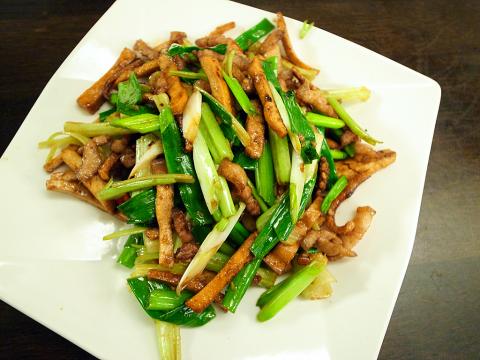 Composed of simple ingredients, the Hakka stir-fry is a must-try Hakka dish.
Photo: Ho Yi, Taipei Times
Before diving into the restaurant's single-page menu, however, diners might want to check out the cabinet next to the counter, which contains a selection of appetizers (NT$40 or NT$60 for each plate). Among them, the guomao (過貓), or vegetable fern, salad with kumquat dressing (桔香涼拌過貓, NT$60) is an interesting combination of the sweet citrus sauce and the mountain vegetable's slightly sharp taste.
A snack said to originate from Meinong (美濃) in Greater Kaohsiung, the peanut tofu (花生豆腐, NT$67) with garlic and soy sauce comes as a nice surprise. Made from rice and peanuts instead of soybean, the seemingly plain block of soft tofu has the silken texture of tofu pudding (豆花), creamy with a mousse-like consistency. What's more, the simple starter has many layers of flavor and manages to create a harmony between the garlic's piquancy and the slightly sweet, nutty flavor of the tofu.
For main dishes, the salty egg and sponge gourd noodles (鹹蛋絲瓜麵線, NT$98) is a revelation. Immersed in a savory broth that is given an alluring golden glow by salty egg yolk, the thin slices of gourd are cooked tender on the inside and remain adequately crisp on the outside. The egg's sharp taste nicely complements the gourd's mellowness, punctuated by small chunks of tofu fried with salty yolk.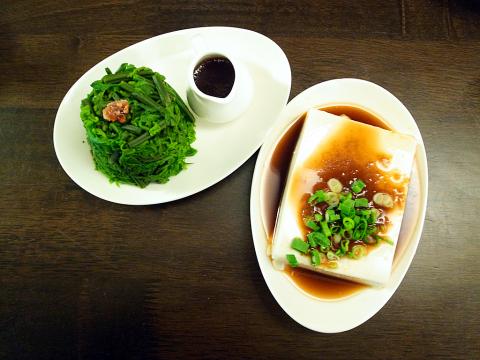 The vegetable fern salad with kumquat dressing and peanut tofu.
Photo: Ho Yi, Taipei Times
Less impressive though still adequate is the Hakka steamed taro cake (客式芋頭蒸糕, NT$67) with pork, bean curd, dried shrimps and scallions sprinkled on top.
Other popular dishes include Hakka-style tofu with salty egg (客家金沙豆腐, NT$163), rice noodle soup with taro (芋頭米粉湯, NT$98) and rice bowl with pickled vegetable and salty pork (福菜鹹豬肉拌飯, NT$98). A couple of items I haven't tried but definitely want to are the Hakka savory glutinous rice balls (客家鹹湯圓, NT$82) and leicha (擂茶) pancake with mochi, or glutinous rice (擂茶麻糬鍋餅, NT$67). Leicha, or pounded tea, is a quasi-essential Hakka drink that mixes grounded and powdered tea leaves, peanuts, sesame seeds, herbs and other ingredients.
Simply decorated, clean and brightly lit, the dining environment is homey. Every time I visit, the service is always good. The Hakka establishment is evidently a popular dining option in the neighborhood as it is often full during rush hours.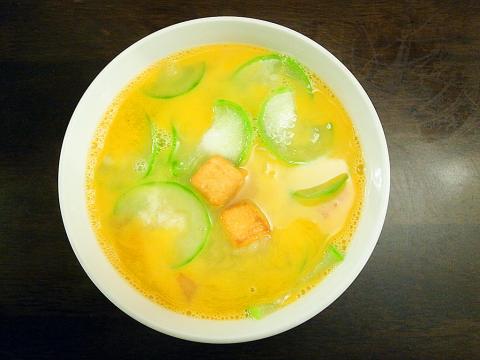 The salty egg and sponge gourd noodle is a must-try at Liouduei.
Photo: Ho Yi, Taipei Times
For those who work or live outside the area, Liouduei Kitchen recently opened a new branch at B1, 2, Zhongshan N Rd Sec 2, Taipei City (台北市中山北路二段2號B1). Telephone: (02) 2563-6239.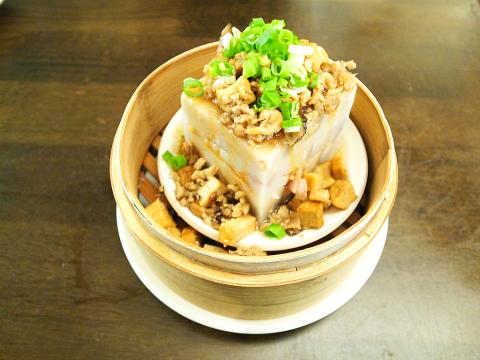 Liouduei's Hakka steamed taro cake.
Photo: Ho Yi, Taipei Times
Publication Notes
Liouduei Kitchen (六堆伙房)
Address: 42, Leye St, Taipei City (台北市樂業街42號)
Telephone: (02) 2736-9063
Open: Daily from 11:30am to 2pm and 5:30pm to 8:45pm
Average meal: NT$200
Details: Chinese menu only; credit cards not accepted
Comments will be moderated. Keep comments relevant to the article. Remarks containing abusive and obscene language, personal attacks of any kind or promotion will be removed and the user banned. Final decision will be at the discretion of the Taipei Times.