Greater Kaohsiung: 48 - hour art run
Taiwan's southern port city has an untapped futuristic art scene obsessed with its seafaring, industrial roots
Wandering around the outdoor art sculpture maze that is Pier-2 Art Center (駁二藝術特區) along Greater Kaohsiung's Love River (愛河) after sunset, it becomes apparent that there's an alluring sort of grittiness to the city being a harbor town. The light emanates from the colossal sculptures, but it's enough to notice how there are still shanties and dilapidated residential buildings shrouded by the facade of found objects — car mirrors, metal scraps, ropes used to moor ships — all re-assembled to form what we now call modern art.
This feeling of a disappearing past mixed with a promising future makes Greater Kaohsiung's art scene reminiscent of Taipei's 10 years ago. The atmosphere is not sad per se. It's more like being caught in a state of limbo, knowing that change will come but nevertheless finding ways to preserve pieces of the past — and for artists, this means encapsulating antiquated objects and ideas in various forms of artwork, then re-labeling it.
SCRAPPY CITY
Tourists take selfies by the graffiti-covered walls at Pier-2 Art Center.
Photo: Dana Ter, Taipei Times
The cluster of abandoned warehouses and railway tracks just off Yanchengpu MRT Station (鹽埕埔) was converted into Pier-2 in 2001, yet it didn't receive much recognition in Taiwan or internationally until recently. Nowadays, tourists in couple t-shirts and hipsters in skinny jeans taking pictures with selfie sticks are just as big of a spectacle as the exhibitions themselves — which is why I recommend a nighttime stroll.
Needless to say, Pier-2 really brings out your creative, playful side during the day. The rusty railway tracks interspersed with graffiti-covered warehouses lead you to a grassy field behind the visitor center. Suddenly surrounded by a giant swing set, suitcase, broom and other monster-sized objects, you feel like you have been transported to the land of giants in Gulliver's Travels. These are all works of art submitted for the Kaohsiung International Steel and Iron Sculpture Festival from 2012. A witty nod to the city's seafaring roots, they also show how the city's artists are recycling materials to memorialize the city's bygone industrial era.
In addition, the 15th International Comic Artist Conference showcasing international talent from Angry Birds to anime was being held in another warehouse by the river. Also on display during my visit was Reverse Niche: Dialogue and Rebuilding at the City Edge, an exhibition consisting of shoddy upturned furniture, mangled beer cans and disheveled fishnets. The exhibition, which happened concurrently in Hong Kong and Osaka, was meant to raise awareness of the consequences of urban development on people who live on the fringes of society. Pier-2, with dilapidated residential buildings surrounding it, was a fitting place for this exhibition — although it's questionable whether selfie-taking tourists were in the know.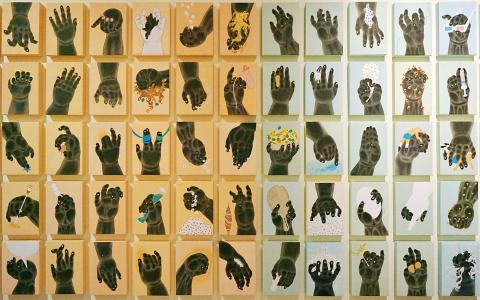 Tseng Chien-ying, Thousand Hands Project (2010).
Photo: Dana Ter, Taipei Times
A 15-minute riverside walk from Pier-2 is the Kaohsiung Film Archive (高雄市電影館), a three-story structure resembling a small lighthouse. For a compact space, it houses an impressive collection of old film reels and movie posters, including photographs of scenes from Hou Hsiao-hsien's (侯孝賢) 1983 blockbuster hit The Boys from Fengkuei (風櫃來的人), which was filmed at Gushan Ferry pier (鼓山輪渡). Whereas you'll need at least half a day to cover Pier-2, unless you're a film buff, 30 minutes is more than enough time to peruse the film archive.
Straying away from the Love River and heading in the direction of Yanchengpu MRT, you'll stumble along a couple of artsy cafes looking like they belong in Bushwick, the latest Brooklyn neighborhood to be hit by a wave of hipsterization. Whereas the replacement of shanty-like dwellings with cute cafes and art galleries in cities like New York or London would generate cries of gentrification, in Kaohsiung, it seems like the old and new try to converse rather than clash.
A small family business selling used car parts and scrap metal, for example, blends in nicely with the rustic-looking ambience of the cafe next door. Mars Cafe (睦工場) is the perfect example. The interior is a fusion of red brick walls and wooden panels, while the back area opens up to a metallic-walled co-working space whose ceiling is three floors high, and plants hanging from the ceiling provides an earthy vibe. An expat indie band was also setting up during my visit there, making everything postcard perfect.
Mars Cafe near Pier-2 evokes a Brooklyn-esque feel.
Photo: Dana Ter, Taipei Times
STAYING CLASSY
On the other side of the river, in the middle of a palm tree-lined path and next to a massive, rather polluted pond, is the Kaohsiung Museum of Fine Arts (高雄市立美術館) by the Aozihdi MRT Station (凹子底). Although more posh than hipster, similar themes of being caught in between old and new were also evident in the current exhibitions there.
The museum's special exhibition, entitled Collection and Dialogue: Taiwan's Contemporary Ink Painting, traces the evolution of artwork utilizing brush painting from artists born in different decades throughout the 20th century. From more traditional ink paintings of picturesque scenery on thin scrolls to pop art style multicolored collages by artists born in the 1980s, there's still a distinct Chinese-ness in all the paintings.
Tseng Chien-ying's (曾建穎) Thousand Hands Project (千手計劃, 2010) for instance, depicts what looks like the inside of a drug addict's mind with a series of dismembered hands holding objects such as pills, eyeballs and hypodermic needles. Despite its modern pop art feel, the hands are still painted with the precise techniques of Chinese ink brush painting, each stroke creating flow and dimension.
Also worth a visit are the Jhih-jhen Galleries (至真堂) at Kaohsiung Cultural Center (高雄市文化中心) by the Cultural Center MRT Station. Keeping up with the classy vibe of the fine arts museum, these galleries, which routinely showcase the finest Taiwanese paintings in spacious single room settings, are optimal for viewers to organize their thoughts rather than encouraging them to chit-chat and take selfies. An eye-catching solo exhibition by Li Jhongchih (李仲篪), 92, shows his floor-to-ceiling sized calligraphy. Like the contrasts in Pier-2, there's something about ancient Chinese writing being displayed in a sleek and modern setting that's aesthetically pleasing yet mildly disturbing.
In terms of accommodation, Greater Kaohsiung has no shortage of themed hotels fitting for an artsy port city. I stayed at Hotel That (那旅), a snazzy mystery novel-esque boutique hotel near Sanduo Shopping District MRT Station (三多商圈) with creaky elevators operable only through opening and closing its caged doors, as well as a rickety rooftop overlooking the Love River and Pier-2 on the other side. Harbourviews 39 B&B next door is a charming, sailor-themed backpackers' hostel with Grecian baby blue-and-white walls.
On the slightly higher end, there's the Grand Hi-Lai Hotel (漢來大飯店) by the iconic Central Park Station (中央公園) with its Hello Kitty-themed guest rooms and Hotel Dua near Formosa Boulevard Station (美麗島), a sleek high-end boutique hotel with a modern bamboo structure exterior and rooftop dining overlooking the city skyline.
Despite its futuristic art scene evident not only in galleries but also in cafes and hotels, Greater Kaohsiung is a city with an old soul, obsessed with its seafaring, industrial roots. It may be stuck in limbo, but quite honestly, I hope it remains this way for a while.
Publication Notes
GETTING THERE
Take the south-bound high speed rail (HSR) from Taipei Main Station to the last stop, Zuoying HSR and transfer to the Kaohsiung MRT; ride takes approximately two hours. If saving money, take a train or bus but frankly, the HSR was invented for convenience
ACCOMMODATION
Harbourviews 39 B&B: Cute sailor-themed hostel/bed and breakfast
Hotel That (那旅):Small, snazzy mid-range boutique hotel with a mystery novel-esque decor
Grand Hi-Lai Hotel (漢來大飯店): High-rise mid-range hotel with Hello Kitty-themed guest rooms
Hotel Dua: High-end sleek boutique hotel with rooftop dining overlooking the Greater Kaohsiung skyline
PLACES TO VISIT
Pier-2 Art Center (駁二藝術特區)
Film Archive (高雄市電影館)
Museum of Fine Arts (高雄市立美術館)
Cultural Center (高雄市文化中心)
Mars Cafe (睦工場)
WHAT TO BRING
Bulky camera, selfie stick, t-shirts, skinny jeans
Comments will be moderated. Keep comments relevant to the article. Remarks containing abusive and obscene language, personal attacks of any kind or promotion will be removed and the user banned. Final decision will be at the discretion of the Taipei Times.