The calm before the storm
Cloud Gate Dance Theatre premieres a remarkable double bill that ends in desolation
White Water (白水), which had its world premiere at the National Theater in Taipei on Wednesday night, is one of Cloud Gate Dance Theatre (雲門舞集) artistic director Lin Hwai-min's (林懷民) quietest — and loveliest — works.
Its stark (mostly) black-and-white beauty stands in strong contrast to last year's lush Rice (稻禾), where the beauty of the video projections of the East Rift Valley and verdant rice paddies sometimes overwhelmed the dancers they were meant to support.
It begins simply, a black-and-white video of a stream filling the back screen. Huang Pei-hau (黃珮華), clad in a calf-length white smock, enters from the left and begins a solo, starting the first of 14 movements that are set to a largely piano score of compositions by Erik Satie, Albert Roussel, Ahmet Adnan Saygun, Maurice Ohana and Jacques Ibert.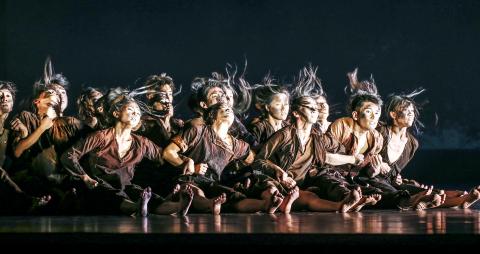 Cloud Gate Dance Theatre performs Lin Hwai-min's new work, Dust, as part of a double bill at the National Theater in Taipei this weekend.
Photo Courtesy of Liu Chen-hsiang
It ends on much the same note, with a single dancer exiting stage left, leaving just the image of water on the screen.
The videography by Chang Hao-jen (張皓然) and projections by Ethan Wang (王奕盛) were subtle, shifting from full screen to small slices of rippling water, which sometimes verged on vertigo-inducing, before modernity intruded in the form of a green grid lines. The section where the dancers were blended both into the watery background and a luminiscent green grid was especially lovely.
The 14 movements mixed solos, duets and other pairs — which largely featured the company's younger members — with group movement, and a lot of slow walking while looking up and outward at the audience. The dancers' arms and bodies were as light and wavy as water dancing over rocks.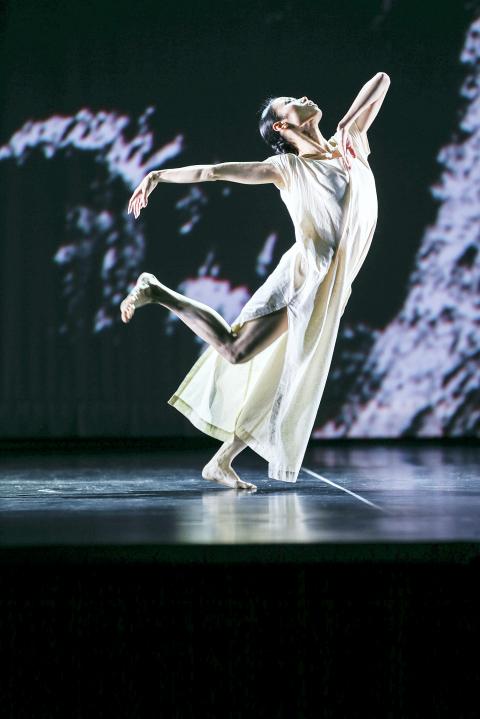 Lin Hwai-min's White Water is being performed by Cloud Gate Dance Theatre at the National Theater in Taipei this weekend before a national tour.
Photo Courtesy of Liu Chen-hsiang
It was the calm before the storm.
The second work on the program, Dust (微塵) was a dark, post-apocalyptic work that triggered memories of man's inhumanity to man, with a touch of The Walking Dead thrown in. It was equally beautiful, in its starkness, but much more disturbing.
The features of the dancers, clad in a variety of costumes all in dark browns and blacks, with slashes of black paint on their faces, were often obscured by the dark lighting and even darker projections behind them. They staggered, they crawled, they clustered together in lines and groups for protection, but the onslaught they were facing seemed unending.
Set to Dimitri Shostakovich's String Quartet No. 8, Dust is only 25 minutes long, but it is full of suffering. Lin has done dark hells before, such as the second act of 2008's Whisper of Flowers (花語), but nothing like this. The fragility — and insignificance — on man is on full view.
Lin talked about Dust as a shot of vodka after the lightness of White Water, but it is the audience that needs the vodka shots afterwards. Given the heaviness of the work, Lin said he forswore his usual curtain-call appearance and bows.
After finishing this weekend's performances at the National Theater, the troupe begins a nationwide tour of the double bill on Dec. 6 at the Taoyuan County Performing Arts Center that will then take them to Greater Taichung from Dec. 12 to Dec. 14, Lin's hometown of Chiayi on Dec. 19 and Dec. 20 and Greater Kaohsiung on weekends through the rest of next month.
URBAN CONSTRUCTION
The Scarecrow Contemporary Dance Company (稻草人現代舞蹈團) production — Unbreakable City (攣‧城) at the Songshan Cultural and Creative Park in Taipei last weekend — was more of a mixed bag.
The second-floor exhibition space of the Taipei Design Museum was the perfect setting for a piece that explores the idea of a city as a living creature, rising, dying and being revived, surviving through several transformations.
The seven dancers — including artistic director and choreographer Luo Wen-jinn (羅文瑾) — move in, around and on top of a collection of large plastic and steel rectangular and square boxes. The dancers, and sometimes a few black-clad stagehands, shift the boxes to form different cityscapes, including a wall that traps the dancers inside, while a handheld video camera is used to capture one dancer moving through apparently endless tunnels. It ended with all the dancers crushed together into a single box, thankfully one of the bigger ones.
As dance theater, it was somewhat interesting, but with much of the movement confined to the upper torso and arms, one wished for a bit more dance.
The company will perform Unbreakable City in its hometown of Greater Tainan from Dec. 12 to Dec. 14.
Comments will be moderated. Keep comments relevant to the article. Remarks containing abusive and obscene language, personal attacks of any kind or promotion will be removed and the user banned. Final decision will be at the discretion of the Taipei Times.