Rediscovering Sweet Potato Greens
At a time when fears of chemical residues are everywhere, a tasty, nutritious and inexpensive green vegetable is making a comeback
In Taiwan, vegetables don't get much more humble than sweet potato greens (地瓜葉). Until quite recently, they were regarded as food for pigs, and many among Taiwan's older generation have memories of resorting to sweet potato leaves has a last bastion against hunger in the day's before the island's economic miracle.
After years of media reports about the excessive use (and harmful residues) of pesticides, herbicides and chemical fertilizers of more upmarket vegetables, the health-conscious are beginning to rediscover sweet potato greens as a relatively uncontaminated vegetable. And the very reason for its new appeal is the fact that this low cost vegetable is robust enough to survive the pestilential Taiwan summers with little aid for modern agricultural science, and is much too cheap to warrant the use of expensive chemical aids.
In fact, sweet potato greens often don't even warrant display space in the larger stalls of traditional markets, and are sold by old ladies with a small harvest of vegetables from their own plots on the fringes of the more established grocers.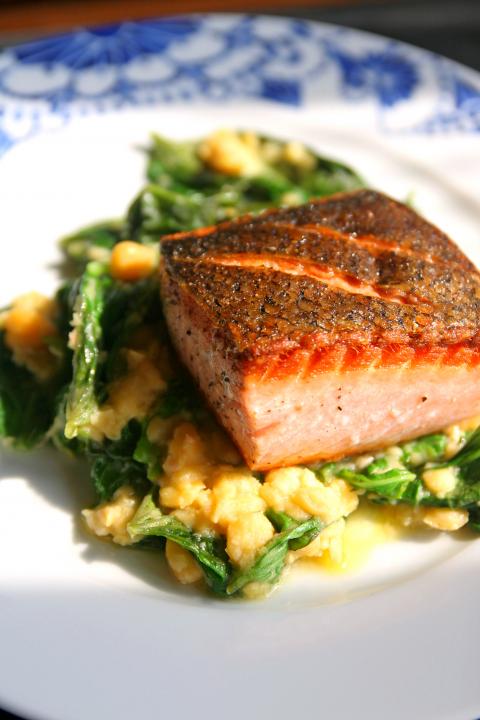 Crispy-skin Salmon with Chickpeas and Sweet Potato Greens is a quick dish that shows off how sophisticated sweet potato greens can be.
According to a study by the University of Arkansas, "sweet potato leaves are comparable to spinach in nutrient content," with "levels of iron, calcium, and carotene rank[ing] among the top as compared to other major vegetables." (https://www.uaex.edu/publications/PDF/FSA-6135.pdf) There is also considerable literature on the antioxidant and chronic disease prevention benefits of the vegetable.
That said, it is important to point out at this point that eating sweet potato greens is not just some concession to faddish ideas of healthy eating. They taste delicious, and are not at all difficult to prepare. No less a figure than Mark Bittman, food writer and New York Times columnist has extolled the virtues of this vegetable, only lamenting the difficulty of obtaining it in North America (http://www.thebittenword.com/thebittenword/2010/10/saut%C3%A9ed-sweet-potato-greens.html). In Taiwan, it can probably be found at any traditional market for next to nothing, but to those who have not encountered it before, an unknown vegetable can be a little intimidating.
Sweet potato greens can be stir fried with garlic in conventional Chinese fashion and will taste pretty good, but the leaves may express a dark liquid that makes the dish look unappealing. One way around this problem is suggested by Taiwan's favorite TV chef, Cheng Yen-chi (鄭衍基), better known as Ah-chi-shih (阿基師), is to use lemon juice, to counter the oxidizing tendencies of the vegetable. My own favorite method is to sauté very quickly with shallot confit (油蔥酥) and thick soy sauce, making for a simple dish that can be prepared in three or four minutes (for both shallot confit and soy sauce, which are both integral flavoring agents, a high quality artisanal brand is highly recommended).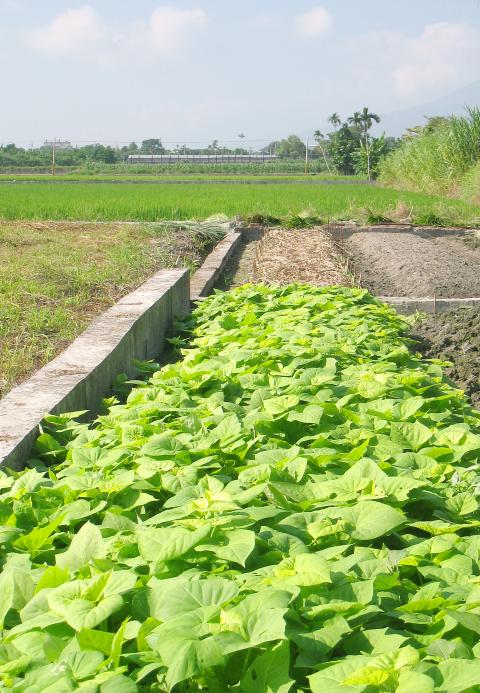 Sweet potato leaves are a popular crop for small farmers as they require little attention and provide a regular harvest of delicious greens.
This preparation of a humble vegetable makes a perfect accompaniment to white rice and can be enjoyed as a simple meal in itself, but it can also be used as a wonderful (and insanely cheap) replacement for spinach in many recipes. It should be noted that sweet potato greens cook down considerably, and unlike spinach, they don't have the same degree of oxalic acid that can often produce an unpleasant astringent taste in spinach dishes. Sweet potato greens, despite their lowly origins, can provide both nutrition and flavor at a minimal financial and environmental cost.
Crispy-skin Salmon with Chickpeas and Sweet Potato Greens
Recipe
(serves two)
Ingredients
Fish
2 pieces salmon fillets (approx. 200g each)
2 tbsp olive oil
salt
pepper
Chickpea
80g dried chickpeas (soaked overnight and cooked; the dried chickpeas can be prepared a day in advance and refrigerated)
2 tbsp olive oil
4 cloves garlic, minced
80ml vegetable stock (or water)
Juice of half a lemon
150g sweet potato leaves (stems removed)
Process 1
1. Score the skin of the salmon with a sharp knife.
2. Clean and dry the salmon with kitchen paper and season with salt and pepper (approx. 20 minutes before cooking).
3. Heat olive oil until almost smoking and then place the salmon skin-side down into the pan. (It is important both that the oil is hot and the fish is dry to ensure that it does not stick; the use of non-stick pans allow a greater degree of latitude.)
4. Cook the fish (with a thickness of about 5cm) for about 5 minutes, pressing down to ensure full contact of the skin with the pan. When the skin is crisp, flip the fish and cook for another 2 minutes for color.
5. Set aside on a sheet of kitchen paper to remove excess oil.
Process 2
1. While the fish is frying, add olive oil to a separate large saute pan. Fry garlic over a low flame until fragrant but without coloring.
2. Add the cooked chickpeas. Season with salt and pepper.
3. Add vegetable stock and bring to a simmer. Lightly crush the chickpeas. Add sweet potato greens. Don't worry if they seem to almost overflow the pan, as they will cook down rapidly. Stir and allow the leaves to wilt. Add lemon juice. Check seasoning.
4. Place the salmon on a bed of chickpea and greens. Serve with lemon wedges.
Ian Bartholomew runs Ian's Table, a small guesthouse in Hualien. He has lived in Taiwan for many years writing about the food scene and has decided that until you look at farming, you know nothing about the food you eat. He can be contacted at Hualien202@gmail.com.
Comments will be moderated. Keep comments relevant to the article. Remarks containing abusive and obscene language, personal attacks of any kind or promotion will be removed and the user banned. Final decision will be at the discretion of the Taipei Times.