Art exhibition listings
At solo show Formosa the Beautiful (芬芳寶島), critically acclaimed oil painter Lin Chih-hsin (林智信) debuts a large-scale collage depicting life in Taiwan during the 1950s. Lin has combined 102 paintings of geographical features, lifestyles and customs of 1950s Taiwan, stitching together a 248m-long view that starts from the northern tip of Keelung islet and ends at the Eluanbi Lighthouse (鵝鑾鼻燈塔) in Pingtung County.
■ Kaohsiung Museum of Fine Arts (KMFA, 高雄市立美術館), 80 Meishuguan Rd, Greater Kaohsiung (高雄市美術館路80號), tel: (07) 555-0331. Open Tuesdays to Sundays from 9am to 5pm. Admission: Free
■ Opens tomorrow. Until Dec. 7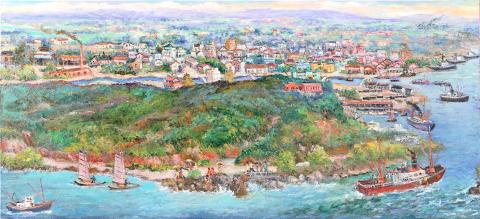 Lin Chih-hsin, Kaohsiung Area, Shoushan, Port (2014).
Photo courtesy of KMFA
The Story of Bridal Gowns (婚紗的故事), the latest special exhibition at Taipei Story House, is about bridal wear from 1910 to the present and how beauty is interpreted differently across cultures. On view are gowns from Taiwan, Vietnam, Japan, Indonesia, Thailand, Turkey and other countries, including a piece that Taiwanese-Canadian designer Jason Wu (吳季剛) created for his sister-in-law.
■ Taipei Story House (台北故事館), 181-1, Zhongshan N Rd Sec 3, Taipei City (台北市中山北路三段181-1號), tel: (02) 2587-5565. Open Tuesdays to Sundays from 10am to 5:30pm. Admission: NT$50
■ Until Jan. 25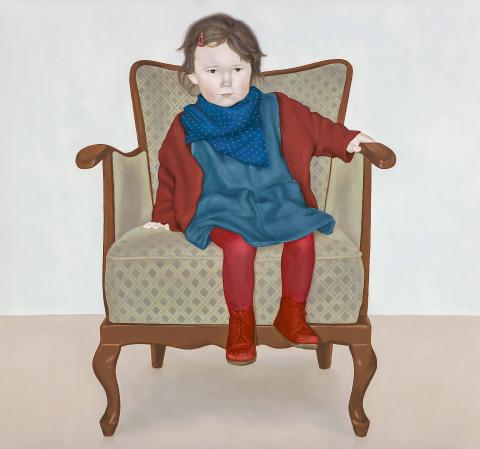 Wu Yih-han, Mirta (2013).
Photo courtesy of Aki Gallery
Asian Realism II (亞洲具象II) brings together eight Asian artists working in realism, a western aesthetic that aims to stay true to an object's form. Featured artists include German-trained Taiwanese portraitist Wu Yih-han (吳逸寒), who depicts subjects that are coolly self-aware. Jiyun Cheon paints women wrapped in fabric and appearing like butterflies in a permanent chrysalis, to invoke a sense of ambiguity and anxiety.
■ Aki Gallery (也趣藝廊), 141 Minzu W Rd, Taipei City (台北市民族西路141號), tel: (02) 2599-1171. Open Tuesdays to Sundays from noon to 6:30pm
■ Opening reception tomorrow at 3pm. Until Oct. 26
In My Tummy, In My Time (食間), by transArt NCTU Team (交大跨領域藝術團隊) of National Chiao Tung University, is a digital show in which the audience's spoken voice, heartbeats and movements act as "food" entering a digestive system, setting off processes like mastication, decomposition and transformation of matter. With help from infrared sensors, six works take viewers on an abstract tour through their bodies.
■ Digital Art Center (台北數位藝術中心), 180 Fuhua Rd, Taipei City (台北市福華路180號), tel: (02) 7736-0708. Open Tuesdays to Sundays from 10am to 6pm. Free admission
■ Until Oct. 26
Recognition System (識別系統), this year's Kuandu Biennale, is 10 solo exhibitions by 10 artists and 10 curators in the Asia-Pacific region. This year, exhibitions interpret the theme "recognition system," or the systems of artistic production. From Thailand, Money Faketory invites audiences to step into a strictly capitalist art economy, where they can make "art money" and use it to earn or lose more money. Sydney's David Haines, a champion of the possibilities of aroma in contemporary art, presents an immersive installation that centers on fragrance.
■ Kuandu Museum of Fine Arts (關渡美術館), 1 Xueyuan Rd, Taipei City (台北市學園路1號), tel: (02) 2896-1000 Ext. 2432. Open Tuesdays to Sundays from 10am to 5pm
■ Until Dec. 14
Comments will be moderated. Keep comments relevant to the article. Remarks containing abusive and obscene language, personal attacks of any kind or promotion will be removed and the user banned. Final decision will be at the discretion of the Taipei Times.