Live Wire: Techno geeks and remembering a fallen comrade
Last weekend saw more than 4,000 people turn out to the grassy lawns of the Hakka Cultural Park for Taipei's 12th annual Daniel Pearl Day of Music, according to organizer estimates. A big musical highlight was the Idan Raichel Project, a world music group from Israel now touring through Asia. It would have been even better had Idan Raichel himself been there, but the singer-producer was called away at the last minute to perform on New York's Summer Stage with R&B star Alicia Keys, making this the only show on the Asia tour that he missed.
Still, Raichel's backing band was on point. The group is a rare project for regional harmony, blending musicians from the Israel, Yemen and Africa, creating a unique hybrid of Eastern European gypsy music (many Israelis have Eastern European roots) and the desert music of the Arabs and northeast Africa. The show stealer was singer Cabra Casey, an Ethiopian born in a refugee camp in Sudan.
The Idan Raichel Project is very much in the spirit of Daniel Pearl Day, an event that now includes hundreds of concerts all around the world to commemorate journalist Daniel Pearl, who was killed by terrorists in 2002. Pearl's family started the concert series hoping to use music as a means of achieving cross-cultural harmony.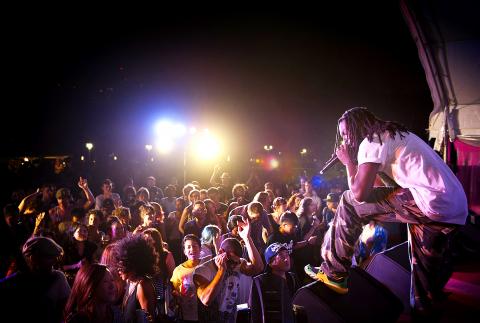 Dread Rider frontman Sherwyne Pereira put on a stellar performance at the Daniel Pearl Day of Music last weekend.
Photo courtesy of Kevin Liao
Among the "local" bands — in the spirit of the event, most groups feature some international element or overseas musicians — Dread Rider hit its normal level of amazing. Every time I see them, I cannot help but wonder, what is a world-class reggae band doing in Taiwan? Trinidadian lead singer Sherwyne Pereira is the most magnetic frontman on the island, but he is such an exotic flavor, that local Taiwanese audiences have no idea what to do with him. As such, Dread Rider remains one of the most under-appreciated bands around.
MUSIC FOR TECHNO GEEKS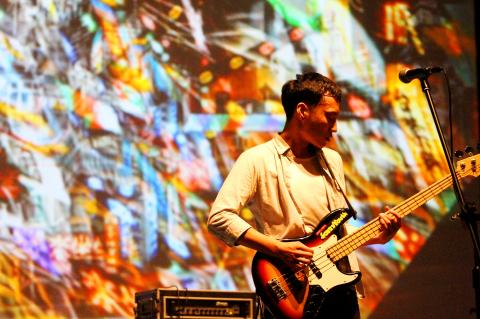 Sorry Youth will take the stage as part of the On Site music festival this weekend.
Photo courtesy of On Site
Held for the third year, On Site (混種現場) is a festival for technology inflected music, from math rock to noise to sound art. It opened last weekend at the Huashan Grasslands with a heavily equipped stage, full of projection screens and all sorts of technological effects. Around 1,000 were in attendance, say organizers at Taipei Artist Village. It winds up tonight and tomorrow with free events at Taipei Artist Village and Treasure Hill.
This weekend's affair will be more humble — indoor concerts by various ensembles of techno-geeks. Tonight's show will feature local noise artist Want Fu-jui (王福瑞) and ambient electronica from the local project Gravity Alterstra, who are teaming up with the spastic Hong Kongese guitar player in Junk (帆人), Chen Guan-min (陳官民). The most intriguing performer on the bill is Japan's Fuyama Yousuke, who uses biological data to generate sounds. Coming to Taiwan for the second year in a row, he has built what he calls a "functional electrical stimulation device" which somehow connects to the human nervous system and translates impulses into sounds. This takes place tonight from 7pm at Taipei Artist Village (台北國際藝術村幽竹廳) in the Bamboo Room, located at 7 Beiping E Rd, Taipei (台北市北平東路7號).
Tomorrow's event will feature yet more noise and experimental sounds that are generated from laptops and esoteric gadgets. The lineup includes 8-Bit electronica artists Physical Chemical Brothers (理化兄弟), Zheng Nai-quan (鄭乃銓), Dino, OTIC and Singaporean Dennis Tan in collaboration with Taiwanese Mei Hsin-yi (梅心怡). That takes place from 3pm at Treasure Hill Artist Village (寶藏巖國際藝術村), 2, Ln 14, Alley 230, Dingzhou Rd, Sec 3, Taipei City (台北市汀州路三段230巷14弄2號).
UNCONVENTIONAL PIANISTS
Tomorrow kicks off the inaugural P Festival, a new event for piano music that pushes various boundaries, though not necessarily into experimental abstraction. The event will consist of four concerts from Oct 4 to 19 by a group of international and highly unconventional keyboard talents, including Nils Frahm (interviewed on page 12 of yesterday's Taipei Times), Hauschka, Rachel Grimes, Lu Yi-chih and Cicada. Basically, if you have more than one Philipp Glass album, this is for you.
"This music festival is not meant to be like Formoz or Megaport," explains organizer KK Yeh (葉宛青), noting the event will be nothing like Taiwan's big multi-stage rock fests. "Actually, I'm hoping that through a series of single performances to create something like a small film festival or arts festival. So the performances appear to have a sense of fun and novelty, and that is really the main point."
Rachel Grimes has composed music for numerous films and videos, including a recent NBA television ad featuring LeBron James and Kevin Garnett. Her other film credits include music for the Oscar-winning film La Grande Bellazza and the documentary Gasland. She also has recently performed live accompaniment to the classic black and white film, The Cabinent of Dr. Calligary. Grimes performs with local talent Cicada on Thu, Oct 9 at the Songshan Eslite Performance Hall (松菸誠品表演廳).
Hauschka, a 48-year-old native of Dusseldorf, Germany who also goes by his given name Volker Bertelmann, has also made extensive contributions to film. He is known for pulling the lid off the grand piano and inserting various objects to create new sounds. Though he had classical training from an early age, he spun off to make hip hop and drum 'n bass music, and has more recently returned to perform highly rhythmic and punchy piano recitals. Hauschka performs Oct 17 and 19 at the Songshan Eslite Performance Hall (松菸誠品表演廳).
For more info, go to: www.pfestival.tw.
Comments will be moderated. Keep comments relevant to the article. Remarks containing abusive and obscene language, personal attacks of any kind or promotion will be removed and the user banned. Final decision will be at the discretion of the Taipei Times.