All about cinema
French-Canadian director Denis Cote attended the Taipei Film Festival to discuss his genre-bending cinema
Jean-Paul Colmor is an eccentric subject. Living alone in the woods, the hermit's daily chores include fiddling with thousands of used cars scattered throughout his expansive property. Colmor, it is apparent, enjoys his solitude.
"For me, it's not crazy. It's a good life," he says to a couple of young, camera-toting visitors.
Carcasses begins as a contemplative documentary about an old man and the simple pleasures of his isolated life. Then, unexpectedly, a group of wanderers with Down-syndrome appear. A tableau shot of one of the intruders pointing his rifle at Colmor reveals a carefully scripted drama. Our established assumptions and sense of certitude quickly disappears.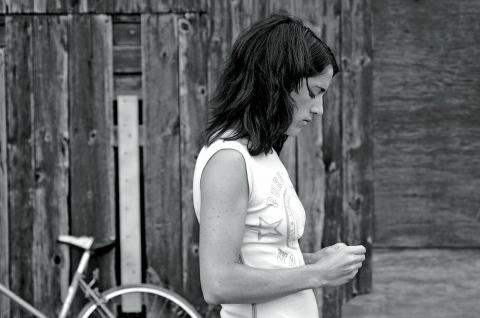 All That She Wants.
Photo courtesy of Taipei Film Festival
Denis Cote says Carcasses is his favorite among the nine feature-length works he has made during his productive filmmaking career, which began in 2005.
"Maybe it is a bit fragile and doesn't work too well. But all that I've been trying to do with cinema is captured in that film," says Cote, who spoke with the Taipei Times last week when he was in Taipei to attend a retrospective of his works held by the Taipei Film Festival (台北電影節), which ends on July 17.
FROM FILM CRITIC TO FILMMAKER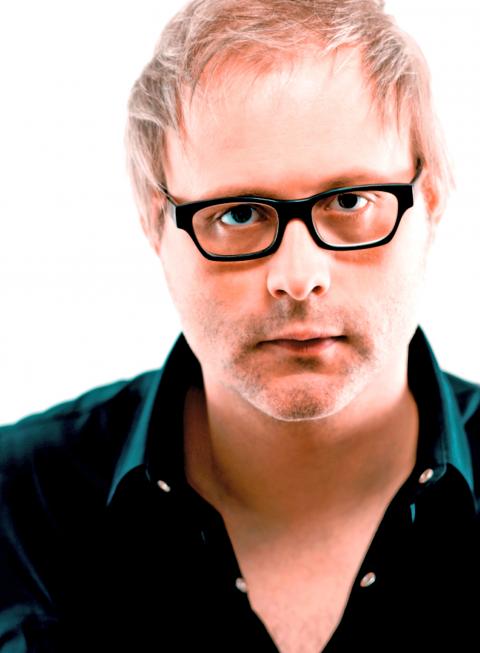 Denis Cote.
Photo courtesy of Taipei Film Festival
Born in the Canadian province of New Brunswick, Cote grew up watching "every horror film in the world" and was dubbed a "horror film encyclopedia" during his teen years. He studied film at Montreal's Ahuntsic College before embarking on a career as a film critic, watching up to three films a day at the local cinema, while reading as much as possible about movies. On weekends, he would make his own short films.
Cote remains a devoted cinephile, watching films wherever he goes and is among the best-traveled, contemporary directors in Canada.
His narrative-driven films, All That She Wants (2007) and Curling (2010), garnered two best-director wins at the Locarno International Film Festival.
Denis Cote.
Photo courtesy of Taipei Film Festival
The more experimental projects, Bestiarie (2012) and Joy of Man's Desiring (2014), were selected for the Berlinale Forum, and Carcasses (2009) was shown at the Directors' Fortnight at Cannes.
His first foray into filmmaking, Drifting States, reveals much about his character. The film, he says, was made as an act of rebellion against the "commercial cinema being made in Quebec."
The director says he started to write about film during the period when the international film scene saw the arrival of auteurs such as Jia Zhangke (賈樟柯) and Tsai Ming-liang (蔡明亮). As a strong advocate of art cinema, Cote would give a full page to an obscure film by Abbas Kiarostami, but only a paragraph to Spiderman. He consequently made enemies and was "banned by some distributors."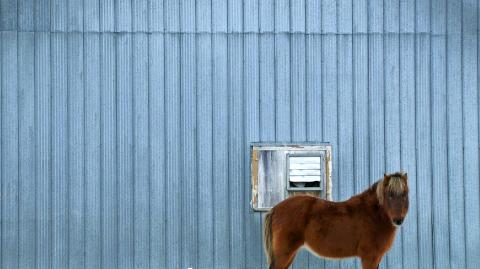 Bestiaire.
Photo courtesy of Taipei Film Festival
"So I [said], 'Just give me a video camera and six friends, and we will make a film,'" the 40-year-old director says.
And so they did. With a small budget and shot within 11 days, the resulting film takes a minimalist approach to storytelling and paints a frank and intimate portrait of a man's journey into an arctic town after committing a crime of compassion.
Cote and his friends also did something uniquely cinematic. By presenting a fictional character in a realistic environment and making the film as he interacts with real-life inhabitants and their surroundings, the director creates what he calls "the cinema of the in-between," an obsession he would come back to in his works again and again.
HYBRID REALITY
Cote's main concern is not to tell a good story, but to challenge conventions and seek something new in terms of cinematic form and film language. He cites as his early mentors the makers of cinema verite, an observational style of documentary filmmaking, popular in Quebec during the 1960s and 1970s.
For Cote, however, reality is never enough. His obsession lies in the mixture of the fictional with the non-fictional in order to create his own reality, his own way of seeing.
"All my films are about cinema… Each one is like a cinematic challenge," he adds.
Joy of Man's Desiring, for example, is a film on the notion of work. The opening scripted monologue by a female worker exhibits a hybrid form. What appears to be an observational documentary about people working in factories and other places of work is regularly interjected with fictional elements, with actors playing workers, adopting theatrical dialogues to speak of their lives, their inspiration and their discontent.
"We take reality and create a new reality from that… It is mine, and it is twisted," the director says.
Many describe Cote's films as works of "docufiction," a label the director finds limiting.
"It's a word we use. We don't really know what it means… That I really like. As a viewer, you sit there and watch a film. For 90 minutes, you are like 'what is that?' You are free to think about what you are watching," Cote says.
THE SPECATATOR
Bestiaire is such a work. Devoid of dialogue and commentary, the film is a quiet meditation on the animals at a Quebec zoo, captured in the exquisitely framed shots from Cote's stationary camera. Traditional spectatorship is consequently questioned and challenged as the audience is given ample space to contemplate their relationship with animals and the film and form their own points of view.
"I really like that you have to project your own personality onto the film… It is there, and you do whatever you want with it," the director says.
'A SENSE OF MENACE'
Having been a film critic, Cote is good at analyzing his own works. He says his "horror film years" have left an indelible imprint on him and play an important role in his tendency to take audiences out of their comfort zone.
Instead of making typical horror movies, Cote juxtaposes genres within a single film, traversing the boundary between fiction and documentary so audiences can never pinpoint what they are watching. The story, if there is any, is always elliptical; sparse dialogue ensures that the characters seem enigmatic.
"[Horror] is in my DNA. You can always feel a sense of menace when watching my films, that something is about to happen," he says.
The vast landscapes of Cote's adopted province are as important as his actors serve as a necessary condition for the existential dilemma that they face — one that promises danger, suspense and new possibilities.
"I am easily inspired by the forest, a lake and mountains. For me, these places are kind of scary… I don't remember swimming in a lake ever in my life. To me, there is something down there [in a lake], a monster… Maybe that's why I put my characters there."
If one is to seek a quintessential Cote-esque character, the father in Curling is possibly the most palpable prototype.
The man works odd jobs as a handyman to support himself and his 12-year-old daughter, but maintains little contact with the outside world. Alone in their world, they paradoxically have a strong urge to make contact with others.
Like the father, Cote's characters always live on the fringes of society. The sense of isolation and the desire for intimacy constitute a recurrent motif in Cote's work.
"I am attached to these people. They are not marginal people, not freaks, just regular folks afraid to be in a community. My dad is a little bit like that. He doesn't like to be part of something. Maybe I am like that sometimes," the director says.
TAKING REVENGE
Since his debut feature, the Quebecois director has made it a habit to alternate between experimental, personal works and relatively big-budget, narrative-driven films. The small projects he calls his "revenge films," an act of rebellion against the "industry films" he makes with a production team of 30 people that cost upward toward US$2 million.
Every time he finishes a big project, Cote says he goes into the forest with three friends to search for inspiration for the next film. To the director, it is also a way to put himself in danger, in the unknown.
"You go into that reality. You trust that reality and you start filming things. You don't know what you are really doing… I like to work with abstraction, with danger. You don't know [if] it's going to be something. Maybe you will put it in the garbage. I don't' mind. You have to be fearless," Cote says.
Comments will be moderated. Keep comments relevant to the article. Remarks containing abusive and obscene language, personal attacks of any kind or promotion will be removed and the user banned. Final decision will be at the discretion of the Taipei Times.