The Vinyl Word
"It's the most beautiful ugly sound in the world" are the first words spoken on DJ D-Styles' (birth name Dave Cuasito) 2002 turntablist album, Phantazmagorea. These words allude to scratching, a style that D-Styles, who will be educating ears tonight at Pipe, is a virtuoso at.
While many DJs can chirp, flare and crab scratch like maniacs, D-Styles' understated manner and ability to manipulate music is more like free jazz.
"My sound is a hybrid of hip-hop influence and the approach of a jazz musician," D-Styles said in an e-mail interview with the Taipei Times.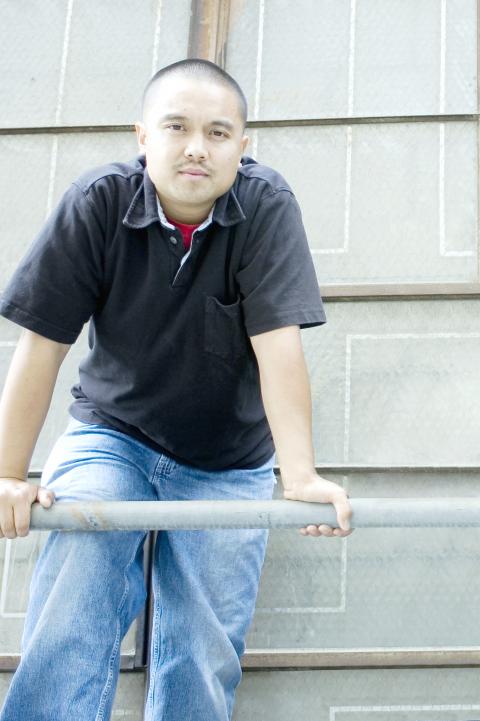 One of the most respected DJs on the turntablism scene, D-Styles, will be at Pipe tonight.
Photo courtesy of Dave Cuasito
"I have always been a fan of Miles Davis, Thelonious Monk and John Coltrane. I always wished I could scratch with the same freedom that they played their instruments," he said.
It would be difficult to get a physical copy of Phantazmagorea today, but the full album can be listened to on YouTube. D-Styles said that putting out music now is kind of sad because few people buy vinyl or CDs.
"I have learned that you need to have a live show and that is how you will survive if you want to be a musician. Being a musician is not a career that I would tell my kids to get into. It's an ongoing and never-ending hustle that is very tiring. But if you love playing music live then that is the best reward and the best high ever."
To make an impression on D-Styles, DJs must do three things — have a good ear, be technically skilled and be willing to take some risks.
"DJs need to be able to listen to and know what sounds work well with one another, they need to have the basic skills of sounding clean with mixing and simple scratching, and they can't be scared to play music that is outside the box. It's the DJs job to open the listeners' ears to new sounds," he said.
Over the years, D-Styles gained a lot of this knowledge from being part of two groups who were pioneers in the turntablist movement, the Beat Junkies, where he learned the business side, and the Invisible Skratch Piklz, who taught him "all my technical skills like how to scratch and how to make turntable music," he said.
Now, D-Styles is part of a collective of DJs who run a weekly party in Los Angeles called The Low End Theory. With resident DJs Gaslamp Killer, Nobody and Daddy Kev, the experimental electronic music played at The Low End Theory has helped artists like Flying Lotus, The Glitch Mob and Nosaj Thing get international attention.
D-Styles, who says his set in Taipei will resemble his Low End Theory sets, loves the party because "I learned how to get back to my DJ roots and just play music that I like."
Ill Ken (real name He Hsiao-kai, 何紹愷) has been watching scratching videos since he was a teenager and decided to get D-Styles to stop by Taipei for his first attempt at organizing a party.
"He's like every DJ's favorite turntablist," Ill Ken said. "A couple years ago, I bought his mix CD for The Low End Theory Japan tour and I found he's not only good at scratching but his mix is also freaking dope. I hoped more people in Taiwan could experience this, so I invited him."
■ D-Styles with Puzzle Man, Sonic Deadhorse, Chicano and Fresco play tonight from 11pm to 4am at Pipe, 1 Siyuan St, Taipei City (台北市思源街1號). Admission is NT$800 and includes one drink.
Comments will be moderated. Keep comments relevant to the article. Remarks containing abusive and obscene language, personal attacks of any kind or promotion will be removed and the user banned. Final decision will be at the discretion of the Taipei Times.