Restaurant review: SRH Noodle Bistro (雙人徐仁愛麵吧)
The Renai branch of SRH Noodle Bistro is tucked away in a quiet alley near the intersection of Taipei's Guangfu South Road and Renai Road. It may take some effort to find, but the restaurant is worth the trip.
SRH is short for Shuang Ren Hsu (雙人徐), literally the brothers Hsu. The brothers first launched the brand online to sell their grandmother's recipe for zhajiangmian (酢醬麵), or noodles topped with soybean paste and ground pork. The dish was a hit and convinced the brothers they could make a go of starting a restaurant. Today they have four locations across the nation's capital.
The menu features noodles with soybean paste (NT$200), minced pork and tomato sauce noodles (NT$300), chicken soup noodles (NT$350), noodles with green onion sauce (NT$150) and spicy or non-spicy wonton (NT$180, with shrimp for NT$280) as signature dishes.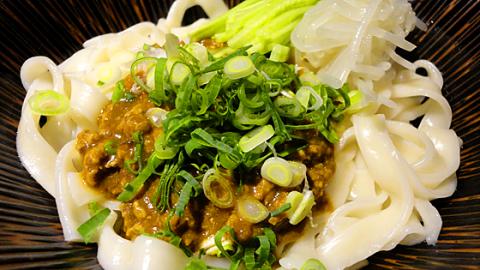 SRH Bistro's speciality of noodles topped with ground pork and soybean paste.
Photo: Tang Hsiang-yi, Taipei Times
Set menu options are priced between NT$230 and NT$430, and include two appetizers, noodles, chicken soup and hibiscus tea.
We ordered soybean paste noodles and chicken soup (NT$280). As for side dishes, we chose shrimp rolls (NT$180), seasonal boiled organic vegetables (NT$120), homemade fried chicken nuggets (NT$150) and the SRH savory luwei (滷味) platter (NT$180), savory meats, vegetables or tofu braised in a soy sauce broth.
The platter turned out to be the best part of the meal. Mingled with scallion shreds and Chinese celery leaves, the beef shank and beef tripe were tender and succulent for absorbing the braising broth, which features a spice fusion of anise, cloves, fennel seeds, liquorice and cinnamon.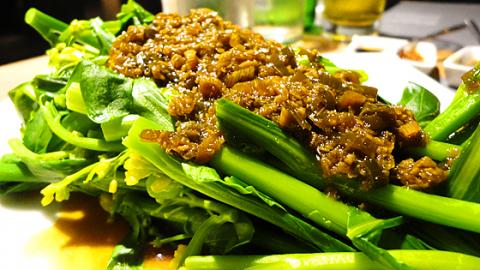 The pork mince and chopped scallions on top of the boiled vegetable are seasoned with vinegar.
Photo: Tang Hsiang-yi, Taipei Times
The appetizers were two cold dishes: pickled cabbage and strips of oyster and wood ear mushrooms drizzled with white sesame oil. The cabbage tasted tangy from the vinegar and sweet from the sugar, but the chili seemed to only serve a decorative purpose. The mushrooms, with their black-beige color contrast, gave a bouncy texture with the aroma of sesame oil.
The fried shrimp rolls with ham and cheese delivered an appealing blend of briny and meaty flavors, though the outer layer was less crispy than I would have liked. My confidence was restored when we were served the crispy chicken nuggets. The boneless, bite-sized chicken morsels were succulent and crispy.
The noodles arrived only a few minutes after the fried dishes, which put us in a rush to mix the meat sauce with the broad noodles since it has to be done before it cools; otherwise the noodles may stick together.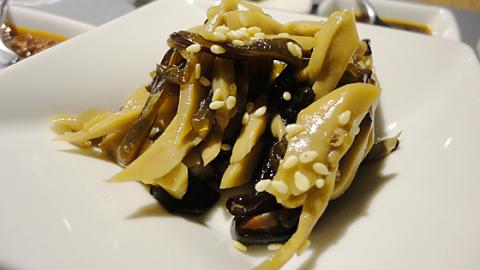 Strips of oyster and wood ear mushrooms.
Photo: Tang Hsiang-yi, Taipei Times
The shredded cucumber and cooked bean sprouts on top of the noodles enlivened this dish. The meat sauce, on the other hand, tasted rather light, although not watery, and the portion wasn't enough to coat all of the noodles, making the dish a little bland.
Our meal ended with a bowl of soothing chicken soup (a la carte for NT$120). It was thicker than conventional clear stock and emitted a pleasant savory flavor from simmering with chicken bones.
Although I wasn't impressed with the bistro's specialty, the luwei platter will be my top choice on my next visit, while exploring the drink menu, which sports a selection of wine, cocktails and shots.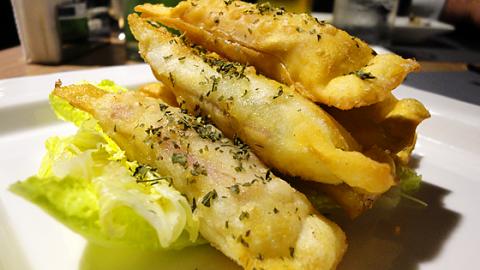 The fried shrimp rolls envelope shrimp, ham and cheese in the wonton wrapper.
Photo: Tang Hsiang-yi, Taipei Times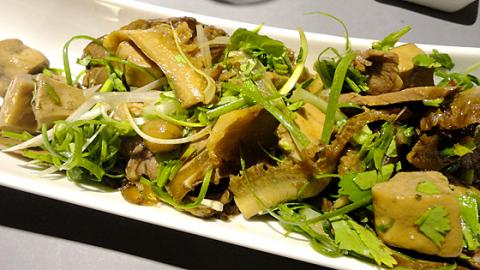 SRH Bistro's luwei platter.
Photo: Tang Hsiang-yi, Taipei Times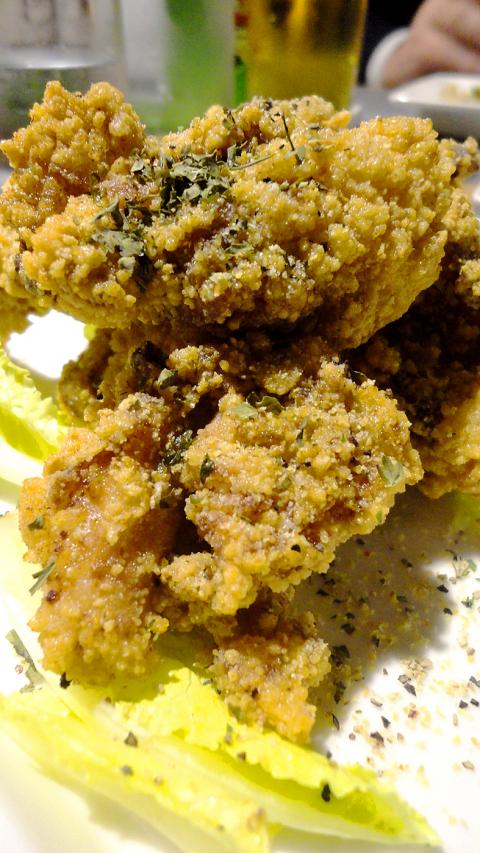 Crispy chicken nuggets.
Photo: Tang Hsiang-yi, Taipei Times
Publication Notes
SRH Noodle Bistro (雙人徐仁愛麵吧)
Address: 22, Ln 420, Guangfu S Rd, Taipei City (台北市光復南路420巷22號)
Telephone: (02) 2703-2783
Open: Every day from 11:30am to 1am (until 2am on Fridays and Saturdays)
Average meal: NT$400
Details: Menu in English and Chinese; credit cards accepted
On the Net: shuangrenhsu.com
Comments will be moderated. Keep comments relevant to the article. Remarks containing abusive and obscene language, personal attacks of any kind or promotion will be removed and the user banned. Final decision will be at the discretion of the Taipei Times.