Live Wire: Make Your Choice
The sub-sets of the Taipei music scene forever ebb and flow in terms of show frequency. One month fans of a certain genre might be spoiled for choice, only to see the vast wasteland of nothingness open wide before them the next. It's a numbers game for promoters bringing in the bigger acts, and always a roll of the dice.
Fans of metal in our nation's capital have been on the receiving end of much of the scene's quota of good fortune lately, with shows by the likes of Rob Zombie and Suicide Silence recently announced, not to mention a rare local appearance by scene kings (and queen) Chthonic (閃靈) along with Japanese teenage novelty metal act Baby Metal this past Sunday. This week that trend of heaviness continues with the last-minute announcement of a show by American metal band The Devil Wears Prada.
It isn't choice, but rather a dropping of the proverbial ball that brings Christian metalcore act The Devil Wears Prada to our fair city this evening. Originally slated to skip Taiwan altogether on their Asian tour — as many acts do for the simple fact that the metal scene is not yet sizable enough to support them (read: anticipated ticket sales won't cover the bands' show fee) — the band saw its string of shows in China abruptly canceled due to the sudden disappearance of the promoter for as yet unspecified reasons. Following the cancellations the band got on the horn to Taipei-based ICON Promotions, and a hastily thrown together show was organized for the breakdown-heavy Bible thumpers in a city boasting a metal scene known for its love of all things core.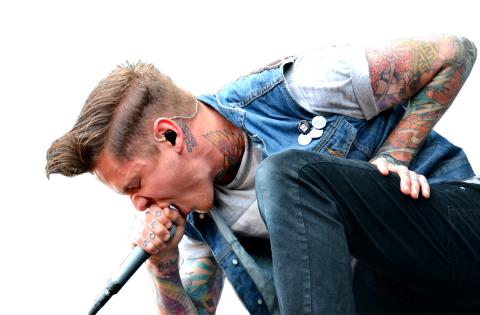 Christian metalcore act The Devil Wears Prada brings the breakdowns to Pipe Live Music tonight.
Photo courtesy of Weeklydig
It was the Dayton, Ohio-based five-piece that originally introduced Nergal (Adam Darski) of Polish blackened death metal band Behemoth to his holy book tearing ways when the unlikely pair was placed side by metaphorical side on the Sounds of the Underground tour in the US a few years back. The band presented him with a Bible backstage, hoping to curb the erstwhile evil lifestyle of the man whose forthcoming album is simply titled The Satanist. Nergal promptly proceeded to bring the book on stage with him and tear it to shreds, leading to somewhat of a tradition that would in turn lead to criminal charges of publicly insulting religion when he brought the act back to his notably pious native land.
No word on whether The Devil Wears Prada have attempted to reform any other bands that don't conform to their particular Judeo-Christian world view since, but chances are it won't be an issue when they get to Taiwan. Opening acts Faded Moment (凋零瞬間) a screamo/post hardcore band, along with fellow repetitious breakdown enthusiasts Seeking The Ocean, are known more for inciting crowds of swoop-haired emo kids into fits of cathartic frenzy than they are for taking part in backwoods Satanic rituals, so The Devil Wears Prada can likely leave the religious scriptures at home and focus solely on the music tonight. They'll just have to save souls some other time.
■ The Devil Wears Prada plays tonight at Pipe Live Music (派比義大利音樂餐廳), 1 Siyuan Street, Taipei City (台北市中正區思源街1號). Tickets are NT$1,200 in advance, NT$1,400 at the door. Doors open at 6:30pm, and the show kicks off at 7pm.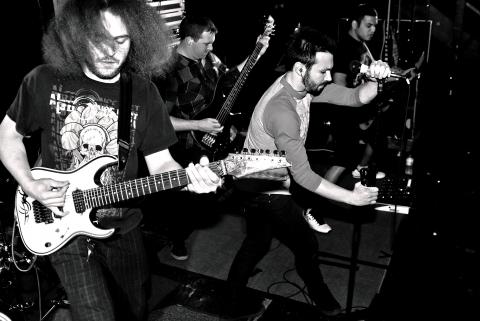 Djent movement pioneers Periphery play Taipei for the first time on Thursday night.
Photo courtesy of Robert Bejil
In terms of bands influencing the new school of acts to emerge on the local metal front in recent years, it doesn't get much bigger than the forerunners of the American djent movement Periphery. The band was founded in 2005 by guitarist Misha Mansoor, a player who came to prominence largely due to his prolific output on the Soundclick Web site, where he continues to release nearly everything he records for free. Through two full-length records and two EPs, Periphery has managed to maintain a place at the forefront of the changing face of the music industry. While other artists struggle against the unstoppable tide that is the Internet, working largely in spite of it, Periphery has adapted and found ways to work with it, acknowledging what has been obvious but strangely ignored by many — things will never be the same.
One of the things that keeps fans coming back to Periphery (and it's not the whiny emo vocals) is the band's ever-changing approach. The djent explosion arose with Periphery's own climb to prominence. Before long the global metal scene was awash in imitators, many of which did little but drown each other out in garish displays of poor execution as they made attempt after futile attempt to copy Mansoor's signature style and tone, much of which is owed to Swedish math metal wizards and djent godfathers (whether they wish to be acknowledged as such or not) Meshuggah. Periphery has managed to hang around, though, and hold onto a certain freshness. On the band's latest EP, Clear, which just came out at the end of January, each member of the sextet was responsible for writing a song based on the melodic theme of an intro penned by the band as a whole. It's been a long wait for fans, with previews of tracks off the EP having teased fans since 2012. Next week, Taipei djent-heads will have a chance to hear the songs in the live setting for the first time.
■ Periphery plays Thursday at Legacy Taipei (傳音樂展演空間), located at Huashan 1914 Creative Park (華山1914), Center Five Hall (中五館), 1, Bade Rd Sec 1, Taipei City (台北市八德路一段1號). Opening acts are Qollision (Hong Kong) and Her Name In Blood (Japan). Tickets are NT$1,500 in advance, NT$1,800 at the door. Doors open at 7pm and the show starts at 8pm.
Comments will be moderated. Keep comments relevant to the article. Remarks containing abusive and obscene language, personal attacks of any kind or promotion will be removed and the user banned. Final decision will be at the discretion of the Taipei Times.