K-pop heartthrobs: the musical
In Seoul's theater market, the hottest trend is hiring K-pop stars for homegrown versions of American and European shows
His acting was all smiles and scowls, and his dancing fell short of Broadway caliber, but Yang Yoseob, at 23, was an old pro at exuding heartache. Which was all that really mattered.
At a recent performance here of Joseph and the Amazing Technicolor Dreamcoat, the Andrew Lloyd Webber-Tim Rice rock musical, the 1,000-strong audience fell into a mesmerized silence every time the spotlight fell on Yang, a sweet-faced star in the multibillion-dollar Korean pop music industry. The hush broke only once, when Yang, playing the much-abused son of the biblical Jacob, sang a Korean translation of Joseph's power ballad Close Every Door. As he belted about hardship and hope, young women wept.
"He looked like he did in Caffeine," said Jung Jeong-un, 17, during the intermission, referring to Yang's recent K-pop video. "'You're bad to me, so bad to me, oh girl, you're like caffeine,'" Jung quoted. "Yoseob's hurt feels very deep. I love him."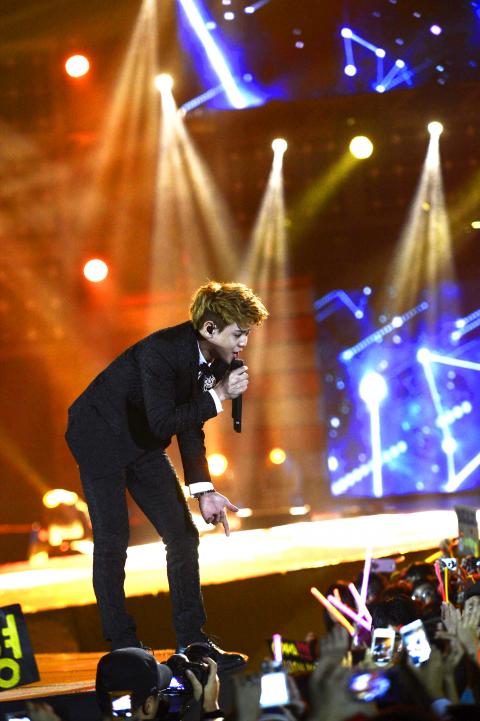 Pop idol Yang Yoseob is shown in concert last year at Hanoi. More recently, he wowed crowds with his power ballads in Joseph and the Amazing Technicolor Dreamcoat.
Photo: AFP
So much so that she had already bought another US$80 (NT$2,398) ticket to his next performance in Joseph.
Imagine Justin Bieber in a Broadway show, and the hottest trend in Seoul's US$300 million theater market — which is crowded with US and European musicals — starts making sense. Not unlike Broadway's star casting of movie and television actors like Daniel Craig and Bryan Cranston, producers here have been increasingly hiring K-pop stars, as well as Korean soap opera actors and other celebrities, to perform two or three times a week in major roles (with other actors handling the other nights) in exchange for the prestige of roles and payments of up to US$50,000 per appearance.
This fusing of homegrown performers with US and European shows has meant big money here — and lucrative royalties and fees for the show creators — by turning women in their teens, 20s and 30s into devoted and repeat customers. In the theater lobbies of Joseph, Grease and Bonnie & Clyde this fall, they snapped photos of each other standing beside life-size cutouts of their K-pop stars in costume. At Ghost the Musical, a Broadway flop that has opened its first Asian production here, competing fan groups used a large scale near the box office to weigh rice donations they made to charities on behalf of the musical's K-pop and soap stars. And television and radio advertising emphasize the K-pop stars first and the show titles second for the dozens of musicals running across this city.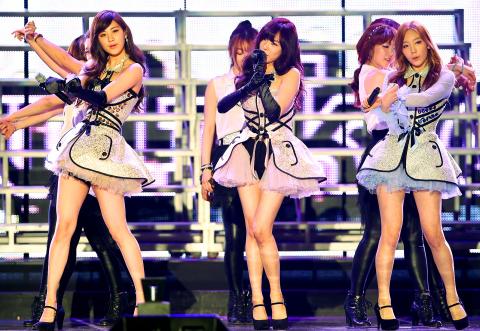 The talent agency behind Girls' Generation says it's preparing a K-pop version of Singin' in the Rain.
Photo: AFP
"Ten years ago, five years ago, ticket sales depended on a musical coming from Broadway or London or having a Tony Award, but today, K-pop casting has become the No. 1 criteria for a lot of shows," said Chang Jun-won, a talent agent turned producer here whose latest show is a Korean version of Murder Ballad.
After he saw Murder in New York, he called one of his K-pop clients and said, "I've found something for you." She is now starring in it.
"The stars bring in women, but they're also famous enough to bring in Japanese and Chinese tourists, whom we need badly to keep growing our market," he added.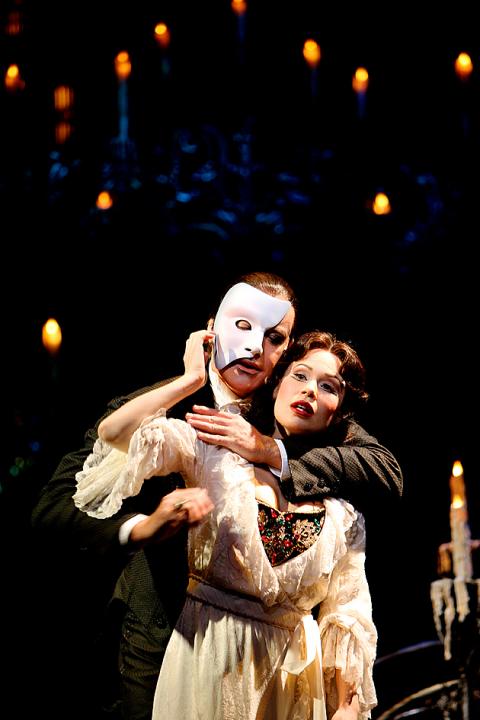 Ten years ago in Seoul, ticket sales depended on the show's pedigree, with Broadway classics like Phantom of the Opera, pictured above, showing strong at the box office. Now, K-pop casting is key, according to a local theater producer.
PHOTO: AFP
K-pop is known for its high cuteness factor, fast-paced choreography and seductive winks, smiles and double takes, as well as lyrics that tend toward frothy fun or breakup boohoo. The music has become one of Korea's most lucrative exports, propelling the so-called Korean Wave of culture through Asia while exploding into a YouTube phenomenon in the United States and elsewhere, thanks largely to the viral video Gangnam Style by Psy.
A few Korean theater producers are trying to ride this wave by putting K-pop stars into Broadway musicals and staging tours of the shows in Japan; a K-pop-laden Jack the Ripper was a popular export to Tokyo last year. The goal is to take these tours to China, once its enormous market opens up further to outside theatrical productions. But for now, most theater activity is centered in Seoul, a city of about 10 million people. Producers focus on rotating big-name singers into musicals to help them have longer runs. And when those performers are on tour, soap stars and others will suffice, like Lee Ha-nui, a onetime Miss Korea, playing virtuous Sarah Brown in Guys and Dolls here.
"There are so many musicals in Seoul now, dozens and dozens, that the stars help ticket buyers make choices," said Gina Lee, the director of Guys and Dolls, who cast a former K-pop singer, Song Won-geun, as the gambler Sky Masterson.
From the folks who brought you Girls' Generation
K-pop's dominance is leading to some provocative ideas — and pushback from US musical licensing companies. At SM Entertainment, a major talent agency that is moving into musical theater, executives are planning a Korean-language Singin' in the Rain, with a K-pop star in the Gene Kelly role and K-pop choreography between scenes. (The title number, where Kelly splashes through puddles while twirling an umbrella, will stay.)
"While it'd be hard to put K-pop music and dancing into, say, Les Miserables, Singin' in the Rain has a very open structure that could easily blend in our style of performance," said Jeong Chang-hwan, who oversees theater producing for SM.
But Jeong said he has encountered resistance from Music Theater International, the New York-based licensing company that handles the rights to Singin' in the Rain as well as another musical that SM is considering, West Side Story.
"Obviously, we don't want to do any damage to the shows," Jeong said, sitting beside bookcases with CDs by Girls' Generation, Shinee and other K-pop groups. "But we also want these to be Korean shows."
The Music Theater International executive who oversees licensing for Asia, Koji Aoshika, said that SM Entertainment had not included K-pop sequences in its Singin' in the Rain producing proposal and that such sequences would be rejected.
As for West Side Story, Aoshika said, "I've suggested they create a dance, especially ballet, training program for their young performers for a few years at least, as dancing is much weaker than acting and singing in the Korean musical market."
The lack of experience was glaring at several performances featuring K-pop stars. Yang, as Joseph, mostly scurried and twirled around the lip of the stage and conveyed emotions by putting his hands on his heart or balling them into fists. As Sky Masterson, Song panted and sweated visibly during the lengthier numbers. And in the lead role of Sandy in Grease, Oh Seung-a, of the girl group Rainbow, sometimes had to fight her instinct to wink and smile at the audience, in K-pop fashion, during the show's more serious moments, she said.
'Stunt Casting'
US producers have certainly tried to capitalize on pop-star appeal, too — after all, Donny Osmond has played the title role in Joseph numerous times, and Debbie Gibson dropped into Les Miserables, Cabaret and other Broadway musicals. More recently Nick Jonas returned to Broadway in How to Succeed in Business Without Really Trying, but his presence failed to generate big ticket sales. New York theater critics have often bemoaned this stunt casting, and a few Korean producers are starting to worry, too.
"The idea of revolving casts of K-pop stars, soap actors and theater actors doesn't bode well for a musical, because it can't guarantee quality when performers change every day," said Shin Chun-soo, president of the OD Musical Co., which has produced Jekyll & Hyde, Man of La Mancha, Contact, Nine and other Broadway musicals in Seoul.
High quality or not, several shows with iffy pedigrees (they have never made it to Broadway) have enjoyed big ticket sales thanks to K-pop stars, like the European musicals Elizabeth and Mozart, which featured Kim Jun-su of the pop group JYJ — a performer whose booming voice fit the soaring melodies of those two historical musicals. The Three Musketeers sold strongly by having K-pop stars rotating as young romantic hero d'Artagnan. And Hedwig and the Angry Inch and Xanadu also sold well with K-pop stars.
But the reliance on K-pop performers highlights a void in the theater scene here: the dearth of original Korean musicals.
The most popular Korean-made show here is Nanta (or "Cookin'"), a comedy about the staff of a restaurant kitchen that has no dialogue, a so-called nonverbal production that has made it easy to tour. (It ran off-Broadway in 2003 and again the next year.) Musical romance Finding Mr. Destiny was a hit in 2006 (and was mounted in China under the title Finding Mr. Kim), while the most popular original musical here recently was Bungee Jump, a complex love story that involves a young woman who is reincarnated as a man and reunited with her old lover, also a man, leading to scandal.
Hue Park, the lyricist for Bungee Jump, said he drew on his experience writing K-pop lyrics a decade ago, gigs that earned up to US$7,000 a song, as he worked on the musical.
"K-pop lyrics repeat the same words over and over and try to be very catchy, memorable, karaoke worthy," said Park, 30, who collaborated with a US composer, Will Aronson, on the show. "And too often, American musicals aren't translated here into ways that real Koreans talk. One reason Bungee is popular is that the Koreans sound like Koreans."
Mastering the English-to-Korean translation is only one of the challenges facing the K-pop stars, several of whom said that they dreamed as children about acting on the stage but were pulled into the K-pop world because the talent agencies and music-making assembly lines have become so dominant here.
Ock Joo-hyun, who plays Elphaba in Wicked, said that the make-believe world of theater — like adjusting to green makeup at every performance to play her character, who becomes Wicked Witch of the West — had been unnerving at first.
"I had never been raised in the air before, and I got a little motion sickness the first time on the broom," said Ock, who then smiled and winked — a K-pop move that seemed almost involuntary to her.
Yang, whose slightly androgynous features were pronounced "cute" and "sweet" by several girls during and after Joseph, said he is trying the theater for the same reason that some Hollywood stars go to Broadway: to prove something to his fans and to himself.
"Popularity can just be a bubble when there is no ability," he said. "So I'm coming to the theater to learn abilities. K-pop gives you fans, but I hope that musicals can give you skill."
Comments will be moderated. Keep comments relevant to the article. Remarks containing abusive and obscene language, personal attacks of any kind or promotion will be removed and the user banned. Final decision will be at the discretion of the Taipei Times.