Dancing into 2014
To close out the 2013 dance year, the National Theater Concert Hall invited two of the most exciting female modern dance choreographers in Taiwan to create new pieces for a joint production, titled 1+1.
The idea is to give audiences a chance to compare and contrast the styles of the two women, who have their own companies and usually mount their own productions. Both have won acclaim for their use of dance to comment on modern Taiwan and current social events and trends.
Yao Shu-fen (姚淑芬), who teaches at the National Taiwan University of Arts (國立臺灣藝術大學), received a master's degree in performing arts and choreography from New York University and founded the Century Contemporary Dance Company (世紀當代舞團) in 2000. She won the 2011 Taishin Arts Award for performing arts for the company's 10th anniversary production, Igor Stravinsky's Les Noces/Le Sacre du Printemps in 2010.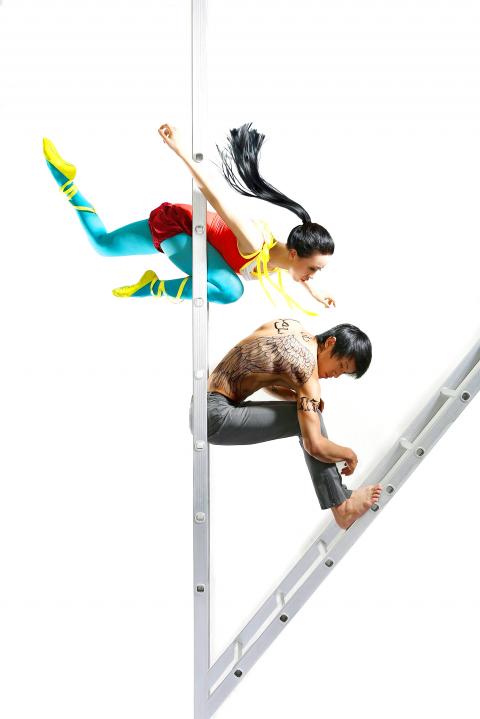 Yao Shu-fen's Wings of Desire will be performed this weekend at the National Theater in Taipei as part of a joint production with choreographer Ho Hsiao-mei.
Photo Courtesy of National Theater Concert Hall
Ho Hsiao-mei (何曉玫) also received her master's from New York University — the Tisch School of the Arts — and is an associate professor at Taipei National University of the Arts' (國立臺北藝術大學) School of Dance. She founded Meimage Dance Company (玫舞擊) in 2010, after choreographing for the Taipei Crossover Dance Company (台北越界舞團) for 10 years.
When working on productions for their own troupes, Yao and Ho usually use the small Experimental Theater, but for 1+1 they are moving up in the world, to the main stage at the National Theater. This gives them not only much more floor space to work with, but many, many more seats to fill.
Yao's piece, Wings of Desire (蒼穹下), was inspired by Wim Wenders' 1987 film of the same name. She fell in love with the film's music the first time she saw it, and for years wanted to create a work in which she could use it.
Her multimedia production explores human memory through a combination of dance, film and projections.
To help give the piece a 3D cinematic feeling, Yah invited German opera director Thilo Reinhardt to work on the project as well as videographer Chang Hao-jan (張皓然), whose stunning footage provided much of the magic for Cloud Gate Dance Theatre (雲門舞集) artistic director Lin Hwai-min's (林懷民) latest work, Rice (稻禾), which premiered at the National Theater last month.
Ho's work, My Dear (親愛的), was inspired by some of her readings and explores the fleeting nature of emotions, of shadows and reality, of intimacy and conflict.
She invited Taiwanese modern paper-cutting artist Jam Wu (吳耿禎) to collaborate. Wu, who graduated from Shih Chien University with a bachelor's degree in architecture, studied in Beijing last year, at the Central Academy of Fine Arts' Graduate School of Experimental Art.
Ho's cutting-edge choreography flows through the storybook cutout imagery created by Wu. Each dance is about 50 minutes long, so the entire show will run about two hours, including intermission.
Publication Notes
Performance notes
WHAT: 1+1
WHEN: Tonight and tomorrow at 7:30pm, Sunday at 2:30pm
WHERE: National Theater (國家戲劇院), 21-1 Zhongshan S Rd, Taipei (台北市中山南路21-1號)
ADMISSION: NT$500 to NT$1,200 (NT$1,500 already sold out for tonight and tomorrow); available at NTCH box offices, online at www.artsticket.com.tw or 7-Eleven ibon kiosks
Comments will be moderated. Keep comments relevant to the article. Remarks containing abusive and obscene language, personal attacks of any kind or promotion will be removed and the user banned. Final decision will be at the discretion of the Taipei Times.