Up close and personal
Two dance productions examine communication and relationships
Two of the nation's smaller, but well-traveled modern dance troupes are taking to the stage this weekend, one in Taipei and the other in Greater Taichung, with works by choreographers who have carved out a niche for themselves and their companies by creating avant-garde — for Taiwan — productions.
The two choreographers, Sun Chuo-tai (孫梲泰) and Shih Gee-tze (石吉智), may be different in terms of age and experience, but both came from non-dance backgrounds that could have led them in very different career directions. Sun comes from a family of Chinese opera performers, while Shih worked as an elementary school teacher before turning to choreography and winning a scholarship to study at the Taipei University of the Arts (now National Taipei University of the Arts). They also both incorporate Western modern dance techniques and Asian elements in their works.
Interestingly, the latest productions by the two men both explore communication, relationships and boundaries.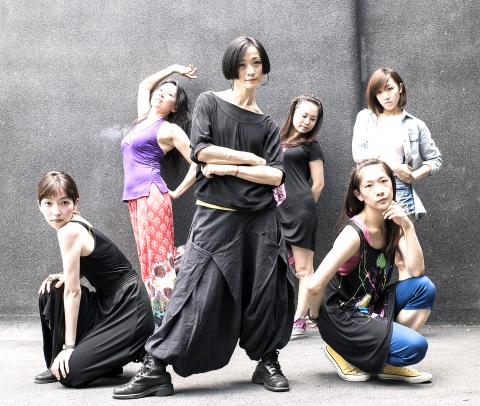 The 8213 Physical Dance Theater will perform founder Sun Chuo-tai's newest work, Pause, at Taipei's Guling Street Theater this weekend.
Photo: Courtesy of 8213 Physical Dance Theater
Sun's 8213 Physical Dance Theater (8213肢體舞蹈劇場) returns to Taipei's tiny Guling Street Theater with Pause (句點).
In his notes about the program, Sun talks about the rules of punctuation — how periods indicate a complete or finished idea or action, while commas leave you hanging, incomplete. Such periods or pauses also exist in life. In front of the little black dot are a number of possibilities; after it is something else.
He also talks about magnetic fields, the gravitational force between people and the impasses that separate them.
For Pause, which is set on five dancers, Sun said he is using the dot to mark the point at which you go back to the very beginning, to zero and the point at which you take off for a new destination.
Taking off for new destinations is the starting point for Shih's Modern Arts Dance Theater's (極至體能舞蹈團) Backpacker (背包客), which will be performed at the Chungshan Hall in Greater Taichung.
MAD Theater is almost twice as old as Sun's troupe, having been founded in 1997 as the Acme Physical Theater (極至體能). While Shih has often been inspired by Taiwanese culture and Taoism in his work, his latest creation looks at the influence young backpackers have in the countries they travel to — and how they in turn are influenced by the people they meet and the customs and places they encounter.
Backpacker runs the gamut from the almost childlike enthusiasm at the start of the trip, to the fears, panic and problems that some travelers experience, to the sheer thrill of being able to live out a dream.
The comedic elements in the work are highlighted by the music Shih has chosen for the soundtrack, which ranges from ABBA to the themes from Mission Impossible and The X-Files to the "Winter" movement from Antonio Vivali's Four Seasons and Edward Elgar's graduation mainstay Pomp and Circumstance.
Performance Notes:
WHAT: Pause
WHEN: Tonight through Sunday at 7:30pm, tomorrow and Sunday at 2:30pm
WHERE: Guling Street Theater (牯嶺街小劇場), 2, Ln 5, Guling St, Taipei (台北市牯嶺街5巷2號)
ADMISSION: Tickets are NT$450, available at NTCH box offices, online at www.artsticket.com.tw, at 7-Eleven ibon kiosks or at the door
Performance Notes:
WHAT: Backpacker
WHEN: Tonight and tomorrow at 7:30pm
WHERE: Chungshan Hall (臺中市文化局中山堂), 98 Syueshih Rd, Greater Taichung (台中市 學士路98號),
ADMISSION: Tickets are NT$500 to NT$1000, available online at www.artsticket.com.tw, at 7-Eleven ibon kiosks or at the door
ADDITIONAL PERFORMANCE: Dec. 7 at 7:30pm at Kaohsiung Cultural Center's Chihshan Hall (高雄市文化中心至善廳), 67 Wufu 1st Rd, Greater Kaohsiung (高雄市五福一路67號). Dec. 14 at 7:30pm at the Nantou Cultural Affairs Bureau's Performance Hall (南投縣政府文化局演藝廳) , 135 Chienkuo Rd, Nantou (南投市建國路135號). Tickets for Greater Kaoshiung are are NT$500, for Nantou NT$300; available online at www.artsticket.com.tw, at 7-Eleven ibon kiosks or at the door
Comments will be moderated. Keep comments relevant to the article. Remarks containing abusive and obscene language, personal attacks of any kind or promotion will be removed and the user banned. Final decision will be at the discretion of the Taipei Times.