Life through a lens
Im Kown-Taek, known as the Grandfather of Korean cinema, continues to make movies at the age of 77
Acclaimed Korean director Im Kwon-Taek has a simple explanation as to why he is embarking on his 102nd film at an age when others might consider taking things easy. "Film is my passion," the 77-year-old said. "And you must follow your passion."
Affectionately known as the "Grandfather of Korean cinema", a large number of Im's acclaimed productions have focused on what he sees as the erosion of Korean culture in a society that has seen rapid change in recent decades.
With giant posters of him displayed all over the city, Im has been an omnipresent force at this year's 18th Busan International Film Festival (BIFF), which is screening 71 of his movies while making him the subject of a series of seminars and panel discussions. The first Korean to be named Best Director at the Cannes Film Festival for 2002's Chihwaseon (Painted Fire) Im has marked the occasion by announcing his 102nd film in a career dating back to his 1962 debut Farewell to the Duman River.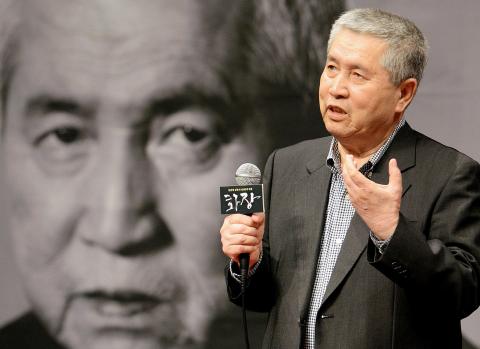 Korean film director Im Kwon-Taek speaks next to his portrait during a press conference for his movie Hwajang at the 18th Busan International Film Festival (BIFF) in Busan.
Photo: AFP
"Films reflect the accumulated experiences of the life you have lived," said Im. "The life I have lived is within me and I have to translate that into film."
Shooting will start in December on an adaptation of Korean author Kim Hoon's novel Hwajang.
The film, which reunites Im with acclaimed Korean actor Ahn Sung-Ki for their seventh production, focuses on an ageing man who lusts after a younger woman while caring for his dying wife. Hwajang means both "cremation" and "make-up".
"I have always waited with baited breath for [Kim's] next work," Im said. "Hwajang is not a story that is very dramatic. But the tension and the beat of the work is what attracted me. It is a challenge but I am attracted to that challenge."
The 61-year-old Ahn said he was also keen to explore the story's deeper meanings.
"The director has always dealt with aspects of Korean culture to examine the human condition, and the upcoming film will probably focus more on the latter, like the book," said Ahn. "It's going to be a very difficult role to tackle as an actor."
This year's BIFF has also reunited the director with cast members from his romantic classic Seopyeonje (1993), which was the first film in Korea to sell more than one million admissions.
"No one thought people would come and see this film," said Im. "There were many bigger productions coming about and it is a drama about Korean life. But word-of-mouth worked and the people just kept coming — it became a sensation."
The director said he had wanted to use film to encourage people to not only reflect on their own lives but on the society that surrounds them.
"These things are important because they are part of who we are," he said. "If I can help make people appreciate them more, then I think I have succeeded. I think we all need to take the time to reflect on our lives."
Comments will be moderated. Keep comments relevant to the article. Remarks containing abusive and obscene language, personal attacks of any kind or promotion will be removed and the user banned. Final decision will be at the discretion of the Taipei Times.