The Vinyl Word
Social media gives the impression that celebrity DJs drink, push buttons and cruise around the world in private jets, partying with pretty girls and popping bottles of champagne. So when I heard that DJ Sammy Bananas (real name Sam Posner) — whose life mustn't be lacking any fame or fortune since he's pinned to A-Trak's illustrious Fool's Gold label — is a science major who humbly commits his free time to trying to change the world, and spends more time dancing in a banana costume than with a bottle in his mouth, I was impressed and intrigued.
But his propensity for dancing onstage in a banana costume is not how he got his moniker. Nor is it because he's obsessed with bananas. He does like them, but he says that bananas are part of his name only because it means something is really awesome or crazy, like him.
After graduating from college with a science degree, Bananas applied to the Red Bull Music Academy on a whim and was accepted to the 2003 edition in Cape Town. Just like that, his life changed. He said those two weeks made him realize that he had to make music his focus.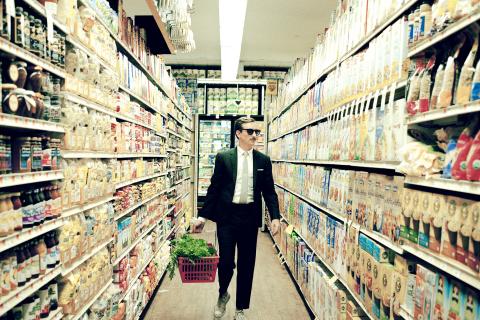 Sammy Bananas is just a regular DJ trying to change the world one flight at a time.
Photo: courtesy of Flora Hanitijo
"Here I am 10 years later, still playing shows and churning out tunes," he said.
Fast-forward to earlier this year, Bananas began experimenting with a retro way of churning out his tunes. His first records on Fool's Gold in 2008 were on wax, and he felt compelled to do a physical release again.
"I feel like even in the era of the digital DJ, it's important to make a really well-designed and beautiful thing [that] people can hold in their hands," he said of the album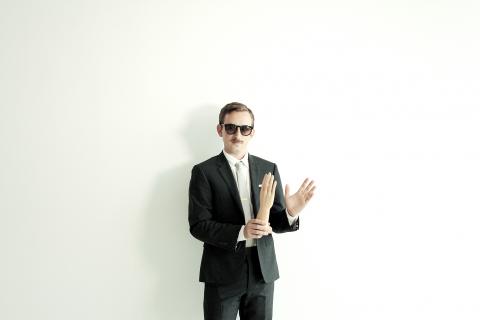 He's not wearing a banana costume in this picture, but it could happen at either of his two gigs in Taipei tomorrow.
Photo: courtesy of Flora Hanitijo
So then he released a few of his best tunes on vinyl, but what's even more interesting is how he went about it: He asked his fans to foot the bill.
"I went with Kickstarter because I was interested in seeing if my fan base actually wanted to buy vinyl, which turned out to be the case. Interacting with your fans on the Internet and social media can sometimes feel like a one-way street, but crowd funding was a great way to have a conversation with my fan base in a more meaningful way."
Recently, the Brooklyn-based DJ has fashioned himself as a crusader against global warming. Airplane flights are a necessary evil for many musicians, but he and his colleagues have launched DJs Against Climate Change, which encourages frequent-flying artists to offset the carbon emitted from their air travel by donating to organizations working to reduce greenhouse gases.
"The world is going to need a lot more than a bunch of DJs offsetting flights to combat this huge issue, but it's a way to use our growing position of influence in society to help people get that we all need to understand how climate change fits into our individual lives."
And with that, ladies and gentleman, I present to you DJ Sammy Bananas, who tomorrow plays two DJ sets that he says will resemble '90s NYC house music.
Sammy Bananas plays tomorrow from noon to 11pm at the Havana pool party, Happy World Riverside Pool (大新店游泳池), 112-1, Huanhe Rd, New Taipei City (新北市環河路112-1號). Admission is free from noon to 4pm. After 4pm, admission is NT$300 for women and NT$400 for men and includes a drink. He plays again tomorrow night between 9pm and 1am at the Woobar of the W Hotel, 10, Zhongxiao E Rd Sec 5, Taipei City (台北市忠孝東路五段10號). Admission is free.
Comments will be moderated. Keep comments relevant to the article. Remarks containing abusive and obscene language, personal attacks of any kind or promotion will be removed and the user banned. Final decision will be at the discretion of the Taipei Times.