So you want to adopt a child from Taiwan?
For one Texan mother, the paperwork was the easy part. It's raising a Taiwanese American that's hard
As Jules Rockaway, 46, a retired Delta flight attendant, waited in line at the Target near her home in Grapevine, Texas, she could sense that the customer behind her was staring at her four-year-old daughter, Hayden.
"Where is she from?" the woman bluntly asked, looking first at Rockaway, who is white, then at her daughter, Hayden, who is not.
"I'm from Taiwan," Hayden replied on her own. "But I'm not really interested in sharing my story today."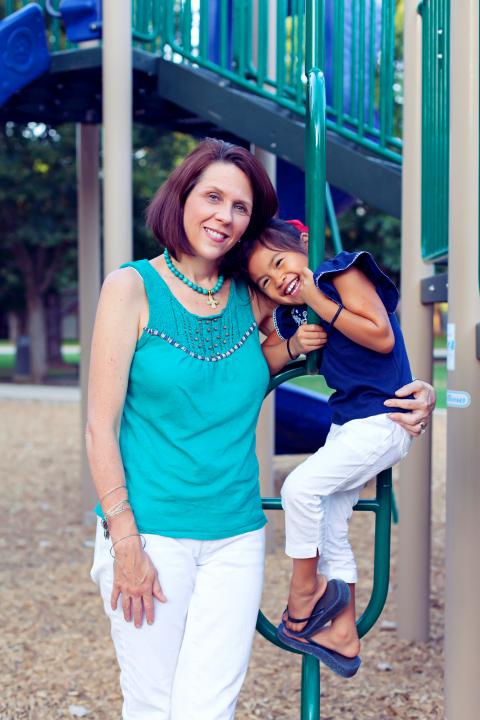 Jules Rockaway, left, speaks regularly with her daughter Hayden about Taiwan, but said she sometimes feels guilty that she took Hayden away from her culture and heritage.
Photo courtesy of Yony Lee Kim
Raising a child can be tough work, but for parents who adopt across racial or cultural lines, the challenges are even greater. Because of differences in skin color, such families often fall victim to unsavory comments or uncomfortable stares, causing some adoptees to feel ashamed of their cultural identity. Thus, for adoptive parents like Lisa Reitan, it is absolutely essential to raise their kids in an environment where they can grow up embracing — and not shunning — their Taiwanese heritage.
"It's important that she can go back there and be part of that life as well," said Reitan, 50, a New Yorker who adopted her five-year-old daughter, Paige, from Taiwan. "We don't want her to feel like she is an outsider anywhere."
Driven by this common goal, Rockaway, Reitan, Lisa Chaney and Tiffanie Yee connected with one another through blogs and social media and jointly established a support group in 2010 called Taiwan R.O.C.ks (Reuniting Our Children for Kinship and Support), which aims to bring together Taiwanese adoptees and their American parents. In July, the group held its third annual "family reunion" in California — the first one took place in Texas in 2011 — drawing roughly 35 families from across the US.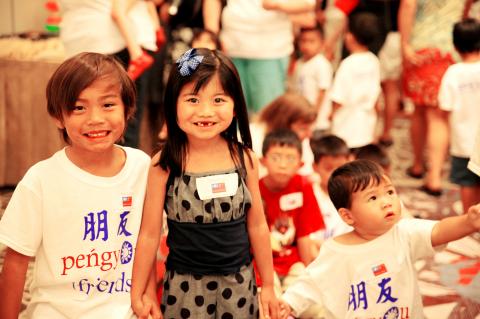 From left to right: Adoptees Jayden Boody, Gracyn Yee and Peyton Au attend an annual Taiwan R.O.C.ks "family reunion," which offers activities such as lion-dancing and lantern-making.
Photo courtesy of Tiffanie Yee
"People were just streaming tears" the first time they met, said Yee, 37, a Sacramento mother who with her husband Darryl adopted their seven-year-old daughter, Gracyn. "When you are going through a harrowing journey, you rely on people who understand."
Unlike the other mothers, Yee is a second-generation Chinese American, which in some respects makes raising an adopted Taiwanese child easier because Gracyn draws less unwanted attention. "No one is ever staring at us," she explained. "[Gracyn] never walks around having to worry about someone saying, 'Why does she not look like you?'"
But in other respects, it's more difficult. When she sees an interracial adoptive family with an Asian child, she often has the urge to walk over and congratulate the parents, but sometimes feels apprehensive about doing so, fearing they might assume she is going to question them instead.
"I want to wear a sign on my head that says I, too, am an adoptive parent," she said.
The call
Rockaway said she believes many Americans choose to adopt from Asia because children there are born with fewer diseases, like fetal alcohol syndrome, and because prenatal care is better.
The Taiwan R.O.C.ks cofounders said they have always felt a calling to adopt, some even after having biological kids. Before Taiwan revised its laws in 2011 to encourage domestic adoptions, the process often took less than a year to complete — the wait much shorter than in China, where cases could drag on for years, the mothers said.
To receive an adoption referral, parents had to submit financial, employment and health records to an American adoption agency, and be interviewed by social workers, they said.
"Then you're waiting for updates," Yee said. "You're waiting to put a face to a name. How big have they grown? Is the photo you're looking at current? Do they have health issues?"
With many countries passing stricter adoption laws out of fear of human trafficking, American international adoptions have significantly declined since 2005, dropping from 22,734 that year to 8,668 in 2012, according to the US Department of State. Long the world's adoption leader, China, too, saw a corresponding decrease from 7,903 international American adoptions in 2005 to 2,696 in 2012, records show.
But Taiwan, which made up less than 1 percent of American adoptions worldwide between 1999 and 2012, recorded an uptick during the same period, the sharpest increase occurring between 2008 and 2010, when some Taiwan R.O.C.ks parents adopted their children, records show. A 2009 article published in the Taipei Times attributed this spike to parents giving up kids because of the bad economy.
Just Taiwan, please
To meet the demands of an ever-growing number of American families adopting from China, organizations like Families with Children from China provide a support network to help non-Chinese parents navigate the choppy cultural waters of raising Chinese-American children.
But the cofounders of Taiwan R.O.C.ks said they wanted to create their own group specifically tailored to Taiwan — one that both celebrated and embraced the rich culture and history of their children's birthplace.
"We do have friends from China," Reitan said. "But I tell [Paige], 'They're from a different country. They're from China. You're from Taiwan.'"
For non-Taiwanese parents, bringing Taiwan's culture into their homes can be as much a learning process for the adults as it is for the kids. Reitan, for instance, said she has taught herself to prepare certain Taiwanese dishes, like three-cup chicken (三杯雞), from recipes she has found on the Internet. "I've made them for the last three years as part of our tradition," Reitan said.
Still, Reitan added, there are many things about Taiwan's history that she does not know and hopes to learn, so she can someday teach her daughter.
Yee and her husband teach Chinese culture to Gracyn and their two biological children, but Yee added that she is "probably one of those parents who doesn't go above and beyond to force culture."
"Gracyn knows she was born in Taiwan," Yee said. "She knows there is a difference in the flag."
Rockaway said that she and her husband, David, regularly talk about Taiwan with Hayden, but because of her age, she does not fully understand the complexities of the China-Taiwan relationship.
"It is its own country, and it has its own history, and I want Hayden to be really proud of it," Rockaway said.
Sitting down with a map of Taiwan, Rockaway said she points out all the different counties to Hayden, including Chiayi (嘉義), where she was born. When Hayden is older and begins to ask more questions, the Rockaways said they plan to teach her more about Taiwan's history. For now, though, Hayden, like most four-year-olds, is just interested in being a kid.
"I want everyone to know that we all love Taiwan," Hayden explained. "It's a very nice place, and so beautiful. Can we go back right now, mommy?"
Like Hayden, many of the adoptees know they were born in Taiwan and remember fragments of their life there. But because of their age, they have trouble articulating what being a Taiwanese American means to them.
At this year's reunion, Taiwan R.O.C.ks invited a Taiwanese Aboriginal dance troupe and a lion dance group to perform before the 35 families who attended. The children also learned to make lanterns, while parents held a silent auction and raised US$1,700 (NT$ 51,000) for an orphanage in Taiwan, Rockaway said.
"What I want everyone to come away with is what a positive experience this really is," Rockaway added. "We are so committed to making sure that our children grow up really proud of where they are from."
Comments will be moderated. Keep comments relevant to the article. Remarks containing abusive and obscene language, personal attacks of any kind or promotion will be removed and the user banned. Final decision will be at the discretion of the Taipei Times.