The swan lives
The Chamber Ballet Taipei will restage a scaled-down version of 'Swan Lake' this weekend at Metropolitan Hall
Taiwanese choreographer Allen Yu (余能盛) set himself a massive undertaking for his annual Chamber Ballet Taipei (台北室內芭蕾舞團) production this year — restaging Swan Lake (天鵝湖).
The tale of the enchanted swan princess is a make-it-or-break-it production for a company because of the unity of line required of the corps de ballet, the famous variations for the leading lady and because, outside of The Nutcracker, it is probably the best-known classical ballet even among non-ballet goers.
Swan Lake was first performed by the Bolshoi Ballet in 1877 to a score composed by Peter Tchaikovsky and choreography by Julius Reisinger, but the best-known versions of the ballet are based on the 1895 revival choreographed by Marius Petipa and Lev Ivanov for the Imperial Ballet in St Petersburg to a score that was revised by the theater's conductor, Riccardo Drigo. Choreographers have been tinkering with and revising the ballet ever since.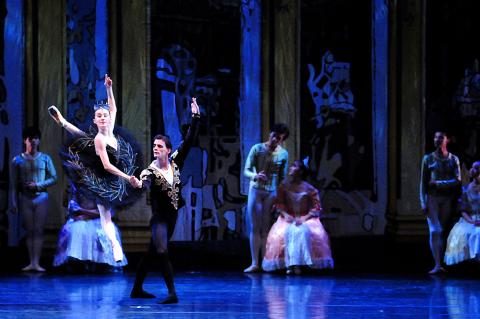 Christina Dijmaru and Valentin Stoika star in Taiwanese choreographer Allen Yu's adaptation of Swan Lake for the Chamber Ballet Taipei.
Photo Courtesy of Chamber Ballet Taipei
The Austria-based Yu said staging Swan Lake would not have been his first choice for this summer's production.
"At the end of last year I didn't think I would choose this, but the public and our sponsors asked me to do it. So I pushed myself," he said in a telephone interview on Monday.
He finished revising the music in February, but did most of the choreography once he arrived back in Taiwan on July 1.
Yu's version of Swan Lake has four acts, plus an introduction to explain how Odette was changed from a princess into a swan by the sorcerer Von Rothbart. He said he also changed a lot of the choreography, partially for dramatic reasons and partially to adapt it to the size of the company and the technical level of the dancers.
In addition, Yu added an extra princess in Act I — a cousin who Prince Siegfried is pressured to marry — to explain why the prince wants to rush off to go hunting.
"I have respect for Marius Petipa and Lev Ivanson, so I didn't change Act II very much, I kept most of the white ballet," Yu said.
"I went back to the original story … and like the Russian versions, I have a happy ending. Otherwise, after Act III people find the ballet really boring. I have made it really tense," he said.
He said the Western versions of the ballet, where Odette dies in the end — usually by throwing herself into the lake because, having been betrayed by the prince, she was condemned to remain a swan — did not make much sense to him.
"She's a swan, she can swim, so how can she die?" he said.
Yu said he decided to have Odette help save the prince when he is almost defeated in the climactic battle with Von Rothbart.
"It is more logical, better for the 21st century," he said.
Swan Lake is the biggest production he has done for the Chamber Ballet Taipei. The company was expanded to 46 dancers, 10 more than he used for Giselle in 2011, and as guest stars, he brought back Cristina Dijmaru and Bordan Stefan Canila, soloists with the Bucharest National Opera Ballet, who starred in last year's Romance — The Music and The Destiny of Tchaikovsky (羅曼史 ~ 柴可夫斯基的音樂與人生). Yu also invited their colleague, Valentin Stoica, who is only 25, but already making a name for himself, to dance Siegfried to Dijmaru's Odette/Odile.
Yu is still a bit bothered by his flock of swans, noting that most companies try to use dancers of a uniform shape and size. Given the slim pickings for ballerinas in Taiwan, he couldn't be that choosy.
"There are 26 girls … they are all different sizes, but they all have good feet. I had to choreograph to cover their weak points," he said.
Yu's Swan Lake had its premiere in Greater Kaohsiung on Aug 3, the first time the company has performed there, before moving on to his hometown of Greater Tainan last weekend and in Greater Taichung earlier this week.
The troupe finishes up its tour at Taipei's Metropolitan Hall this weekend, accompanied by the National Taiwan Symphony Orchestra (國立臺灣交響樂團), which will be conducted by Dirk Kaftan, whom Yu worked with for many years at the Graz Opera House in Austria.
Yu said audience reaction so far has been very positive, with people saying they liked the added tension.
"I tried to make it not boring," he said.
Publication Notes
Performance Notes
What: Swan Lake
When: Tomorrow and Saturday at 7:30pm, Sunday at 3pm
Where: Metropolitan Hall (城市舞台), 25, Bade Rd Sec 3, Taipei City (台北市八德路三段 25號)
Admission: NT$400 to NT$1,500; available at NTCH box offices, online at www.artsticket.com.tw and at 7-Eleven ibon kiosks
Comments will be moderated. Keep comments relevant to the article. Remarks containing abusive and obscene language, personal attacks of any kind or promotion will be removed and the user banned. Final decision will be at the discretion of the Taipei Times.