Restaurant review: Dolce & Crepes
Encountering Andrew Huang (黃學正) is like meeting a kung-fu master. Only this master's uncontested prowess is of a gastronomic kind, manifested through his creative compositions that are the exuberant synthesis of distinctive flavors and aromas. And instead of setting up a school to procure fame and disciples, the martial artist chooses to live among us, in an unostentatious residential neighborhood near Taipei's Xingtian Temple (行天宮).
Huang's Dolce & Crepes is literally in his home, with his two elementary school-aged daughters often seen doing homework on a round table in the living room that doubles as the dining area, where patrons eagerly await the feast they ordered from the menu scribbled on the wall.
It is under this domestic veneer that Huang works his magic. Using nothing more than the usual pots and pans, he produces dishes of a culinary refinement on a par with that of Taipei's top fine dining establishments.
There is no shortage of culinary goodies at Dolce & Crepes.
Photo: Ho Yi, Taipei Times
Patrons are given full attention upon entering the simply decorated room. Huang takes the time to give a detailed explanation of how the food is prepared and cooked and to suggest wine and drinks to accompany the meal. The owner and chef seems to have a natural ability to describe the nuance of flavors and his luscious combinations of ingredients in a very vivid way, luring diners into an epicurean fantasy that preludes the banquet to come.
Huang's menu contains only around a dozen dishes, but each is hard to resist. The chocolate duck leg confit (油封鴨腿, NT$380), for example, consists of lean meat cooked to tender perfection and seasoned in an appetizing vinegar-based sauce, while the aroma of cocoa delivers an exciting punch to the meat. Huang says the duck leg is marinated and roasted in extra-virgin olive oil instead of duck or goose oil so as to give the French specialty a fruity and less cloying flavor.
The lamb shoulder stewed with figs and apricots (無花果杏桃燉羊肩, NT$680) is another delicate composition which sees the divine match of fresh figs and succulent lamb exploding in the mouth, smoothened by the sweetness of apricots and sauteed vegetables.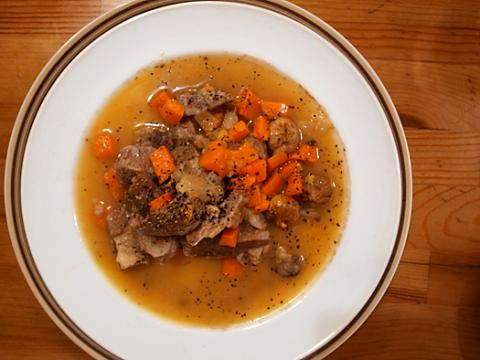 There is no shortage of culinary goodies at Dolce & Crepes.
Photo: Ho Yi, Taipei Times
The Chinese culinary influences also have a strong presence on Huang's menu. The Sichuan-style spicy chicken (川麻口水雞, NT$580) and king oyster mushroom (川麻杏鮑菇, NT$580) use various types of Sichuan pepper to create an enticing, tongue-numbing sensation, and the homemade pepper oil and sauce taste so good that it is almost a crime not to lick the bowl clean.
For seafood lovers, Huang's popular plate of crabs with deep-fried garlic chips (NT$2,000 or NT$1,000 depending on the types of crab) is definitely a high point of a visit to Dolce & Crepes. Though we weren't there during crab season, the crustaceans Huang picked for my dining companions and me last month were satisfactorily plump and sweet, buried under the savory layers of garlic chips and doushi (豆鼓), or fermented black soybean, that are fried using olive oil till they are crispy.
Vegetarians are also in for a surprise. Fun to look at and pleasant to taste, the roasted balloon with mushroom juice (菌汁烤氣球, NT$220) is a specially sauced bean curd that puffs up when roasted and contracts after cooling down. The end result is a large piece of bean curd that is firm on the outside but retains a fine, soft texture on the inside.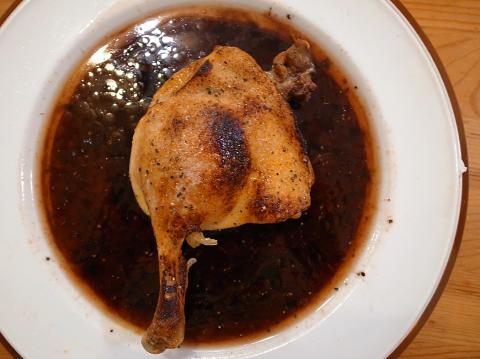 There is no shortage of culinary goodies at Dolce & Crepes.
Photo: Ho Yi, Taipei Times
Affable and well-informed, Huang appears to be a versatile master with hidden talents and skills. Those interested in renewable energy may want to raise related topics with their host. Huang is also the chief executive of Advanced Power and Energy Transportation, a company that's developing a green car running on zinc-oxygen energy fuel cells.
A word of reminder: Please leave smelly socks at home because diners are required to take off their shoes before entering Huang's home-cum-restaurant.
There is no shortage of culinary goodies at Dolce & Crepes.
Photo: Ho Yi, Taipei Times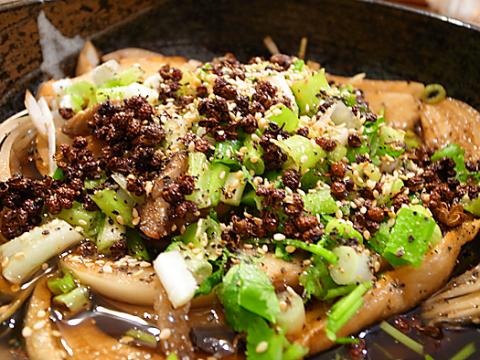 There is no shortage of culinary goodies at Dolce & Crepes.
Photo: Ho Yi, Taipei Times
Publication Notes
Dolce & Crepes
Address: 31, Ln 330 Songjiang Rd, Taipei City (台北市松江路330巷31號)
Telephone: (0910) 202-340
Open: Business hours are subject to change. The restaurant's Facebook page says it's open from 2:30pm to 8:30pm on Sundays, and 9:30am to 8:30pm on other days of the week, but it is better to call for a confirmation before going. The restaurant is closed on Wednesdays
Average meal: NT$1,000, plus 10% service charge
Details: Menu in Chinese, credit cards not accepted
Comments will be moderated. Keep comments relevant to the article. Remarks containing abusive and obscene language, personal attacks of any kind or promotion will be removed and the user banned. Final decision will be at the discretion of the Taipei Times.