The Vinyl Word
Once French producer Aeroplane got behind the CDJs at last Friday's Opium Den party, he began his set by being masterfully restrained when choosing what tunes to play. This was a bit of a shock to the cramped club goers camped out on the minute dance floor who were ready to lose their minds. He admitted that he prefers the slow build up, but as soon as he hit full throttle and piloted his tunes into the souls of the attendees, Aeroplane created some magical moments of dancing, grinding and straight up grooving that left people's cheeks hurting the next day from smiling so much.
More of that same alchemy is in store tonight at Luxy as Eats Everything (real name Daniel Pearce) takes over the Pulse room. The Bristol, England native has been on quite a roll recently in the world of electronica, but he's been doing this for a long time. "I got into deejaying at the age of 12 in 1992," he said in an e-mail interview with the Taipei Times. "I was drawn to that world by a friend's older brother who had a set of 1200s. I had a go and could do it straight away so wanted to really give it a proper go."
Everything's early influences were Ellis Dee, Carl Cox, Easygroove, Todd Terry, Rhythm Masters, as well as MK and Murk. "The reason was that they were all making music that really hit the spot for me!" Everything said.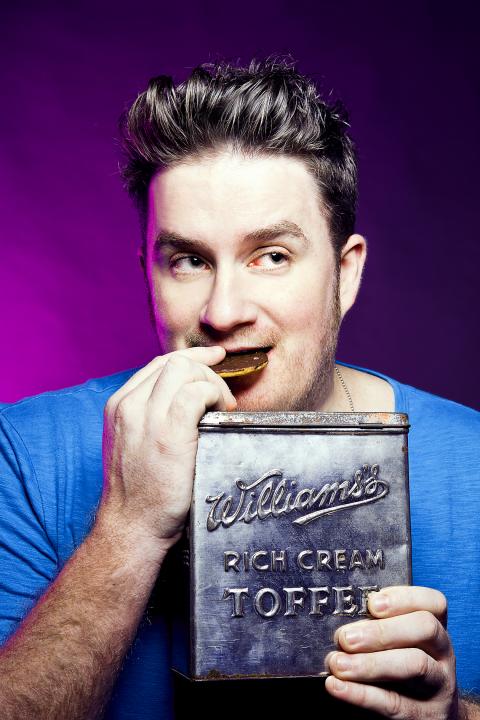 Daniel Pearce plays and eats everything.
Photo courtesy of Champion Sound
Bristol has become one of the recent mecca's for electronic music with Addison Groove, Julio Bashmore and others making waves in the industry, but according to Everything, there's no jealousy.
"For me personally there is no competition whatsoever," he said. "I want all my friends and peers to be as successful as possible. I am in a lucky position and I want the people I know, love and respect to remain in that position with me."
Everything is signed to one of the most exciting tech funk labels in the world, Dirtybird. He hooked up with them when he was releasing records on the smaller label, Pets Recordings, and the rest is history.
"Dirtybird are an amazing bunch of super talented super lovely people," Everything said. "They push me to be better every single day because everyone is so damn good themselves."
Of course, the obligatory question of where he got his nom de guerre from had to be asked. "The name is because I eat a lot and play everything," he said. "It's that simple."
But will he really live up to his moniker by sampling all that Taiwan has to offer, including traditional night market delights like stinky tofu, duck's blood popsicles and chicken butt on a stick?
"I will eat most stuff, but chickens' ass and blood are a little out of my comfort zone, unfortunately." Everything replied cheekily.
Eats Everything plays tonight from 10pm to 4am at Luxy, 5F, 201 Zhongxiao E Rd Sec 4, Taipei City (台北市忠孝東路四段201號5樓). Admission at the door is NT$800, which includes two drinks.
Finally, rock and roll and dance music are colliding Saturday at Taipei's ultimate underground venue, the Nangang Bottle Cap Factory (南港瓶蓋工廠). From early in the afternoon, there are experimental bands playing and a flea market, and then at night, DJ @llen is getting people who are in bands to deejay and calling it Warehouse Rock. Sonia from Go Chic, Raykai and Zac from 1976, and SwingChild, along with @llen will be the musical cross-pollinators for the evening.
The Lost Paradise Project V6.0 — Warehouse Rock is tomorrow night from 10pm to 5am at the Nangang Bottle Cap Factory, 13-1 Nangang Rd Sec 2 Taipei (台北市南港路二段13-1號). Tickets are NT$500 and only available at the door. The afternoon flea market is free.
Comments will be moderated. Keep comments relevant to the article. Remarks containing abusive and obscene language, personal attacks of any kind or promotion will be removed and the user banned. Final decision will be at the discretion of the Taipei Times.