Theater: Drums of harmony
U-Theater is back in the public eye with a revival of its seminal work 'Meeting the Bodhisattva'
Following on from their huge success in Kaohsiung and Taichung, U-Theater will be bringing their reworked version of Meeting the Bodhisattva (金剛心) to Taipei on Sunday for a free performance in the plaza of the CKS Memorial Hall (台北兩廳院藝文廣場). This year is the 25th anniversary of the establishment of U-Theater and it has been fully a decade since Meeting the Bodhisattva was released to universal acclaim, establishing the performance group on the international scene.
According to Leo Fu (傅祺棠), the public relations manager for U-Theater, the concert in Kaohsiung on March 16 at the Wei Wu Ying Center for the Arts (衛武營藝術文化中心) drew a crowd of 30,000, a record for U-Theater. Even larger crowds are expected for the Taipei show, as U-Theater celebrates not just its own achievements, but also uses the event to promote a message of environmental awareness and social harmony.
The three performances in Kaohsiung, Taichung and Taipei come as something of a surprise, following the announcement in September last year that the group would take a three-year break from their creative endeavors due to tensions between artistic and spiritual missions. This announcement had many fans worried the group would disappear from the artistic scene.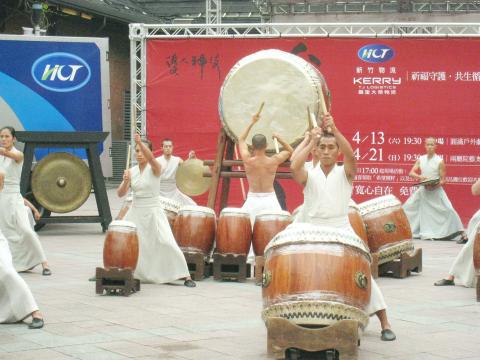 Members of U-Theater perform outside the Red House Theater in Taipei to announce their upcoming free concert in Taichung and Taipei.
Photo: Ian Bartholomew, Taipei Times
The three concerts are sponsored by two of Taiwan's largest courier companies, HCT Logistics (新竹貨運) and Kerry TJ Logistics (嘉里大榮物流). U-Theater founder and artistic director Liu Ruo-yu (劉若瑀) said she found it particularly appropriate that two competitors should come together to support this single endeavor, as this spirit of commitment to the wider social good that transcends commercial competition is an endorsement of the company's spirit of striving for harmony in all aspects of life.
Meeting the Bodhisattva was one of the first works out of Taiwan to successfully combine theater and spiritual practice in a show with broad audience appeal. The production is meticulously choreographed and has strong ritual elements. For its simple narrative structure, it draws on tales related to Manjusri, a bodhisattva associated with transcendent wisdom who is often represented with a flaming sword in one hand and a scripture in the other. The story is about a man seeking self-knowledge and enlightenment, and combines furious struggle with meditational calm.
U-Theater is recognized as one of Taiwan's most important artistic groups and regularly performs at the nation's top venues, including the National Theater. On Sunday, the performance will be outside that theater, and it must be said that personally I have always found U-Theater at its best out of doors, when the resonance of the drums can radiate out into infinite space. Fu said that the venue at the CKS Memorial Plaza should be able to accommodate 15,000 people, and based on the response from Kaohsiung and Taichung, expect to find the plaza filled to capacity.
The performance proper will begin at 7:45pm on Sunday, but the associated Seeds of Hope (希望種籽) activity, in which U-Theater will be handing out seeds to encourage the planting of trees, and the Vegetarian for a Day (一日蔬食) activity, part of a program to combat global warming, will begin at 5pm. At 7:30pm, Liu said that she has invited monks from Dharma Drum (法鼓山), a Buddhist organization, to perform a ritual blessing. Similar blessings for peace and harmony were pronounced by Buddhist monks in Kaohsiung and by Presbyterian pastors in Taichung, underlining U-Theater's non-denominational commitment that transcends all kinds of merely human divisions.
Comments will be moderated. Keep comments relevant to the article. Remarks containing abusive and obscene language, personal attacks of any kind or promotion will be removed and the user banned. Final decision will be at the discretion of the Taipei Times.