Big isn't always better
Gabi Hamm, Andrea Damp and Michael Sistig come together for a group exhibition, Little Treasures, the third installment in Aki Gallery's Facing Reality, a series of group exhibitions devoted to contemporary German painters. The title alludes to the size of the paintings on display, which tend toward the tiny. But the talent of the artists more than makes up for the small size of the canvases, which possess a touch of the surreal, tending toward the dreamy rather than the hallucinatory.
The coming-of-age women in Hamm's figurative and portrait paintings are enigmatic. Hamm's skill at painting, however, fools us into believing these women are comprehensible, the juxtaposition of the translucent coloring on a monochrome background drawing us in. With faces cast down or eyes looking away, the viewer is left with a psychological mystery that refuses penetration.
Damp's unsentimental paintings of children blissfully frolicking through forests invite the viewer into a carefree world of youth. For adults, these are a kind of paradise — though one that exists purely in the imagination.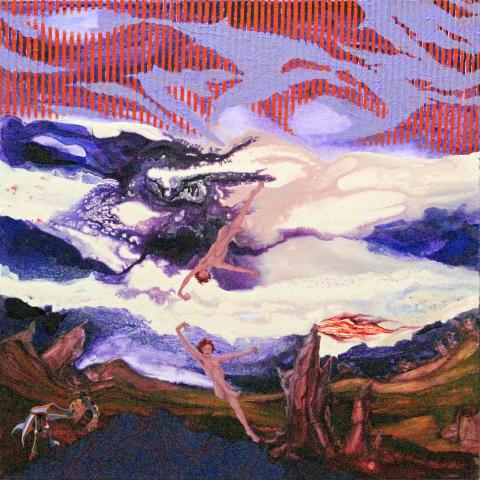 Michael Sistig, Materie-Antimaterie 3 (2012).
Photo Courtesy of Aki Gallery
Steeped in the visual language of the surrealists and expressed through his own personal experiences, Sistig's paintings depict archetypes and universal metaphors that are both timeless and immediately comprehensible.
■ Aki Gallery (也趣藝廊), 141 Minzu W Rd, Taipei City (台北市民族西路141號), tel: (02) 2599-1171. Open Tuesdays to Sundays from noon to 6:30pm
■ Until April 28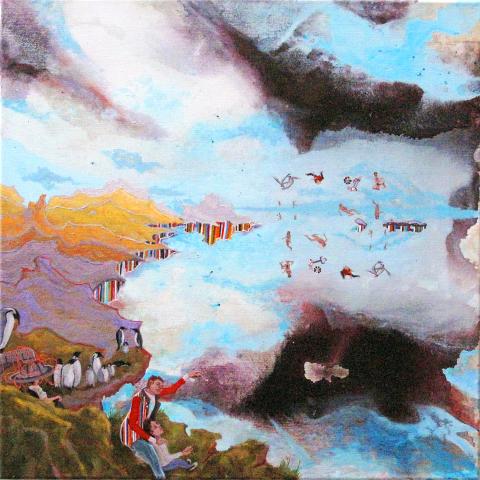 Michael Sistig, Materie-Antimaterie 7 (2012).
Photo Courtesy of Aki Gallery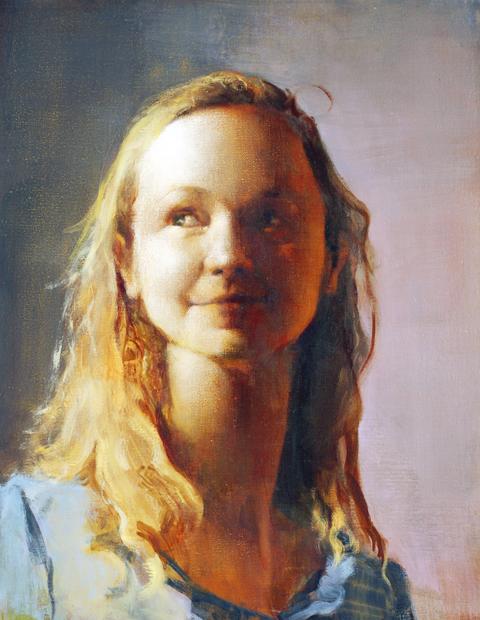 Gabi Hamm, 24-06 (2006).
Photo Courtesy of Aki Gallery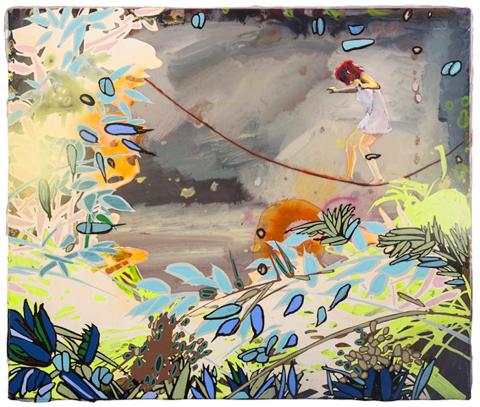 Andrea Damp, Autumn Leaves (2013).
Photo Courtesy of Aki Gallery
Comments will be moderated. Keep comments relevant to the article. Remarks containing abusive and obscene language, personal attacks of any kind or promotion will be removed and the user banned. Final decision will be at the discretion of the Taipei Times.