Restaurant review: Dragon Restaurant 龍都酒樓
Chinese roast duck is a famous dish, and dozens of restaurants in Taipei City offer this specialty. But excellent roast duck is hard to find due to the difficulty of cooking it. Among the kitchens specializing in the dish, Dragon Restaurant (龍都酒樓), or Long Du in Chinese, is a favorite of many serious diners.
Established in 1983, Long Du is a Cantonese restaurant about a 10-minute walk from the Zhongshan MRT Station (中山站). Its roast duck was voted No. 2 in Taiwan in a roast duck survey conducted by Taiwanese search engine Yam (蕃薯藤) last year. The restaurant is always busy, so I made a reservation about half a month ago. Within minutes of our arrival, my family and I were seated at our big round table on the first floor of the three-story restaurant. Although the seating was tight, the high ceiling and chandeliers that hung above added a nice touch to the room.
We ordered four appetizers for NT$50 each: kelp, burdock, century eggs, and dried radishes. In 15 minutes, the waitress served our pre-ordered Cantonese Roast Duck (廣式片皮鴨, NT$1,200) — along with the garnishes: thin pancakes, green onions and sweet bean sauce.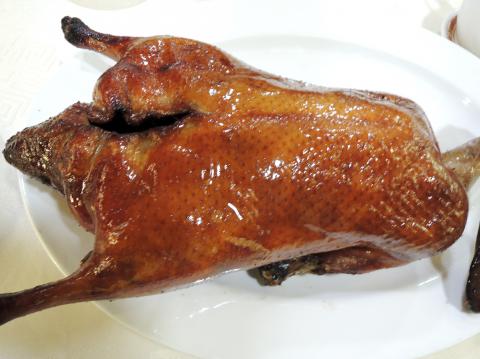 Dragon Restaurant is famous for its signature Cantonese roast duck.
Photo: Eddy Chang, Taipei Times
Eating at Long Du is as much about watching a performance as it is about eating good food. Our waitress first showed us the whole duck, including the head, and asked how we would like it to be cut. Unlike Peking duck, which is cooked with less seasoning and consists mostly of crispy skin and little meat, there are two ways to do it at Long Du: cut the meat with or without the skin. Our duck was large enough for us to enjoy it both ways. She then skillfully sliced the duck into small pieces and arranged them on two plates beautifully next to our table. I felt like I was watching an exciting cooking show.
For the first plate, the crispy skin, duck fat, and juicy meat were a perfect combination. But for the second, the meat was slightly dry since the fat was trimmed. How to eat Chinese roast duck properly? Always remember to fold the bottom of your duck pancake, because the sauce may drip on your lap if you fail to do it right.
Apart from its signature duck, Long Du is famous for its popular Cantonese Duck Congee (薑絲皮蛋鴨骨粥, NT$300), which is a must try. Our congee was cooked with the duck meat and bones left over from the carved bird, century eggs, and shredded ginger. The robust duck flavor penetrated the perfectly boiled creamy rice.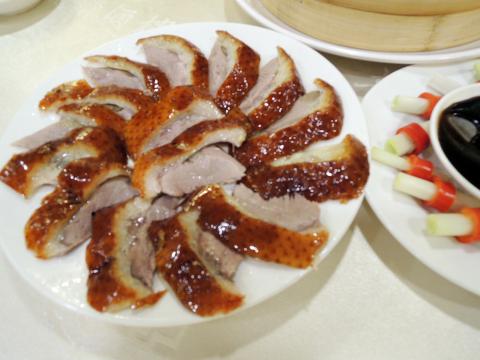 Dragon Restaurant is famous for its signature Cantonese roast duck.
Photo: Eddy Chang, Taipei Times
One cannot go to a Cantonese restaurant without ordering some dim sum. Long Du offers over 30 varieties of dim sum priced between NT$78 and NT$128. We ordered Sesame Balls (流沙芝麻球, NT$78), Radish Cakes (臘味蘿蔔糕, NT$78), Spare Ribs (豉汁蒸排骨, NT$90), Spring Rolls (上海炸春捲, NT$90), Barbecue Pork Pastries (蜜汁叉燒酥, NT$100) and Radish Pastries (蘿蔔絲酥餅, NT$100). I enjoyed the moist filling of the radish pastries and strongly recommend the dish. But some of the dishes are only available at lunch, including radish pastries. If you prefer dim sum, it's better to go for lunch.
For the big meal for seven adults, I paid NT$3,390 (NT$485 per person), including a 10-percent service charge. The restaurant offers a NT$100 coupon for every NT$1,000 spent, so I received three NT$100 coupons for my next visit. Overall, Long Du was a pleasant dining experience. It is a good choice for all duck lovers and whoever likes to try one of the signature dishes of Chinese cuisine.
And a reminder to those who go: The number of ducks per day is limited. Be sure to make a reservation two to three weeks in advance.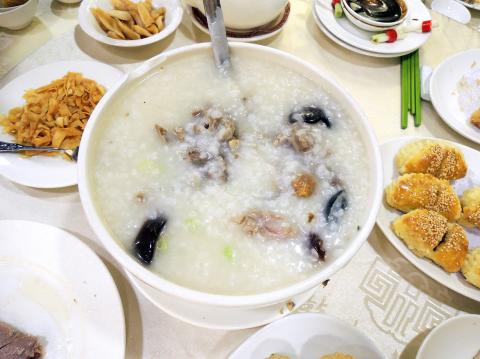 Apart from its roast duck, Dragon Restaurant's popular Cantonese duck congee is a must try.
Photo: Eddy Chang, Taipei Times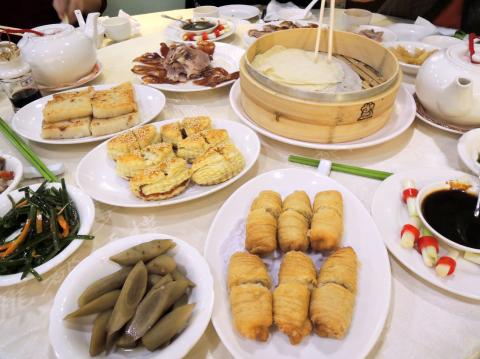 Dragon Restaurant has an extensive menu offering over 30 varieties of dim sum — all at reasonable prices.
Photo: Eddy Chang, Taipei Times
Publication Notes
Dragon Restaurant
龍都酒樓
Address: 18-1, Ln 105, Zhongshan N Rd Sec 1, Taipei City (台北市中山北路一段105巷18-1號)
Telephone: (02) 2563-9293
Open: Mondays to Fridays from 11:30am to 2pm and 5:45pm to 9pm; Saturdays and Sundays from 11:20am to 2pm and 5:45pm to 9pm
Average meal: NT$500
Details: Menu in Chinese, English and Japanese; credit cards accepted; 10 percent service charge
Comments will be moderated. Keep comments relevant to the article. Remarks containing abusive and obscene language, personal attacks of any kind or promotion will be removed and the user banned. Final decision will be at the discretion of the Taipei Times.