Restaurant review: Vegi Garden 植善蔬食多國料理
Taipei offers a fair number of vegetarian restaurants, but the choices get old pretty fast. Most places are either cheap cafeterias or expensive buffets, and the food is often bland or decent but overpriced.
Hopefully more shops like Vegi Garden (植善蔬食多國料理) will continue to pop up across the city. Located near Taipei Main Station behind the Shin Kong Mitsukoshi Building (新光三越), the restaurant strikes a nice balance between the budget cafeteria and the fancy buffet.
The menu, which includes pastas, risotto-type dishes and Asian-style noodles, is neither fancy nor chic. But everything I've had there was prepared very well and made with fresh ingredients.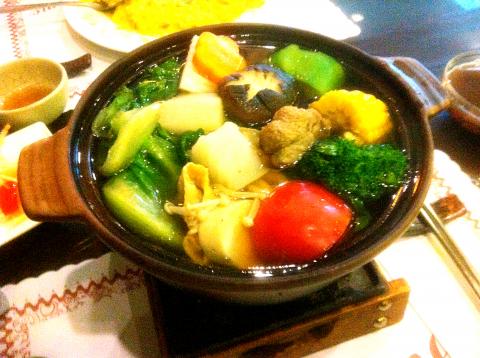 The Mushroom and Wild Vegetables Hot Pot at Vegi Garden will warm up vegetarians in all the right ways.
Photo: David Chen, Taipei Times
The reasonable prices, averaging around NT$200 per meal, will encourage you to return if you happen to be in the neighborhood. Better yet, Vegi Garden is a nice place to sit and have a meal, sporting a Thai-style decor with lime green walls and wooden floors.
The wait staff will recommend the Mushroom and Wild Vegetables Hot Pot (猴頭菇野菜鍋, NT$260) as their signature dish. I wasn't blown away, but I did find it to be just the right thing for a chilly day.
The steaming mini-cauldron arrives loaded with several types of mushrooms, including the meaty-textured lion's mane mushroom (猴頭菇, literally "monkey's head mushroom"), and a wide variety of leafy greens and root vegetables. As with all things hot pot, the magic is in the broth, and Vegi Garden's favors subtlety of flavor over heartiness. Small amounts of ginger and basil give this broth a quiet zing.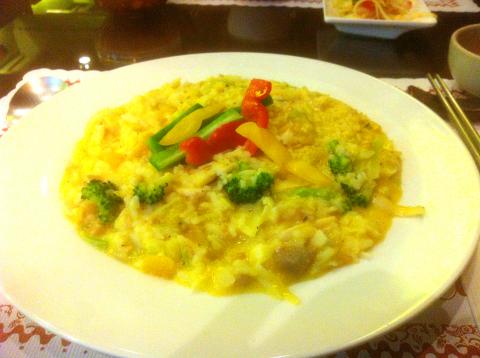 Plain and simple, and good. The pumpkin stewed rice at Vegi Garden, a vegetarian restaurant near the Shin Kong Mitsukoshi Building.
Photo: David Chen, Taipei Times
For all of the homemade goodness, the overall flavors and ingredients used in Vegi Garden's food cater to su (素, vegetarians), which means there will be a certain blandness attributed to the lack of garlic, onion, leeks and other strong-flavored foods that some Buddhists avoid for fear of overstimulating the body and mind.
But that's not necessarily a bad thing, and the other dishes I had were anything but bland. If you like Korean food, don't hesitate to order the bibimbap, which the menu dubs "Korean stone pot stirred rice" (韓式石鍋拌飯, NT$200). This sizzling bowl is loaded with what one would normally expect: veggie greens, bean sprouts, several kinds of tofu (including fake meat), mushrooms, kimchi and hot sauce.
You can ask for your desired level of heat with your hot sauce, but be aware that Vegi Garden errs on the spicy side. I asked for xiaola (小辣, slightly spicy), and still found myself wiping sweat from my brow after lunch. But I would definitely stop in again for this dish, as it beats comparable offerings at the run-of-the-mill food court by a long mile, vegetarian or not.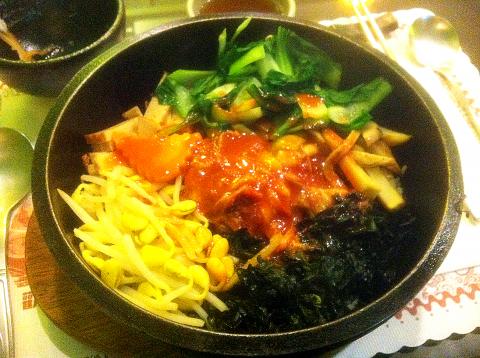 Vegi Garden makes an excellent bibimbap for Korean food lovers in a vegetarian mood.
Photo: David Chen, Taipei Times
In Mandarin, Vegi Garden calls itself a "multi-national" restaurant (多國料理), offering "European" dishes such as "marine wild mushroom baked penne pasta" (海洋野菇焗麵, NT$220). I decided not to risk being disappointed and skipped this dish, but was pleasantly surprised when I had a bite of my dining companion's pumpkin mushroom stewed rice (南瓜蘑菇燉飯, NT$190), which had a buttery-rich flavor.
The restaurant also makes its own noodles, with a Japanese wild mushroom (日式野菇拉麵) and a Thai-style sweet and sour ramen (泰式酸辣拉麵) for NT$180 each.
For an additional NT$80, you can turn any dish into a set meal, which includes hot herbal tea and small side dish. If you have the appetite and time to spare, it's worth it. The side dish on my last visit was a fresh and tasty Thai-style papaya salad, a novel touch from a novel vegetarian restaurant.
Publication Notes
Vegi Garden
植善蔬食多國料理
Address: 47, Kaifeng St Sec 1, Taipei City (台北市開封街一段47號)
Telephone: (02) 2311-8198
Open: 11am to 2pm, 5pm to 9pm, every day
Average meal: NT$180 to NT$200
Details: English and Chinese menus, credit cards not accepted
Comments will be moderated. Keep comments relevant to the article. Remarks containing abusive and obscene language, personal attacks of any kind or promotion will be removed and the user banned. Final decision will be at the discretion of the Taipei Times.