Tidbits
Steakhouses around the country are likely to be rejoicing at the prospect of increased US beef imports, and at the very top of the selection is A Cut Steakhouse at the Ambassador Hotel, Taipei City, which has included a selection of Brandt "all natural" beef offerings on its menu, including a prime 40-day dry-aged ribeye for the Harris Ranch in California. The longer-than usual aging process, then grilling on a super hot grill and finished in the oven, gives this all sorts of delightful characteristics. This offering, priced at NT$5,500, as well as cheaper offerings, including a 12oz dry-aged New York cut (NT$2,300), are available in traditional Pittsburg "black and blue" style, referring to a crusty grill coat along with a rare, pink middle.
The Brandt all-natural steaks are being offered together with a wine pairing that includes three glasses of Quinta do Crasto Douro wines for an additional NT$1,000. These wines, from a region of Spain halfway between Regua and Pinhao on the Douro River from vineyards that date back to the early seventeenth century.
Another interesting venture taking place upstairs from A Cut, in the Ambassador Hotel's Ahmi Cafe set menus inspired by Taiwanese Aboriginal cuisine. Many of the ingredients are unusual for a hotel menu, including produce such as wild bitter gourd (山苦瓜), a native species that is small and more pungent than conventional varieties, asplenium (山蘇), a fern like plant that is more often foraged than cultivated, and wild ginger lily (野薑花), often used as a decorative flower, but which has many positive nutritional characteristics as well.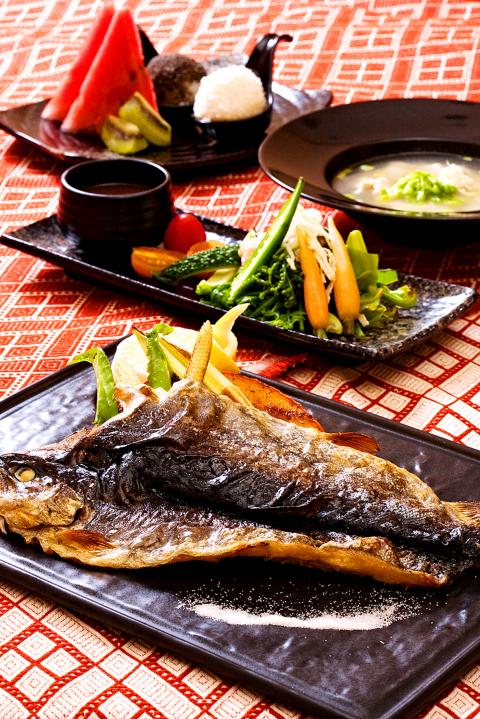 The Ahmi Cafe's grilled trout with salt.
Photo courtesy of Ambassador Hotel
Dishes like trout grilled with salt (NT$800) aim to preserve the natural flavors of the freshwater fish, which is complemented by garnishes of mountain yam (山芋頭), winged beans (翼豆) and pumpkin. Fried rice with wild boar (NT$620), uses a traditional Amis process for marinating and tenderizing the boar meat before it is grilled and then incorporated with rice and asplenium leaves.
The Ambassador Hotel, Taipei (台北國賓大飯店) is located at 63 Zhongshan N Rd Sec 2, Taipei City (台北市中山北路二段63號), tel: (02) 2551-1111
Comments will be moderated. Keep comments relevant to the article. Remarks containing abusive and obscene language, personal attacks of any kind or promotion will be removed and the user banned. Final decision will be at the discretion of the Taipei Times.