Classical DVD and CD review
St Matthew Passion, by Bach, Simon Rattle, Peter Sellars, Berlin Philharmonic Orchestra, BPH 120011 [2 DVDs] ; Cello Suites Nos. 1-6, by Bach, Paolo Pandolfo, viola da Glossa Platinum GCDP 30452 [2 CDs]
When Bach composed his massive St Matthew Passion he used a double chorus, added additional texts from the Bible's Song of Songs and elsewhere, and used extra solo voices to present the words of minor characters in the narrative such as Pilate's wife. This was in addition to the major figures in the story — Jesus, Peter, Pilate and what feels like an amalgam of at least two females, the score's Daughter of Zion.
But what he didn't do was allocate one major character to one solo voice. Thus the role of Peter is to begin with sung by a bass male vocalist, but when the moment comes for his great song of regret and contrition after he's denied knowing Jesus three times, "Erbarme dich" (Have mercy), Bach specifies an alto voice.
This is all well and good in a traditional performance, whether in a church or a concert hall, as musical considerations can there be said to predominate. But it assumes the rank of a major problem when any attempt is made to dramatize the work.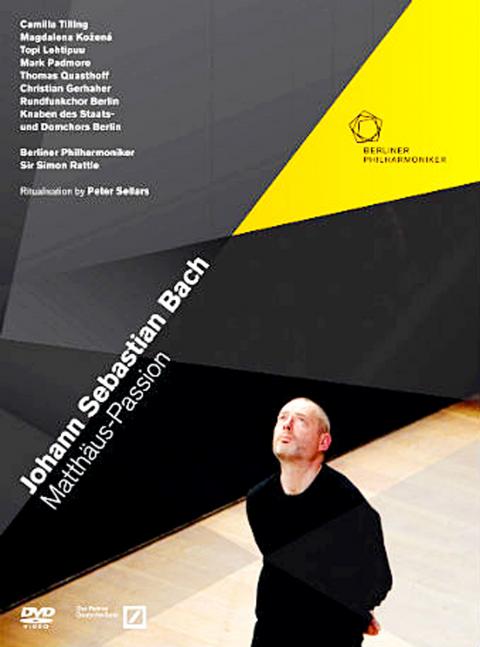 St Matthew Passion, by Bach
This pair of DVDs, showing the St Matthew Passion performed by the Berlin forces of Simon Rattle in a performance "ritualized" by Peter Sellars, has to date received considerable praise. It also in a way designates itself as special in that it's issued on the Berlin Philharmonic's own label, and is currently only available from the orchestra's own music store.
But I found the product less than satisfactory. Though musically it's almost always fine, and at times indeed excellent, at its worst moments I found it perverse, unsatisfying and even positively embarrassing.
The Sellars/Rattle plan involves placing the audience round the performance area, rather than facing the artists on a stage in the traditional manner. As Bach specified a divided orchestra and divided choirs, this disposition of forces is entirely appropriate to the composer's intention.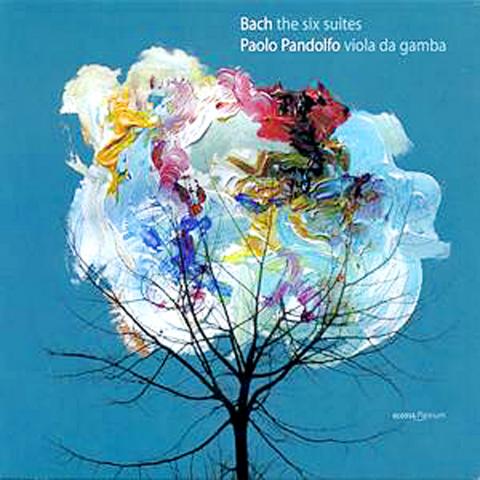 Cello Suites Nos. 1-6, by Bach
More radically, the production has the solo vocalists, dressed in casual modern attire, walking round the central performance area, confronting each other, embracing where appropriate (and sometimes where not), kneeling or lying prostrate on the floor, stroking each other's heads, and so on.
In addition, various orchestral members come out onto the central stage area when they have to perform some item obbligato, in other words as temporary instrumental soloists interacting with one or more of the singers. And at one point chorus members rush on-stage en masse, and then depart in flight up the stairs to upper areas above the audience.
All this, it has to be said, is a considerable improvement on lines of choral and solo singers dressed in formal attire facing the audience and delivering Bach's vast masterpiece in the accepted manner. The memorizing of their parts by the instrumental and vocal soloists, and by all the choir members, is also an indisputable plus. There are two major areas, however, where I find this version unattractive.
First is the matter of the consistency of character outlined above, something that you'd naturally expect in any dramatization, but which doesn't flow naturally from the music Bach actually penned.
Take the case of Mark Padmore, the tenor who sings the part of the Evangelist, in this case St. Matthew, and who to begin with narrates the events as they start to unroll. Someone else, Christian Gerhaher, is designated in the program notes as Jesus, and indeed sings some of his words. But it comes as a shock to find Padmore later in the work taking on the role of Jesus. When, for instance, Jesus is scourged, it's Padmore's back that's soothed by contralto Magdalena Kozena. This must have been confusing for the audience, and it certainly was for me.
The second unsatisfactory feature was the lugubrious over-emoting of the main participants, in particular the conductor himself, Sir Simon Rattle. It sometimes felt as if there was a contest underway as to who could show themselves most disturbed by the evening's events. Poor suffering Jesus! Poor contrite Peter! How could such good people be subjected to such pain? How can we not feel distressed? Simon Rattle won, of course, emoting so extravagantly that at times I had to look away in embarrassment.
Sellars, who engages in a half-hour conversation with the choral director, the UK's Simon Halsey, perhaps first called all this a ritualization when the problems that arose from any attempt to consider it a dramatization proved insurmountable. What a pity Bach didn't stick to one voice for one character, you can imagine Sellars thinking. But if we have everyone hugging everyone else enough times, maybe the audience will get the general idea and cease to bother their heads over exactly who's who.
This is all the more pity because the musical performances are generally so good. Thomas Quasthoff, in particular, is in very fine voice, and Magdalena Kozena and Camilla Tilling are also outstanding.
But if the world consists of people who wear suits and shake hands, and those who wear casual clothes and strings of beads (as Sellars does) and hug, then this is a meeting in which the huggers are victorious. But I wouldn't have thought Bach would have been over-thrilled at the spectacle.
Whereas it's true that Bach's music is often joyful, it's also very often introspective as well, exploring remote harmonies, complex interweaving rhythms, and much more. This austerer side of Bach is absent from this Rattle/Sellars product.
If you want to experience the more abstruse Bach, you could do far worse than listen to his Cello Suites Nos. 1-6, arranged for viola da gamba (viola played between the legs) by Paolo Pandolfo. Immediately he starts to play this quiet, introspective instrument you sense this other Bach embarking on voyages of discovery into the remoter corners of music's deep space. It's a fitting counterweight to this St Matthew Passion, a version that plays to the gallery in no uncertain manner.
These two Pandolfo CDs have a purity missing from the BPO discs. They're perfect of their kind, whereas the Passion compromises Bach's essential purity with hugs and kisses that, especially from modern Europe where Christian belief is on the wane, doesn't carry a great deal of conviction.
Comments will be moderated. Keep comments relevant to the article. Remarks containing abusive and obscene language, personal attacks of any kind or promotion will be removed and the user banned. Final decision will be at the discretion of the Taipei Times.