CD reviews
The Truth About Love, by Pink; 3 Pears, by Dwight Yoakam; Charmer, by Aimee Mann
Pink, THE TRUTH ABOUT LOVE, RCA
Big, blatant, halogen-bright pop songs are Pink's chosen calling. No matter how her tracks begin — with a whisper or a blast — the choruses await arena shout-alongs. But the words she puts in those neat pop packages can be unruly and conflicted.
Pink (Alecia Moore) is committed to pop impact, not to any particular style. Her sixth studio album, The Truth About Love, is as usual an assortment of potential singles. She worked with prolific producers who have also written for Britney Spears (Max Martin), Kelly Clarkson (Greg Kurstin) and Avril Lavigne (Butch Walker), as well as her own longtime collaborator Billy Mann and, for one song, an Eminem collaborator, DJ Khalil, along with Eminem himself. The songs put dance beats, rock guitars, piano hymns, string orchestras and hip-hop loops at the disposal of her voice, all leading to those leather-lunged payoffs.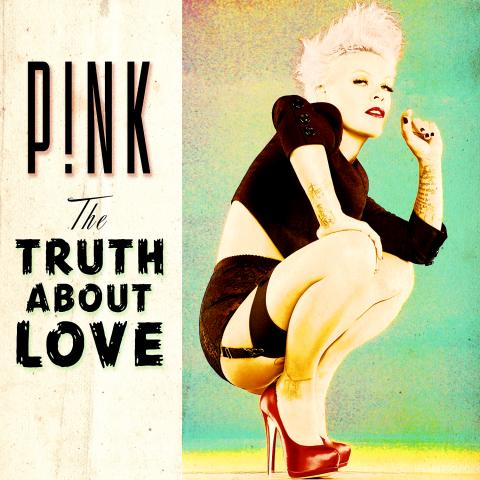 The Truth About Love, by Pink.
Pink can play standard pop roles with flair: party girl in Here Comes the Weekend, motivational speaker in Try, angry girlfriend in Blow Me (One Last Kiss). But more often, she finds ambivalence and contrast. Pink, now 33, is married and a mother, and she recognizes some non-storybook sides of romance. The tootling, handclapping girl-group pop of the album's title song insists that the "truth about love is it's all a lie," with verses flipping from pretty to mundane, happy to furious. In True Love, a bouncy collaboration with Lily Rose Cooper (formerly Lily Allen), Pink tells someone, "I really hate you so much it must be true love."
Pink still has her eye on the youthful mating game. Slut Like You isn't a competitive put-down; in this rocker with major debts to Blur's Song 2 (complete with a "whoo-hoo!"), Pink laughingly but insistently defends a woman's prerogative to "get some." The peppy new-wave tune Walk of Shame plunges into a jumble of emotions — embarrassment, regret, self-justification — on the morning after a drunken hookup.
Pink still sprinkles her songs with four-letter words that won't be heard on radio; what may have started as bad-girl bravado is turning into a shtick. But she doesn't pretend she's a teenager. In How Come You're Not Here, a 1970s-style rocker that ends up layering guitars like a Queen track, she's alternately nervous about and furious at a partner who may be dallying with someone young enough to get "carded for beer."
3 Pears, by Dwight Yoakam.
And the album's most affecting song, Where Did the Beat Go?, is a choppy R&B march about a woman cheating because she no longer felt desired after becoming a mother: "I was your concubine and then your madonna/You couldn't see anything beyond your baby's mama." It's a grown-up predicament, and Pink makes it absolutely clear, but not simple.
— JON PARELES, NYTimes News Service
Dwight Yoakam, 3 PEARS, Warner Bros.
Charmer, by Aimee Mann.
When he emerged in the '80s, Dwight Yoakam seemed more a dividend of punk and second-wave rockabilly than a fully paid-up country singer; in the country business now, at 55, he's considered a venerable elder, with plenty of Billboard country-chart hits behind him but still operating in a parallel universe. Throughout, he's been consistent: not the mainstream of anything, but entirely credible. He's too good to condescend to, or discard.
3 Pears, his first album since 2007, isn't any kind of categorical step away from his past work. It's got hard shuffles, trebly guitars, steel guitar solos, strong chorus hooks. It still locates some measure of cool within old obsessions: the late-50s Bakersfield sound and the young Beatles. But the record draws closer to where he started: This music is entirely referential, but doesn't want to be contained. It's got some freelance cool, some autonomous energy.
The easiest way to telegraph the heart of this record is that Beck, whose music always sounds like it comes out of a slight ironic distance, helped produce two of its songs, using some of his own band members. One, Missing Heart, is an acoustic-guitar ballad with overdriven steel guitar pushed into a cavernous background; the other, A Heart Like Mine, is simple, bright, overdriven, like an imagined lost track from an early-period Beatles album. Both mess with country music's usual sonic dimensions and proportions; Yoakam, with his nasal keening and word-ending yelps, sounds born to the fun house.
Another way to do it is that you hear Yoakam scream a few times: on A Heart Like Mine and his cover of Joe and Rose Lee Maphis' Dim Lights, Thick Smoke.
Yoakam produced the rest of the record himself, but there's always something slightly unusual about each track, some proud difference, private enthusiasm or rusty hinge. The voices are loud, the guitars are louder. Waterfall is a clutch of nonsense rhymes seemingly aimed at a small child. To Love Somebody is a judiciously chosen early Bee Gees cover. There's also a much more inevitable cover of Johnny Cash's Ring of Fire (which, like To Love Somebody, is an extra track on the Target version of the album) but he works hard to transform all the song's original phrasing, warping and drawing out words. The vocal harmonies on Nothing but Love separate into nearly doo-wop parts; It's Never Alright comes with an unlikely load of strings and a Memphis soul-like horn section, as if Yoakam has been listening to Lambchop more than Jason Aldean, which, come to think of it, is likely.
— BEN RATLIFF, NYTimes News Service
Aimee Mann, CHARMER, SuperEgo
The sugarcoated poison pill is a reliable device for Aimee Mann, a singer-songwriter given to ravaging implication and dispassionate affect. Charmer, her eighth studio album, represents a sunny turn for her, at least in relative terms: It revolves around the fragile psyches and misplaced affections of others, with lyrics that lean heavily on the second-person singular and a sound that evokes some untroubled late-1970s convergence of soft rock and new wave. That it all goes down so easily seems like a sneaky way to make a point.
Mann's driving interest here, after all, is the insecure, calculating core beneath any charismatic exterior. The album opens with its title track, a would-be anthem involving a simple guitar riff, an analog synthesizer line and a series of generalizations. "Secretly charmers feel like they're frauds," Mann sings, steeling her warm, low-gloss voice with a suspicious certainty. How does she know?
You could ask similar questions about the album's other songs, which target emotional dysfunction from an innocuous distance. Three of them deal with the contemporary archetype commonly known as the crazy girlfriend, each assuming a different perspective on the issue. Crazytown is purely cautionary, a word of advice to the hapless suitor; Labrador is told from his beleaguered point of view; and Red Flag Diver echoes the siren's call itself: "You'll be miserable, but I'll be free." Mann is capable of more subtlety than this.
She finds it in flashes: on Barfly, a terse, downhearted tune inspired by Jack Kerouac's sojourn in Big Sur, and Living a Lie, written with the album's producer, Paul Bryan, and featuring James Mercer of the Shins. (Less a duet than a passive-aggressive spat, it has some good zingers: "No one bears a grudge like a boy genius/Just past his prime.")
Along similar lines, Disappeared turns the tables on the sort of guy who shuts people out of his life: "A forgotten face behind a beard," Mann calls him. And on Soon Enough, a piano-driven tune written with comedian Tim Heidecker, she calls out an unspecified cruelty, arming herself with sarcasm: "'Cause what's more fun/Than other people's hell?"
— NATE CHINEN, NYTimes News Service
Comments will be moderated. Keep comments relevant to the article. Remarks containing abusive and obscene language, personal attacks of any kind or promotion will be removed and the user banned. Final decision will be at the discretion of the Taipei Times.