Green getaway
Taitung County's Dulan Village offers a back-to-nature vibe with something for everyone, from Aboriginal culture and alternative arts to relaxing seaside restaurants and guesthouses
If you didn't know it was there, it would be easy to miss the small town of Dulan (都蘭, also spelled Doulan) as you barrel down the No. 11 Provincial Highway through Taitung County. You might notice an improbably large number of shops selling school bags for the local Dulan Primary School (都蘭國小), but there is little else about the town that would make you pull over for a closer look. This would be a pity, as Dulan is the center of a community that brings together Aboriginal culture, alternative arts, eco-friendly lifestyles, and a variety of recreation activities from hiking to water sports. It is a unique combination that offers something for everyone.
According to the East Coast Scenic Administration Web site, Dulan "is the largest tribal community on the southern East Coast," and a number of archeological finds in the area have led to the suggestion that it is also the "birthplace" of Taiwan's Amis people (阿美族發源地). Sarcophagi, steles and a number of other stone structures dating back around 3,000 years are part of the attractions of the Dulan Site (都蘭遺址) scattered in the hills rising above the No.11.
While Dulan's ancient past is of considerable interest, its primary appeal now is what has been made of the town by a modern generation of Aboriginal and Taiwanese artists and alternative lifestyle seekers. The symbol of this new movement in Dulan is the Hsindung Sugar Refinery (新東糖廠), which, as with many relics of Taiwan's past as a major sugar producer, has since been repurposed as a cultural park. The vast complex of factories, dormitories and warehouses has become an arts venue in which artists exhibit, local produce is sold and concerts and parties are often held.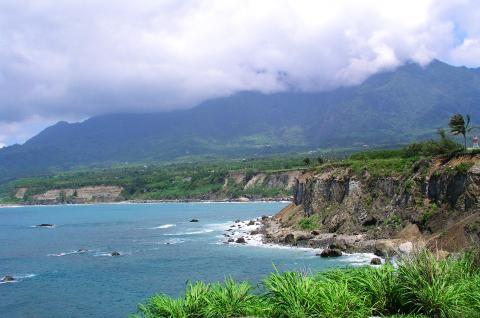 Photo by Huang Ming-tang, Taipei Times
The Siki Workshop (Siki木雕工作室) is a permanent presence at the cultural park, and many contemporary Aboriginal woodcarvings can be viewed there. A small gift shop called Hao De Bai (好的擺) is an excellent place to buy artwork work by local artists as well as produce such as local honey, handmade vinegar and millet wine.
Another center of tourist activity in Dulan is the Moonlight Inn (月光小棧), located on the slopes of Dulan Mountain. It offers spectacular views of the coastal plains and the ocean beyond. The Japanese-style building, originally a forestry administrative center, became a popular destination for tourists after it was used as a location in the film The Moon Also Rises (月光下我記得), which won best female lead and best screenplay at the Golden Horse Awards (金馬獎) in 2004.
The building has been well maintained and is attractive, though rather too much like a museum replica to provide much sense of history. Located high in the hills, it catches the ocean breeze, and the small terraced garden is a delightful place to enjoy a coffee. A gift shop run by a female artists cooperative offers some interesting knick-knacks and provides surprisingly good coffee.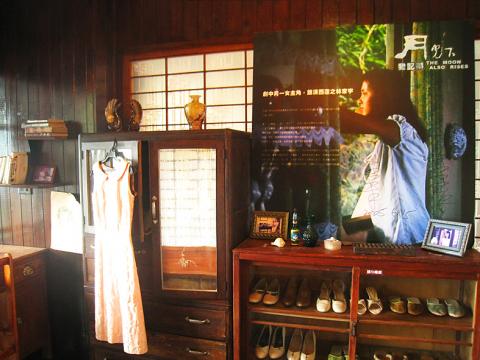 The Moonlight Inn was used as a location for the filming of The Moon Also Rises, an award-winning local film.
Photo: Ian Bartholomew, Taipei Times
While both the cultural park and Moonlight Inn are destinations carefully crafted by Taiwan's tourism authorities, there is much in Dulan that has a more independent vibe that speaks to those looking to get away from it all. One of the best-known eating establishments in Dulan is Marino's Kitchen (馬利諾廚房), opened by David Marino, formerly of Taiwan's English-language radio station ICRT. The story of how the former newsman upped roots and started a bakery in Dulan was widely publicized in the media, and the bread, the best-known product of Marino's Kitchen, is very tasty. A variety of Italian-American style food from pizza to pasta is also available, and it is an excellent option for anyone looking for a break from local cuisine.
That said, local dining has much to offer. On the road up to the Moonlight Inn is a small establishment overgrown with bougainvillea called Sophie's Bistro (蘇菲的小酒館). The first time I passed it, the place seemed more abandoned than closed, but asking around at the sugar refinery, I was told to "bang on the door and I'm sure they'll open." This wasn't necessary, as the next time I passed, later in the afternoon, Sophie was doing a roaring trade, and my only complaint was that, since there was only one person cooking, my meal took a long time to arrive. But sitting outside overlooking the lush vegetation and catching glimpses of the sea made the wait bearable. The friendly service, the homey nature of both the food and the ambiance, and the general feeling of ease, made this stop memorable.
For those staying overnight, Dulan offers a host of guesthouses highlighting various aspects of the village's back-to-nature vibe. One of the most impressive ventures is Wind (來吹涼風), a guesthouse that takes pride in its lack of amenities. First and foremost, Wind does not have any air conditioners, relying totally on its careful "green" design to make the most of the ocean breeze. Guests are also expected to provide their own towels and other personal hygiene products, though a small kitchen does offer basic condiments. The natural environment outside the guesthouse has been left largely in its natural state.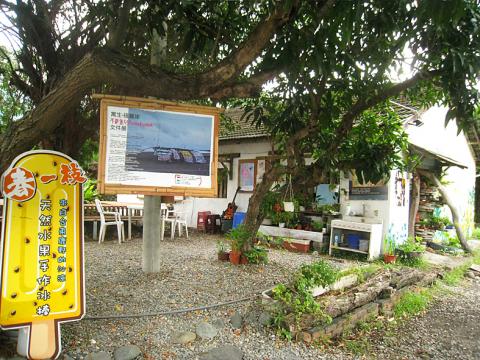 Hao de Bai is a fascinating gift shop located inside the Hsindung Sugar Refinery Culture Park.
Photo: Ian Bartholomew, Taipei Times
Staying at Wind, one appreciates the ideology of the innkeeper as much as the thoughtful planning of the lodgings, and it was not difficult to find good justification for the mostly minor inconveniences that staying here entailed.
From the road, Dulan might seem little more than a town trying to make the most of its name — the reason for all those school bags being sold by the side of the highway. "Dulan" is a near homophone for Hoklo slang that means "pissed off," and the school bag, printed with the words "Dulan Primary School" became a countrywide phenomenon after first lady Christine Chow (周美青) was seen sporting the bag, inadvertently, in 2007. It's a bit of a gimmick, and perhaps rather inappropriate. After all, it's difficult to get pissed off about anything in Dulan.
TRAVEL NOTES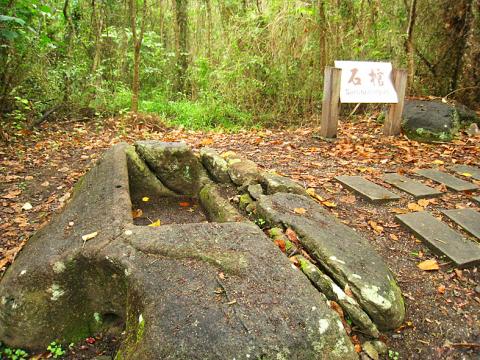 Stone sarcophagi provide a glimpse of life among Taiwan's early Aboriginal people.
Photo: Ian Bartholomew, Taipei Times
Hsindung Sugar Refinery Culture Park (新東糖廠文化園區) is located at 61 Dulan Village, Donghe Township, Taitung County (台東縣東河鄉都蘭村61號). It is open from 10am to 5pm Tuesday to Sunday. Call ahead to confirm opening times during summer and winter vacations (tel: 089-531212).
Moonlight Inn (月光小棧) is located at 420-8 Dulan Village, Donghe Township, Taitung County (台東縣東河鄉都蘭村420號之8). It is open from 10:30am to 5:30pm.
Sophie's Bistro (蘇菲的小酒館) is located at 33-1 Xinshe Rd, Dulan Village, Donghe Township, Taitung County (台東縣東河鄉都蘭村新社路33-1號). Open 11am to 2pm; 5pm to 10pm, closed Wednesday. To avoid long waits for your meal, bookings are advised, call 0958-964773 or 0987-090050.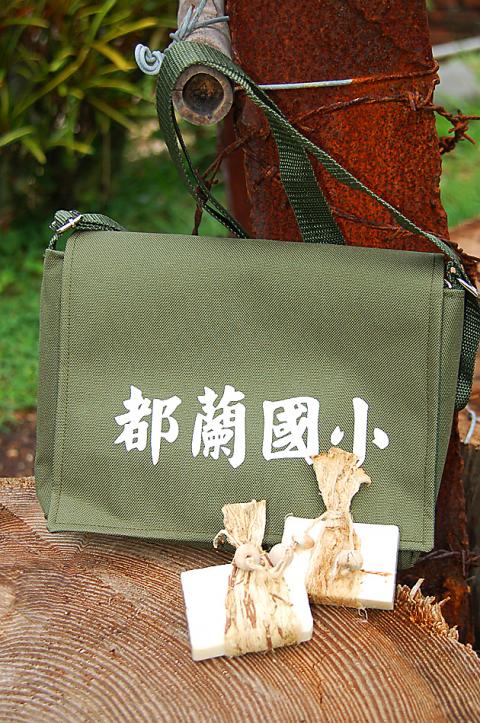 Dulan Village is the source of a nationwide fad: Schoolbags that read "Dulan Primary School" can be found in Taipei night markets.
Photo by Chang Tsun-wei
Marino's Kitchen (馬利諾廚房) is located at 436-3 Dulan Village, Donghe Township, Taitung County (台東縣東河鄉都蘭村436-3號). Closed Monday and Tuesday. More information at the restaurant's Web site, www.wretch.cc/blog/MRkitchen.
Wind (來吹涼風) is located at 30-5, Xinshe, Dulan Village, Donghe Township, Taitung County (台東縣東河鄉都蘭村新社30之5號). More information about the guesthouse can be found at wind.e089.com.tw.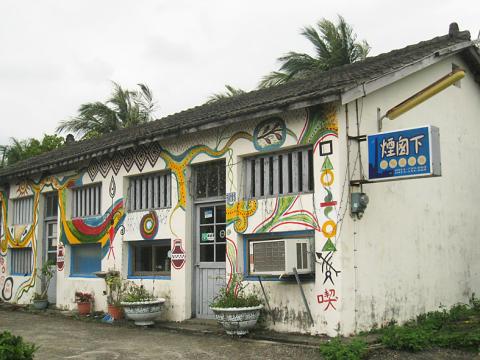 Hsindung Sugar Refinery Culture Park has acquired a new identity as the home of a thriving Aboriginal arts community.
Photo: Ian Bartholomew, Taipei Times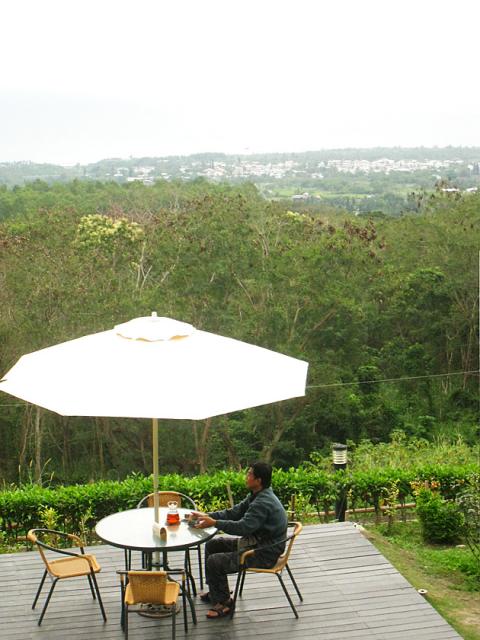 The garden of the Moonlight Inn provides spectacular views of the coastal plains.
Photo: Ian Bartholomew, Taipei Times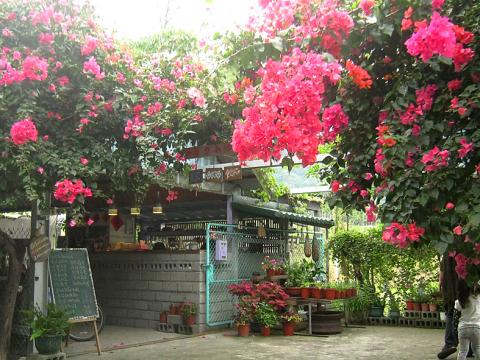 Sophie's Bistro provides good food and comfortable outdoor dining.
Photo: Ian Bartholomew, Taipei Times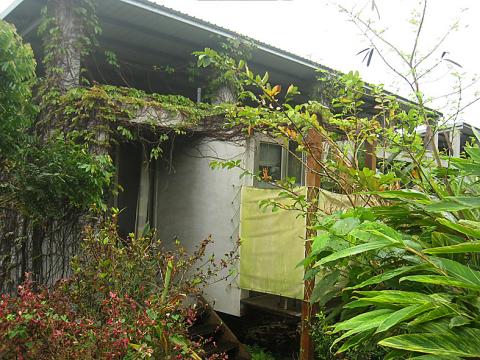 The showers at Wind are screened off enclosures outside the main building.
Photo: Ian Bartholomew, Taipei Times
Comments will be moderated. Keep comments relevant to the article. Remarks containing abusive and obscene language, personal attacks of any kind or promotion will be removed and the user banned. Final decision will be at the discretion of the Taipei Times.