Live Wire
On Canada Day people streamed out of Legacy literally steaming after seeing heavy metal rock group Anvil. Several Canucks walked straight up to a huge cooler filled with melted ice and beer and stuck their heads into the freezing water to cool off. By all accounts the band rocked, with numerous fans insisting that it was the best show they had ever seen in their lives.
The band members came out after the performance to hang with the crowd, happily signing autographs and posing for pictures with laughter and big smiles all around.
It did little to cheer up musicians, deejays, artists, live music fans and bar flies who were devastated to hear that Underworld (地下社會), a Shida Road (師大路) institution for over 15 years, will be closing July 14 of this year. It's a shock to many in the indie music scene who got their first gigs at the venue, for writers who discovered underground bands there and for anyone that regularly spent time in the Shida area over the last decade.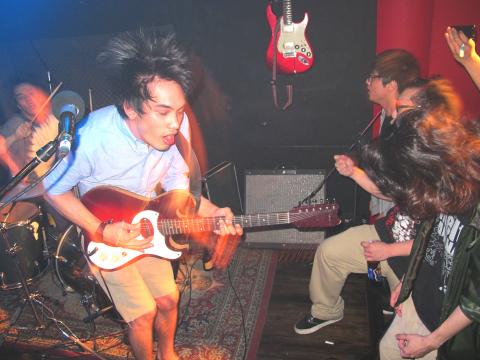 If Jon Du falls in Forests does anyone catch him?
Photo: Alita Rickards, Taipei Times
The despondent looks on the faces of several musicians at the Anvil show made me wonder if they had lost one of their friends—and in a very deep sense they have. Several referred to Underworld as more of a home than a bar.
"The people who frequent it are not deviants, troublemakers or scum. They are artists, musicians, explorers, dreamers and workers. They are family," said DJ Floaty, a longtime regular at the club. "They are the people who ask questions, who dare to take risks, who push a society forward, who demand compassion and justice, who laugh and sing and dance."
There is a lot of frustration and anger about the closing of bars in Shida, and fears that Taipei will end up following the same pattern as Taichung, with live music venues voluntarily shutting down to avoid huge fines.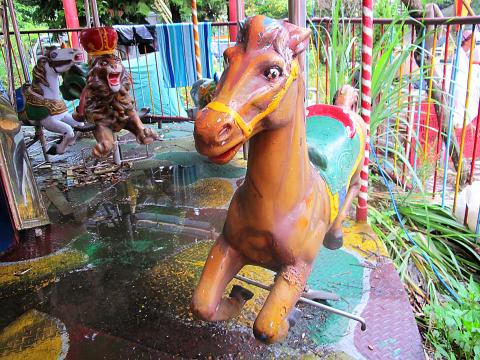 Dongshan Paradise, where old merry-go-round horses are put to pasture.
Photo: Alita Rickards, Taipei Times
"Is it not ironic that the same government that proudly latches on to our indie bands and sends them to foreign countries to promote our 'vibrant youth culture' is also ripping it out by the roots?" said Floaty.
Ling Wei (凌威), owner of the Roxy chain, posted on Facebook on Tuesday night that Roxy 99 had been hit with a large fine and now can only serve alcohol with food.
As of the writing of this column many details are unclear and officials have not been reached for comment; watch this space next week for more on the situation.
On a more positive note, Underworld is still open until mid-month, with a CD release party for indie rockers Forests tonight. The band, led by charismatic, hot and wild guitarist and vocalist Jon Du (杜澤威), puts on a high energy performance matched only by the frenzied head thrashing, dancing and screaming of its fans. Indie alternative noise band She Bang-a, headed by writhing guitarist Stan Cash, rounds out the night. ■ 9pm tonight at Underworld (地下社會), B1, 45 Shida Rd, Taipei City (台北市師大路45號B1). Admission is NT$300 and includes one drink.
Revolver hosts Jindowin (筋斗雲) tonight with Kid Millionaire, Skaraoke and Pisco for what should be a night of funky dance moves and grinding hips as the audience gets down. Kid Millionaire in particular has been rocking the dance floor after emerging on the scene a few months ago with a polished, tight act that blends live rock and electronic dance music.
■ 10pm tonight at Revolver, 1-2, Roosevelt Rd Sec 1, Taipei City (台北市羅斯福路一段1-2號). Admission is NT$300 and includes one drink.
Coming up next weekend is the sweetly laid-back funfest that is LUVstock, held in an unused amusement park outside of Taichung called Dongshan Paradise (東山樂園). In true hippie fashion, it's "about the eighth one" says organizer Paul Davis, otherwise known as Boston Paul. This year they will have bracelets for the first time ever. Though there is officially no mandatory ticket price, a donation of NT$300 gets you a LUVbracelet to remember the event. It also allows hippies and hedonists entrance to "LUVtivities our voLUVteers have set up," said Davis.
Eric Ganassin of Full Lotus Yoga Studio in Taichung (台中展蓮瑜珈) will be moderating the LUVwell Area with yoga classes and other Special Wellness Work Shops.
Accommodation available ranges from camping spots at NT$500 to hotel rooms with private hot tubs nearby. Check the event page on Facebook (search "LUVstock 2012") for more details.
Music includes Native Space; live hip hop and funk by Dr. Reniculous Lipz and the Skallyunz; one man band Mike Mudd; weird soundscape rock by Moss; the extremely danceable indie rock of Windy City 4; Kid Millionaire; and returning rockstars Aurora. Kevin MacCash will host Woody Guthrie's 100th Birthday Celebration on the acoustic stage.
A highlight of the deejay line up is the last LUVstock set for Colour Wolf before he leaves Taiwan. He'll be missed for his happy time-warp tunes, as well as stripping off his rainbow-colored clothing to reveal his tighty-whiteys for the audience's viewing pleasure.
■ Next Friday, Saturday, and Sunday at Dongshan Paradise (東山樂園), 151-2, Dongshan Rd Sec 2, Beitun Dist, Greater Taichung (台中市北屯區東山路二段151之2號). Admission is NT$300.
Comments will be moderated. Keep comments relevant to the article. Remarks containing abusive and obscene language, personal attacks of any kind or promotion will be removed and the user banned. Final decision will be at the discretion of the Taipei Times.