Tech review: keyboards for the iPad
Want a laptop that's cheaper and just as fast and lightweight as an ultrabook or Macbook Air? Try an iPad with a keyboard
When the iPad first came out, it was pooh-poohed as an oversized version of the iPod touch, a mere fancy underpowered toy for tech enthusiasts and Apple fans.
But here we are, several years later, and the world's most popular tablet computer is shaping up to be a decent replacement for a laptop. Though not as powerful as a desktop or laptop, the iPad often feels just as fast because it runs efficiently, letting you use only one app at a time. And hard drive storage is less of an obstacle these days, with cloud computing services like Dropbox or Sugarsync and Apple's own iCloud storing our data online.
I have been coming around to the idea that most of the stuff I do on a laptop or a PC — surfing the Web, writing for the Taipei Times, using Facebook, organizing photos — can be done on an iPad. Safari and YouTube have got Web browsing and videos covered. For word processing, I ditched Microsoft Word long ago for a writer-friendly text editor (Writeroom and iAWriter are both decent apps to try). Facebook's app does a decent job, and the iPad's own Photos app has rudimentary editing capabilities. (Heck, now you can even get Adobe Photoshop for iOS and Android).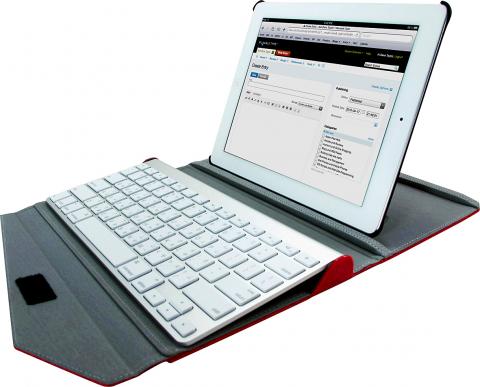 Opt's KeePad case turns your Apple Wireless Keyboard and an iPad into a mobile computer kit.
Photo courtesy of Opt
Of course, for an iPad to replace your laptop, you'll need one thing: a real, physical keyboard. No matter how cool touch screens are, and despite the great leaps that have been made in voice recognition technology (with programs like Siri and Dragon Dictation), nothing beats the clackety-clack of a physical keyboard when it comes to comfort, accuracy and speed.
There are plenty of keyboard options available for iPad users, whether you're a casual typist who just can't get used to tapping on glass, or if you're an office road warrior looking for a more lightweight and flexible computing option.
Here's a look at some of the better keyboard accessories for iPad currently available in Taiwan. All products reviewed here connect to the iPad wirelessly using a Bluetooth connection.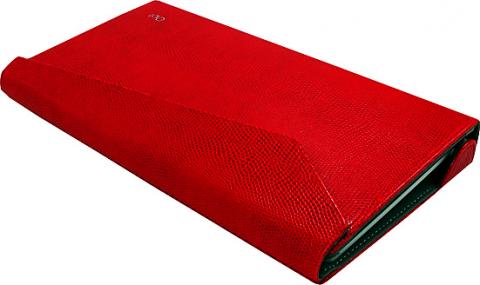 Opt's KeePad case turns your Apple Wireless Keyboard and an iPad into a mobile computer kit.
Photo courtesy of Opt
STAND-ALONE KEYBOARDS
I discovered that the best solution for turning my iPad into a work computer was already laying around the house. At home, we use the Apple Wireless Keyboard (NT$2,390) with a Mac desktop computer, and it works like a charm with the iPad.
Apple's keyboard is a natural choice for iPad typists. It has standard-size keys and good ergonomics. The smooth chiclet buttons, which are similar to the ones on Apple's Macbook laptops, have the right feel: they're not too squishy and have a smooth, satisfying click.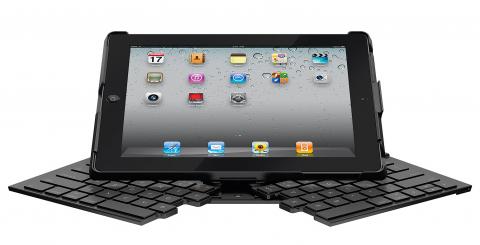 Logitech's Fold Out Keyboard and Case for iPad 2.
Photo courtesy of Logitech
But if you're going to use the Apple Wireless Keyboard with an iPad, a case and stand are a must. I found Opt's KeePad (NT$1,080) to be a great solution. This cleverly designed faux-leather case, tailored especially for Apple's keyboard, folds out with an attached stand sewn inside on which you can prop up your iPad. The KeePad holds the iPad steadily in either landscape (with the screen longer from left to right) or portrait views, and it was easy to adjust the viewing angle.
The KeePad case feels sturdy and well built, but it's light enough not to be a burden in your backpack or bag. Combined with the Apple Keyboard and iPad 2, it weighs around 1.1kg, the same weight of the 11-inch Macbook Air.
Now, you might think carrying a separate keyboard case sounds like a hassle compared to the all-in-one form factor of a laptop. But this can also be a boon for travelers: you can use the iPad as a tablet on the bus or plane, and then as a laptop when you get to your hotel.
Logitech's Keyboard Case by Zagg for iPad 2.
Photo courtesy of Logitech
I thought the KeePad/Apple Wireless Keyboard combination was perfect until I tried the Logitech Tablet Keyboard for iPad (NT$1,990). Now I can't decide which is better. The Logitech is nearly the same size of the Apple keyboard, but has a slightly slimmer profile. Ergonomically, Logitech's keyboard is just as nice to type on, with chiclet keys and a layout nearly identical to Apple's. The Logitech keyboard comes with a small plastic case that unfolds into a stand for the iPad. The Logitech is less bulky than the KeePad/Apple combo when packed away in the keyboard, and is only slightly heavier, by around 20g.
But a few differences may tilt your decision: the Logitech has some handy shortcut buttons that the Apple keyboard doesn't have. The escape key on the Logitech actually serves as the home button (which you can double click to display the fast app-switching tray). You can also turn on a slide show of photos on your iPad by pressing Fn+5, and lock the screen by pressing Fn+Delete. On the other hand, the Apple keyboard looks more stylish and the Opt KeePad case inspires more confidence. Even though it's made of faux leather, the case seems sturdier than the Logitech case, which feels cheap and plasticky. The Logitech case's fold-out stand is a bit flimsy and I wonder if it will break after constant use. Neither of these keyboards has a toggle switch for switching languages, which I found inconvenient when switching between Mandarin and English.
The main advantage of either of these two choices is that they can be used with either iPad 1 or 2 (Taiwan still awaits the release of the third-generation iPad, which Apple has dubbed "the new iPad."). Both keyboards need batteries, but you won't have to change them nearly as often as you recharge your iPad. The Apple takes four AA batteries, and you can use rechargeable ones — I have to recharge mine every few months or so). The Logitech uses 4 AAA batteries, and the company claims 10 months with "regular usage." In any case, battery life isn't really a concern with any of the Bluetooth keyboards.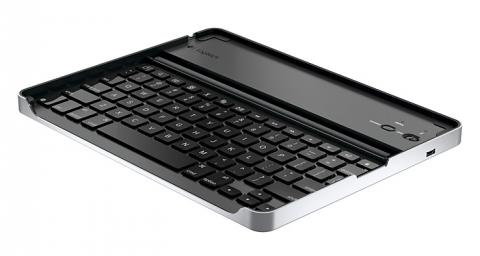 Logitech's Keyboard Case by Zagg for iPad 2.
Photo courtesy of Logitech
CASE/KEYBOARD COMBO
I think a full-sized keyboard works the best with the iPad. But if you have an iPad 2 and prefer the all-in-one solution, the following products are also worth a look.
The IPEVO Typi iPad 2 (NT$1,980) is a suede leather case that houses your iPad and a detachable Bluetooth keyboard and looks like a fancy office appointment diary. The Typi, which comes in either black or brown, has a nice and natural look and folds out into a stand for the iPad. But the compromise here is the mediocre keyboard, which is slightly smaller than standard size. The keys are mushy and flat, which makes typing without looking at the keys more difficult. But it still beats tapping on glass, and if you need to do a moderate amount of typing while traveling, the Typi will do in a pinch. There is also a whole row full of keyboard shortcuts, including dedicated keys for cut and paste and a toggle button for switching languages. With the iPad 2 packed inside, the Typi weighs around 1.1kg, the weight of the 11-inch Macbook Air.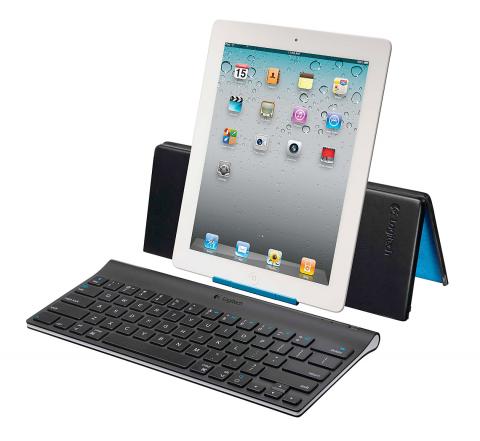 Logitech's Tablet Keyboard works with any iPad using a Bluetooth connection.
Photo courtesy of Logitech
For something more compact and light, the Logitech Keyboard Case by Zagg (NT$2,990) is a well-designed, one-piece aluminum case with a keyboard on the inside. When you're ready to travel, the iPad 2 fits snugly on top of the keyboard, face down, with the sides of the case holding the tablet like a frame. Like the IPEVO Typi, the keyboard is slightly smaller than standard size, but it has better keys and is more suited for typing for long periods of time. Though not quite as comfortable as the full-size keyboards, one advantage of the Logitech/Zagg case is its light weight. With the iPad 2, the case weighs 875g, making it the lightest combination of all the products in this review. One thing I'm not crazy about, though, is that you can't adjust the angle at which the iPad stands. It's is a little steep when you place the tablet in landscape view. The case has a built-in rechargeable battery, which is charged by a USB cable. Logitech doesn't say how long it can be used for, but I never needed to recharge after testing it for more than one week.
If you want an all-in-one combination but a full-sized keyboard, then have a look at the Logitech Fold-Up Keyboard (NT$3,990) for iPad 2. This case might be a good choice if you already use Apple's "Smart Cover" — the iPad sits in the case with the screen facing outwards. The Fold-Up Keyboard is the most Transformer-like of all the products in this review. When you push the screen upright, the keyboard, which is split into two halves, slides out from under the screen and clicks together. The angle of the iPad can't be adjusted, but I found it to be just right. The keyboard is better than the Logitech/Zagg and the IPEVO Typi but still not as good as either of the stand-alone ones mentioned above. I'm also not impressed with the plastic build — it also feels a little too flimsy, and if I owned this and constantly lugged it around in a backpack, I'd worry about it eventually breaking. It weighs 1.1kg.
ONE LAST TOUCH AND TAP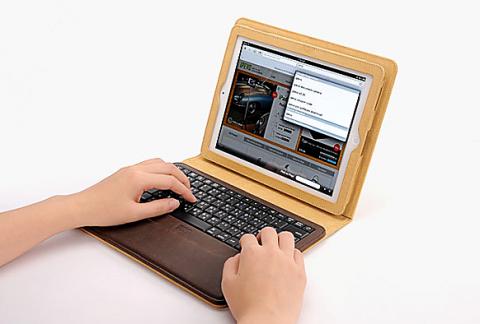 IPEVO's Typi case and keyboard for iPad 2.
Photo courtesy of IPEVO
Even with a keyboard, the iPad may not be the perfect portable computer, but it certainly offers a compelling alternative if you travel a lot and don't require specialty or professional software beyond what the App Store has to offer. It's also relatively cheap, with the 16 GB iPad around half the price of a 11-inch ultrabook or Macbook Air. And the battery life of an iPad, which is eight to 10 hours on a single charge, also beats the thinnest, lightest laptops out there.
After spending the past three weeks doing work on my iPad (including writing this article), not only did I realize that I have a pretty fast and lightweight mobile computer in my hands, but I also came to a deeper appreciation of the simplicity of iOS. On a Mac or PC, you can easily overwhelm yourself with having a dozen programs and windows open at once. On the iPad, you can only have one app open at a time. I wouldn't go so far as to say I worked so much more efficiently, but I did feel a little less distracted on the iPad.
Here's a wish list of minor tweaks that Apple could make to turn the iPad into an even better mobile computer: since most keyboards use Bluetooth, make it easier to switch the function on and off in the settings. At the moment it takes too many taps and swipes to activate the function. Also, it would be great if we could use keyboard shortcuts like CMD-Tab (CTRL-Tab on Windows) to switch between apps. Yes, there are handy multi-touch gestures like the four-finger swipe, which lets you move from app to app, but it would be nice for typists concentrating on their work to have one less reason to take their hands away from the keyboard.
So before you shell out the cash on a brand new laptop, have another look at what the iPad can do.
Comments will be moderated. Keep comments relevant to the article. Remarks containing abusive and obscene language, personal attacks of any kind or promotion will be removed and the user banned. Final decision will be at the discretion of the Taipei Times.