Restaurant review: Oriental Cuisine (東方饌黔天下)
Dining at Oriental Cuisine is like taking a crash course in Guizhou food, thanks to meticulous proprietor and chef David Yeh (葉國憲), who trekked to the mountainous region on the Yunnan-Guizhou Plateau in 2008 to study the locale's style of Chinese cooking, which is celebrated for its complex spiciness and vinegary flavors.
Yeh is possibly the most diligent restaurateur I have ever encountered. On a recent visit, the neatly dressed chef not only took his time to greet our group of six and make recommendations while helming the kitchen, he also presented each dish and genially explained their origin and ingredients.
According to him, since the weather in Guizhou is often humid and chilly, the locals have long munched on a wide variety of spicy foods to stave off the cold.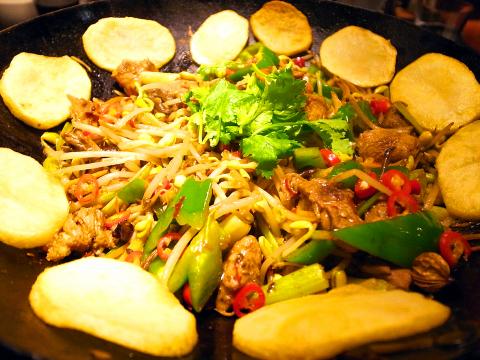 Spiciness is the name of the game at Oriental Cuisine.
Photo: Ho Yi, Taipei Times
Depending on the type of hot pepper used and how it is prepared and mixed with other spices, Guizhou cuisine has more than a dozen categories of spiciness, including sour spicy, (酸辣), oily spicy (油辣) and grilled spicy (糊辣).
For first-time diners, the assorted appetizer plate (四喜拼盤, NT$200 and NT$360) is a good starting point. Made with red chili that is first stir-fried with garlic and ginger, then tossed with peppercorns (花椒), the serving of oily spicy bamboo shoots (大紅袍油辣香筍) produces a tongue-tingling numbing sensation.
The pickled chili with peanuts (糟辣浸花生) showcases the pleasantly unique tang of fermented chili, while the vinegary black jelly fungus (醋溜黑木耳) refreshes the taste buds with its lovely tartness.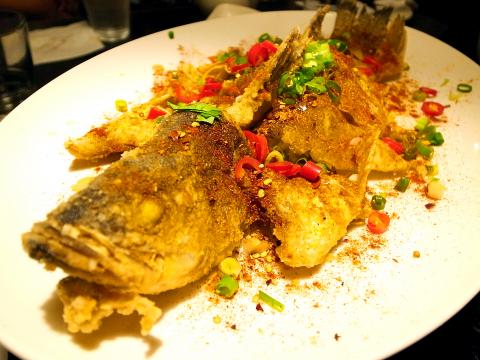 Spiciness is the name of the game at Oriental Cuisine.
Photo: Ho Yi, Taipei Times
But don't be fooled by the appetizers' deceivingly simple appearance. My dining companions and I were all impressed by their nuanced flavors.
A delicacy traditionally cooked on special occasions, Miao chicken dry pot (苗寨乾鍋雞, NT$350 and NT$650) evolved from the iron pots that the region's villagers used to cook with over fire pits.
To please local palates, Yeh's rendition uses less oil and more vegetables — green pepper, celery, bean sprouts, slices of potato. The dish's spiciness increases as the vegetables and chicken release their juices, which condense and thicken.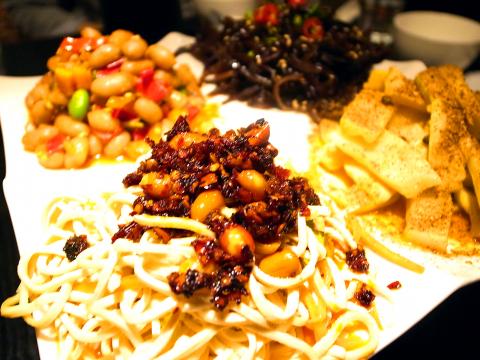 Spiciness is the name of the game at Oriental Cuisine.
Photo: Ho Yi, Taipei Times
Sourness is another characteristic of Guizhou cuisine, and a good example is the Miao sour fish soup (苗家酸湯魚, NT$380 and NT$680). Using a light, sour broth made from fermented rice, the dish combines tomatoes and fermented chili to give sea perch an exciting kick.
Halfway through our evening spread, my dining partners and I started to plan our next visit to sample other signature dishes on the restaurant's extensive menu. Topping our list is the sweat-inducing chicken (鎮店盜汗雞, NT$1,680), which requires eight hours of meticulous preparation to transform a clay pot filled with chicken and Chinese herbs into a piping hot pot of chicken soup, all without the addition of even a drop of water. The dish needs to be ordered at least one day in advance.
Eating at the two-story establishment is a comfortable experience. With a pleasant outdoor dining area on the balcony, the restaurant is very well kept and spacious, while the air is lightly scented with Chinese herbs and spices.
Located three minutes walk from Dazhi MRT Station (大直捷運站) exit No. 1, Oriental Cuisine is tucked away in a quiet alley adjacent to the park next to the main entrance of Shih Chien University (實踐大學).
Publication Notes
Oriental Cuisine (東方饌黔天下)
Address: 27, Ln 46 Dazhi St, Taipei City (台北市大直街46巷27號)
Telephone: (02) 8509-2310
Open: Tuesday to Sunday from 11:30am to 2:30pm and 5:30pm to 9:30pm
Average meal: NT$500 including 10 percent service charge
Details: Chinese menu, no English
Comments will be moderated. Keep comments relevant to the article. Remarks containing abusive and obscene language, personal attacks of any kind or promotion will be removed and the user banned. Final decision will be at the discretion of the Taipei Times.