Theater: Down and out in Taipei
Theater project Homeless in Taipei focuses on the plight of people living on the streets
While Tibetan culture is celebrated across the capital, the plight of people living on the streets is being put under the spotlight by Homeless in Taipei (流浪讀劇計畫), an ongoing project initiated by the Wanhua Theater (萬華劇團).
Homeless in Taipei began with two men and one woman from the theater group spending several nights sleeping on the streets earlier this month. They were not allowed to take any money with them, but were free to use other resources to find food and a place to get some shut-eye. Another team of three will undertake the same mission on Feb. 24.
"We want to gain a better understanding of what it's like to be homeless," the troupe's artistic director Chung Te-fan (鍾得凡) told the Taipei Times.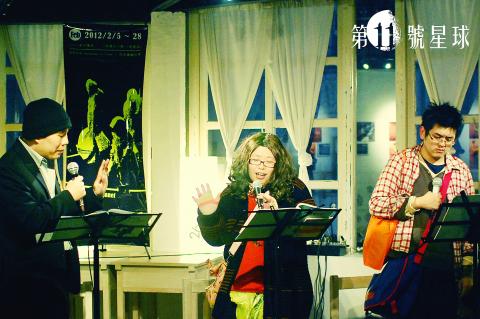 The Wanhua Theater has organized 11 play-reading sessions at different locations across Taipei.
Photo Courtesy of Wanhua Theater
The idea of living a homeless life came from The Eleventh Planet, a play by noted Slovene writer, poet and playwright Evald Flisar. It tells a story of three vagrants, Peter, Paul and Magdalene, who cannot resist the temptations of the world of the "bonkers" (hard-working citizens) they claim to despise. The three believe they have been chosen to go to the solar system's 11th planet where they will find a utopian living environment.
The Eleventh Planet's script was translated to Chinese by Ting Fan (丁凡), a member of Wanhua Theater, and recently went on sale in Taiwan.
To Chung, Flisar uses the play's characters as metaphors to describe the nature of existence in a capitalist society. In order to draw attention to the beautifully written script, the troupe has organized 11 play-reading sessions by actors and nonprofessionals who will join the troupe's members living on the streets.
The play-reading sessions will be held in different locations across the capital, mostly in old parts of town, including Wanhua (萬華) and Datong (大同) districts.
Though he spent a few days living on the streets earlier this month, Chung says he had not really "put himself out there." Because the weather was cold and the participants didn't have enough clothes to wear and food to eat, they spent most of the time cuddling each other to keep warm.
Publication Notes
Performance Notes
What: Homeless in Taipei (流浪讀劇計畫)
When and Where: Today at 2:30pm at Joie Eternelle (永樂座), B1, 9, Ln 60, Taishun St, Taipei City (台北市泰順街60巷9號B1), tomorrow at 2:30pm at South Airport Art Space (藝響南機場), B1, 1, Alley 4, Ln 315, Zhonghua Road Sec 2, Taipei City (台北市中華路二段315巷4弄1號B1), Feb. 25 at 2:30pm at Wanhua No. 266 Green (萬華266號綠地), 132 Kangding Rd, Taipei City (台北市康定路132號), Feb. 26 at 2:30pm at Wanhua No. 402 Park (萬華402號公園) at the intersection of Mengjia Boulevard (艋舺大道) and Siyuan Road (西園路) in Taipei City, Feb. 27 at 7:30pm and 9:30pm and Feb. 28 at 2:30pm at Huashan 1914 Creative Park (華山1914), 1, Bade Rd Sec 1, Taipei City (台北市八德路一段1號)
Admission: NT$350 for indoor shows, available at the door and through www.walkieticket.com
Comments will be moderated. Keep comments relevant to the article. Remarks containing abusive and obscene language, personal attacks of any kind or promotion will be removed and the user banned. Final decision will be at the discretion of the Taipei Times.