Pop Stop
Actress Makiyo and her legal troubles are still dominating headlines, but pop star Elva Hsiao (蕭亞軒) and actor Kai Ko (柯震東) managed to stake a claim in the gossip pages this week. The two were spotted "tongue wrestling" in a nightclub last week and have since been fending off rumors that they are romantically involved.
Though she is on a monthlong vacation in Paris, Hsiao called reporters to deny the relationship.
"Do you think I would really do something like that in some place as public as a bar?" Hsiao said, according to our sister newspaper the Liberty Times (自由時報). Hsiao's manager told the media that Ko was just one of several friends invited to her bon voyage party.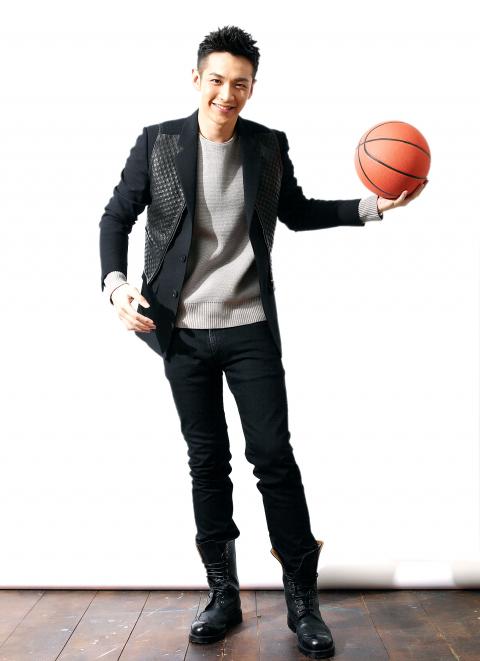 Kai Ko has mature tastes for his age.
Photo: Taipei Times
Ko, who starred in the blockbuster You Are the Apple of My Eye (那些年,我們一起追的女孩), admitted that he had been out with Hsiao, but denied they had locked lips.
"What tongue wrestling?" he asked reporters. "Who said that?"
At 32, Hsiao is 12 years older than Ko.
The Liberty Times noted that in his latest film, When a Wolf Falls In Love With a Sheep (南方小羊牧場), Ko's love interests are played by 25-year-old Nikki Hsieh (謝欣穎) and 22-year-old Chien Man-shu (簡嫚書), while his You Are the Apple of my Eye costar Michelle Chen (陳妍希) is eight years older than him.
When a reporter cheekily asked Ko what kind of impression he held of older women, he responded, "A very good one."
Fans looked everywhere for clues that Hsiao is pining away for Ko while on her European jaunt. When Hsiao wrote on her blog that she was suffering from insomnia, some readers speculated that it was because she missed her alleged new beau. But others made fun of a photo Hsiao posted with the entry that showed her in full makeup, pouting at the camera. "You have false eyelashes on. No wonder you can't go to sleep," one netizen wrote.
The media's scrutiny was so intense that even people on the periphery of their social orbit got pulled into the fray. Model Yoanna Sun (孫尤安), a friend of Ko's ex-girlfriend (and a rumored former flame herself) hit the tabloids after she got into an altercation with a woman near a post office in Sanxia while trying to park her car.
The woman accused Sun of nearly running into her and the two got into a heated exchange that allegedly came to a head when Sun flipped the bird.
The fallout over the scandal prompted Sun's management company to issue a statement. "She was frightened by the woman's shouting," Sun's agent said. "She said she had raised a finger, but I do not know if it was her middle finger."
After Sun's parking tiff, Ko's manager told reporters "she is a friend of a friend and [Ko] is not in contact with her." But eagle-eyed fans found an album on the actor's blog that had photos of the two of them together on a group vacation. Reporters even called Ko to ask if Sun had always had a fiery temper. Maybe the Makiyo scandal has whetted the media's appetite for starlets who can't behave themselves around cars.
Shu Qi (舒淇), on the other hand, remained good-humored during a grilling by the Apple Daily (蘋果日報) about her personal life while promoting Love (愛), her latest film. The actress dismissed rumors that she is dating singer Wang Leehom (王力宏), though the two allegedly vacationed in Bali together over the holidays, and also denied any romantic interest toward Stephen Fung (馮德倫), another singer.
"Marriage means starting a family," said Shu. "I like running around by myself. I haven't thought about getting married."
On a more somber note, Lin Yu-chun (林育?), the singer with a bowl haircut who shot to worldwide fame with an unexpectedly soulful rendition of I Will Always Love You, was asked about his grief after the death of his idol Whitney Houston. Lin, nicknamed Little Fatty (小胖) by the press, was photographed red-faced and sobbing.
"I'm so sad. When I heard her songs broadcast, it felt like she was in heaven, singing for everyone," Lin told the Liberty Times.
"When I hear her sing 'so good-bye, please don't cry,' my heart breaks," added Lin, who first heard Whitney Houston's hit rendition of the Dolly Parton ballad when he was in fifth grade and was so enamored that he played the record until his CD broke. Lin, who has already released two albums, said he hopes to record a Whitney Houston tribute CD.
Comments will be moderated. Keep comments relevant to the article. Remarks containing abusive and obscene language, personal attacks of any kind or promotion will be removed and the user banned. Final decision will be at the discretion of the Taipei Times.