Poetry: A poetic awakening
Tong Ya-li (彤雅立) rises when the moon ascends and sleeps when night goes to bed. She writes poems, and amid the solitude surrounding her suburb home near Berlin, where she studies silent cinema, the poet feels a sense of longing, which was often obscured by the hectic life of Taipei when she lived in Taiwan.
She waxes lyrical about things like the moon, memories, yearning and the changing seasons.
From last year's Mid-Autumn Festival (中秋節) to this year's Lantern Festival (元宵節), on the 15th day of every lunar month she published Fullmoon (月照無眠詩聲雜誌), a six-edition online poetry-sound magazine (see sleeplesssoundmagazine.tumblr.com for the Chinese version and fullmoonsoundmagazine.tumblr.com for the English version).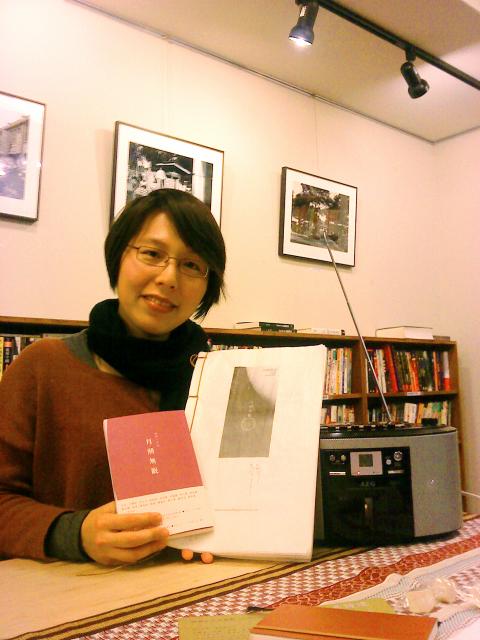 The moon is a source of inspiration for Tong Ya-li.
Photo: Ho Yi, Taipei Times
"In our material world, human relations have become swift and ever-changing. People greet each other on Facebook, but there is no eye contact between us ... I hope, through poetry, to convey classical emotions that should, and indeed do, still exist," said Tong, who has published two poetic works, Borderland's Dawn (邊地微光) and Moonlight, Sleepless (月照無眠).
The product of a collaboration between Tong and musician Hsieh Chieh-ting (謝杰廷), Fullmoon is a bilingual online publication.
For each edition, the pair, along with guest contributors including Austrian Sinologist Martin Winter, translated three works between Chinese and German by poets such as Shang Qin (商禽, 1930 to 2010), Li Yu (李煜, 937 to 978), Ingeborg Bachmann (1926 to 1973) and Rainer Maria Rilke (1875 to 1926).
Hsieh composed a musical accompaniment for each poem.
Tong uses the term "poetry-sound" (詩聲音) to describe their creative practice. To the poet, the musicality in poetry proves there is a unique affinity between the two art forms.
"Poetry and music can reach the innermost part of oneself. I did the poetry-sound project because I feel people need to awaken their hearts and souls," she said.
A demonstration of wedding words with sounds will take place tomorrow at Joie Eternelle (永樂座), B1, 9, Ln 60, Taishun St, Taipei City (台北市泰順街60巷9號B1). In the basement bookstore, Tong and Hakka songstress Lo Sirong (羅思容) will perform music and sing poems.
Winter, who is currently in Taipei by invitation of the Taipei International Book Exhibition (台北國際書展), will join the duo and read some works from the magazine he translates.
The online magazine has an expiry date, after which it is removed from the Web. Fortunately, the first three editions also appeared in print. They will be on display at Joie Eternelle from tomorrow to March 11.
After the performance in Taipei, Tong will present her project to an audience in Tainan, where she will give a lecture on Feb. 26 at the Tsao Chi Bookstore (草祭二手書店), 71 Nanmen Rd, Greater Tainan (台南市南門路71號). A poetry-sound installation exhibition will run through March 18 at Wu-Chi Art Studio (五 七藝術工作室), 57 Shennong St, Greater Tainan (台南市神農街57號). For more information, visit the poet's blog at tong-yali.blogspot.com.
Comments will be moderated. Keep comments relevant to the article. Remarks containing abusive and obscene language, personal attacks of any kind or promotion will be removed and the user banned. Final decision will be at the discretion of the Taipei Times.