Pop Stop
In a slow news week, the biggest media splash was made by accusations that TV host and entertainer Pauline Lan (藍心湄) illegally hired a foreign helper. She joins a lineup of major public figures, all of whom are super wealthy, alleged to have misused foreign caregivers as cheap home help.
Matilda Tao (aka Momoko Tao, 陶晶瑩), one of Taiwan's highest paid female TV hosts, and the country's richest man, CEO of Foxconn Technology Group (富士康集團) Terry Gou (郭台銘), have both been associated with incidents in which fines were levied for sidestepping legal requirements for such household help.
Lan came under scrutiny after she was shopped to Next Magazine by a reader possibly inspired by a sense of moral righteousness.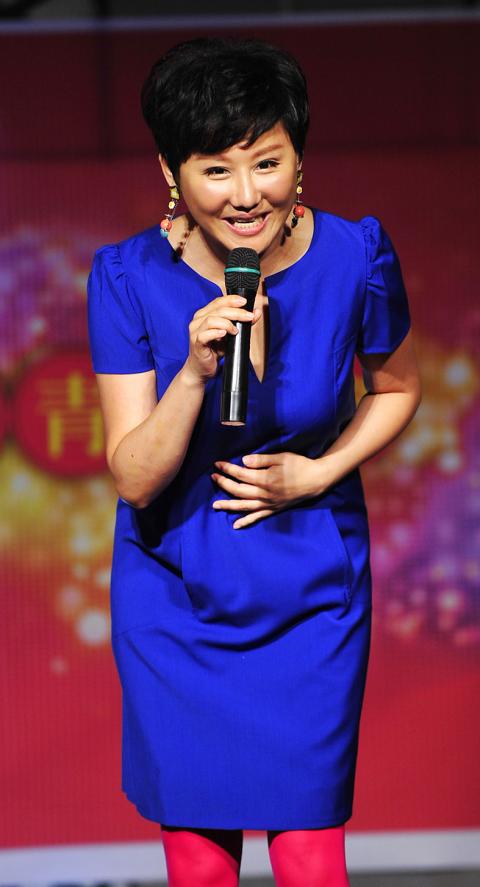 Paulin Lan: innocent until proven guilty.
Photo: Taipei Times
Indignation has exploded over instances of the inequity of these massively privileged people bypassing regulations that hamper many regular families obtaining much-needed home help.
The issue gained such traction that Taipei City Government's Department of Labor held a press conference on Wednesday to say that it would investigate the allegations against Lan.
In media reports yesterday, Lan denied any wrongdoing. She said that her application for a caregiver followed the rules and welcomed the department's investigation.
"If they come visit, I hope that they will inform me first. It would be terrible if they came and I hadn't put on my makeup," the veteran TV personality quipped. She added that her father had suffered a stroke in April, and the presence of home help was perfectly legitimate (caring for children, the elderly or disabled is a condition of obtaining such assistance).
In movie news, the film Black and White (痞子英雄), scheduled for release next month, is having woman trouble. The flick, based on the hugely successful police drama of the same name that hit TV screens in 2005, is clearly intended as the big release for the Lunar New Year season, and the production company has been pulling out all the stops in marketing the film.
Unfortunately for the film's producers, two of its leading female stars are being uncooperative. Taiwanese actress Ivy Chen (陳意涵) was incensed to discover that all the scenes in which she appeared had been left on the cutting-room floor, though she was given an acting credit. In response, she refused to participate in any of the marketing activities.
Meanwhile, Chinese actress Angelababy (aka Yang Ying, 楊穎) made exorbitant demands as a condition of coming to Taiwan to promote the film, including five-star accommodation and expensive spa treatments, but ultimately attended only a single press conference.
While Angelababy's behavior is regarded as just another example of a wannabe star getting too big for their boots, Chen has received considerable support for her loss of self-esteem from fans, and the film's director Tsai Yue-hsun (蔡岳勳) has come in for criticism. Chen said Tsai had explained to her that he had no choice but to cut her scenes as the film was
too long.
According to the Apple Daily, Chen has demanded to see the early prints of another film she has recently been working on, Love (愛), just to make sure she actually appears in it.
The precariousness of life as a TV personality and aspiring actress was further underlined this week by news reports that Ivy Shao (邵雨薇), better known as Meng Meng (夢夢), who achieved a degree of celebrity as the spokeswoman for an online game and who had cut a single, was now making ends meet as a betel nut beauty, according to a story in Next Magazine. Intrepid reporters found Meng Meng in a skimpy outfit hawking betel nuts from a stand in Shulin (樹林), New Taipei City.
Meng Meng's agent responded to questions about her current situation by telling the media that working as a betel nut beauty would be very educational in learning how to handle life's vicissitudes.
Comments will be moderated. Keep comments relevant to the article. Remarks containing abusive and obscene language, personal attacks of any kind or promotion will be removed and the user banned. Final decision will be at the discretion of the Taipei Times.