Pop Stop
After a frenzy of media speculation, Hong Kong screen idol Andy Lau (劉德華) confirmed that he and wife Carol Chu (朱麗倩) are expecting a child. He announced the news after winning the leading actor award for A Simple Life (桃姐) at last week's Golden Horse ceremony.
The couple has famously tried to keep their long-term relationship as low profile as possible. Lau and Chu managed to prevent the paparazzi getting shots of them together for 24 years before photos of the two holding hands hit the tabloids in 2009.
The rumors reached a fever pitch when Lau flew into Taiwan for the Golden Horse Awards (金馬獎) ceremony. He was pictured helping his wife through the hoard of photographers and fans at the airport. Chu was completely under wraps, sporting a facemask and a baggy down jacket that made it impossible to spot any signs of a baby bump.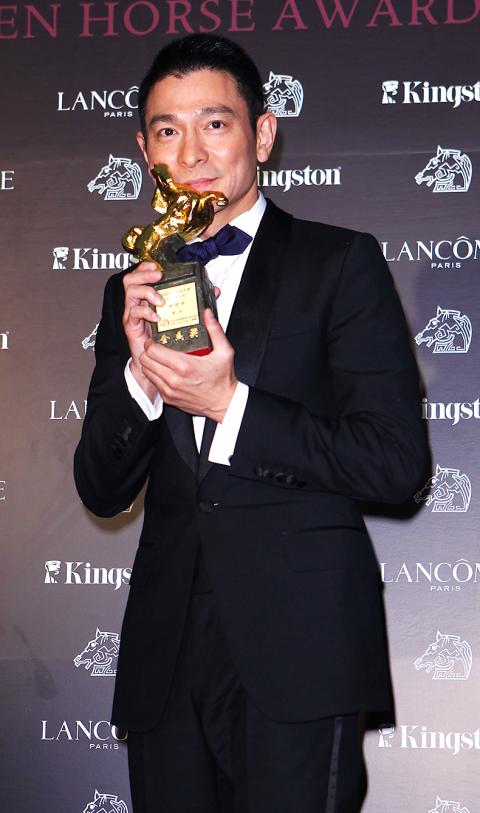 Andy Lau, all set to be a dad.
Photo: Taipei Times
The couple refused to confirm or deny Chu's pregnancy until a few days after the awards bash, when Lau made an announcement on his official Web site in the middle of the night. "One happy occasion follows another," he wrote, referring to the ceremony, before thanking God for the latest addition to his family.
The Liberty Times (the Taipei Times' sister newspaper) remarked that it is indeed a miracle that the 45-year-old Chu managed to get pregnant. From this point forward, she (and her belly) will be put under a magnifying glass by the media, the report added.
This year's Golden Horse Awards broke records, becoming the most highly viewed ceremony in nearly 10 years. Lau's presence played a huge part in encouraging people to tune in. According to the Liberty Times, viewership peaked when the leading actor award was announced, with more than two million people tuning in to watch Lau pick up his shiny statuette.
Many fans, however, were less than thrilled with a crude joke actor Eric Tsang (曾志偉) made about the film You Are the Apple of My Eye (那些年,我們一起追的女孩). Tsang cohosted the ceremony with his daughter, Mando-pop singer and actress Bowie Tsang (曾寶儀).
The Chinese title of the sweet-natured comedy, which is about a group of high school friends engaged in a romantic rivalry, literally translates as "Those years, we chased the same girl." The film has set box office records in Taiwan, Singapore and Hong Kong and a single off its soundtrack, Those Years (那些年), has become a major hit.
The movie is so influential, Tsang declared during the ceremony, that Hong Kong director Wong Jing (王晶), a prolific director with infamously crass sensibilities, wants to make his own version. The title? "Those years, when we raped the same girl" (那些年,我們一起強姦的女孩).
"That sounds a little scary," Bowie Tsang responded to her father as their celebrity audience giggled nervously.
"But it hasn't premiered yet," papa Tsang said. "They are still converting it to 3D!"
After the ceremony, Bowie defended her father against an online outcry by fans.
"Actually, dad does have boundaries," Tsang insisted.
Lin Chi-ling (林志玲) probably wishes the media had some boundaries, too. The supermodel celebrated her 37th birthday last week, which led to yet another round of tabloid speculation about when she will finally find
a husband.
Her brother Lin Chi-hong (林志鴻) told reporters that his younger sibling will "probably not get married within the next two years. It's up to fate."
Gossip reporters were horrified by the idea of Taiwan's top model becoming a 40-year-old spinster. An Apple Daily reporter grilled Lin about her husband-hunting plans at a press event with Chinese actor Huang Xiao-ming (黃曉明).
"I feel like everyone asks me the same question every year," said Lin with a giant smile plastered across her face. "I never have a different answer. It makes me feel depressed."
Comments will be moderated. Keep comments relevant to the article. Remarks containing abusive and obscene language, personal attacks of any kind or promotion will be removed and the user banned. Final decision will be at the discretion of the Taipei Times.