Horsing around at Huashan
Entering the Huashan 1914 Creative Park hall on Saturday night that is home to Horse's (驫舞劇場) Successor (繼承者) for the next two weeks, the first thing I noticed was a path made up of bits and pieces of computer motherboards that ended in a large teardrop shape. There were also huge walls of stacked newspapers, a constellation of Styrofoam balls suspended on varying lengths of black wire, a sculpture of chairs balanced on end almost to the ceiling, two huge metal platform structures, a curtain made up of recycled advertising banners, pairs of wooden panels, collections of wooden boxes, and in one corner, an arrangement of eight small benches.
One thing there wasn't was someplace for audience members to sit. The benches were obviously not for the audience, for in addition to their small number, dancer and Horse co-founder Chou Shu-yi (周書毅) was sitting on one of them. The other eight dancers — Chou Chun-peng (周浚鵬), Huang Yong-huai (黃詠淮), Huang Hai-te (黃懷德), Wang Jin-dun (王敬惇), Derrick Wei (魏雋展), Liu Guan-xiang (劉冠詳), Shai Tamir and Mauro Sacchi — were dotted about the space.
Many in the audience milled about, confused by the lack of seating. Gradually the dancers all assembled in Chou's corner and the program began, as usual in Horse productions, with a bit of dancing and a bit of slapstick. Then they split up again, leaving Chou to his corner and benches, where he would remain for the rest of the 70-minute show. The rest spread out, singlely and in pairs, and the audience had to choose whom to follow and watch.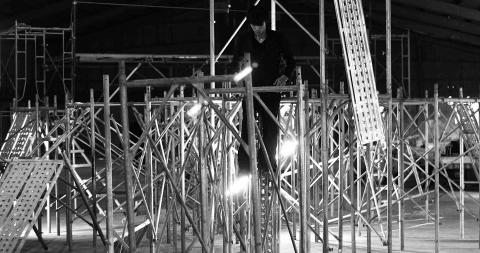 Scene from Successor.
Photo courtesy of horse
The eight dancers roamed the hall, moving in and about the audience, sometimes very close, completely breaking the boundaries that usually separate the audience from the performer. The one exception was Chou — people stayed a respectful distance from him and the benches. I wondered what would have changed with his performance if one or more audience members had decided to sit on one of the benches.
One other interesting thing about Chou was that, although compared to the others he often wasn't doing much at all, he still managed to attract large segments of the audience, even when the shouts and noise from the other ends of the hall would, one thought, have drawn people away. But that is Chou's charisma as a performer — even when he's moving slowly, he draws you in.
For the others, often their performances — including some dialogue — sometimes seemed like a performance of "Men on the verge of a nervous breakdown," but in a fun way. Tamir, especially, was fascinating to watch.
A masters dissertation or doctoral thesis could be written about Successor and the audience movement patterns. It was as much fun to watch the audience as it was the performers — people would get so wrapped up by what was in front of them that they were oblivious to what was going on right behind them. However, such a free-form experiment was not for everyone, and there were several who were obviously less than enthralled: people checked their phone or sat talking on the floor. And then there was the one woman entertaining herself by making shadow puppets on one wall of newspapers until a friend pulled her away.
Overall, the first weekend of Successor was a success. I can't wait to see what the men of Horse do next weekend and the following one. The shows for each of the three weekends are supposed to be completely different, and you don't have to have seen one to see the others. The second set of shows start on Thursday night.
The two dance productions that I saw on Saturday both had Westerners among the dancers, and in the case of the matinee, 8213 Physical Dance Theater's (8213 肢體舞蹈劇場) Unsigned Season (極境之旅), a Malaysian-Chinese dancer as well. 8213 were at their "home theater" — the black box that is the Guling St. Avant-Garde Theatre (牯嶺街小劇場).The show, choreographed by Casey Avaunt, explored how humans react to climate change, disasters and uncertainty.
It was a terrific collection of vignettes that gave each of the dancers — Avaunt, company founder Sun Chuo-tai (孫梲泰), Yogi (Chan Tien-chen, 詹天甄), Liu Yen-meng (劉彥萌), Yang Hsiu-ju (楊琇如), Lim Kok Ta (林志駿) and Jordan Brooks — a chance to shine on their own in a solo or duet. Brooks' solo was ethereal, his arms appeared lighter than air.
While the show featured the troupe's trademark comedic moments, it was well thought out and obviously thought-provoking for many in the audience, judging by the question and answer session that followed the show.
Special kudos go to musician and composer Jimi Chen (陳世興), who from his corner platform was a complete one-man band, if not orchestra. He has worked on several of the company's productions and it was great to actually be able to see him performing.
Comments will be moderated. Keep comments relevant to the article. Remarks containing abusive and obscene language, personal attacks of any kind or promotion will be removed and the user banned. Final decision will be at the discretion of the Taipei Times.