The Vinyl Word
As we arrive at the second biggest night of the year for events, bars and clubs, The Loop goes gigantic for its sixth annual Halloween Massive party at the Taipei Show Hall 2. Organizers are flying in two of DJ Mag's top 100 DJs, trancemaster Gareth Emery and electro-king Steve Aoki. While being in the upper echelon of the top 100 is an annual occurrence for Emery (No. 7 last year and No. 13 this year), this is the first time that Aoki (No. 42) has been recognized for his contributions to electronic music.
"First of all, I'm incredibly thankful to everyone who voted for me, but in general polls are funny and strange," Aoki said in an e-mail interview with the Vinyl Word. "It's flattering to be up there but there are so many great DJs not even listed, which seems unfair."
Aoki, in his fourth performance in Taiwan in as many years, has gone from packing people into The Wall, which has a capacity of 600, to headlining this party, which gets more than 7,000 attendees annually. He guarantees to keep doing all his crazy antics like crowd surfing in an inflatable raft and squirting champagne on anyone who dares go near the stage, but Aoki will also be debuting new music that will be released to the public in December.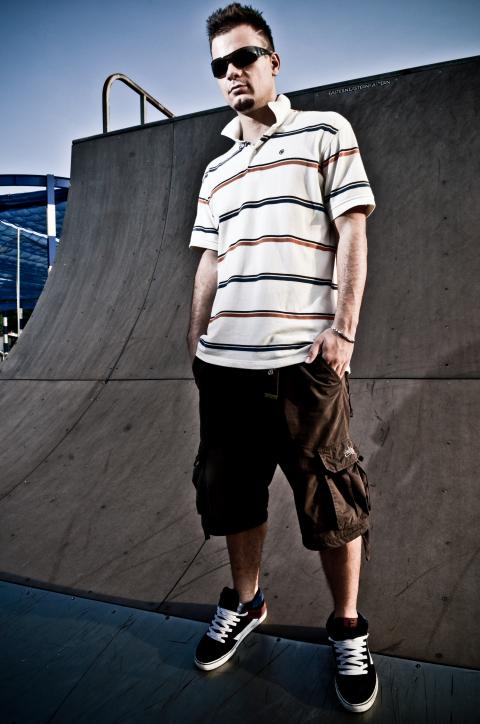 Fett will be hipping and hopping for Halloween.
Photo courtesy of Danny Chu
"This show will be more of a showcase of my latest album and tracks," Aoki said. "I'll have to play the ones the kids know and love as well, but this set is about my new album, Wonderland."
‧ The Loop presents Halloween Massive with Steve Aoki, Gareth Emery, Michael Woods, Haley and Pip & Carlos, tomorrow from 9pm to 4:30am at the Taipei Show Hall 2 (台北展演二館), formerly the Taipei World Trade Center Hall 2 (原台北世貿二館), 3 Songlian Rd, Taipei City (台北市松廉路3號). Tickets are NT$1,300 and can be purchased at www.ticket.com.tw, 7-Eleven ibon kiosks and at the door. For more information: www.halloween-massive.com
Zombies, vampires and Angry Birds will be roaming the streets of Tainan in search of people to kill, as well as a good place to party. Kaohsiung turntablist Fett will be hosting Hip-Hop Halloween at Funkoo.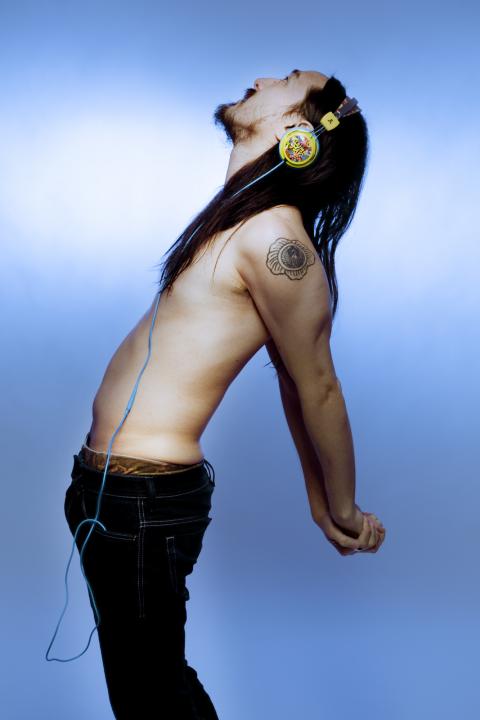 Don't expect Steve Aoki's shirt to be on for long at the Halloween Massive.
Photo courtesy of The Loop
"Halloween is the night when everybody gets so ugly and disgusting that it is beautiful," Fett said. "It is definitely Michael Jackson's fault, along with Freddy Krueger and Ghostbusters! Everybody gets loose and crazy like it's their last night on Earth and partying until early morning."
‧ Hip-Hop Halloween with Fett and Slick tomorrow from 11pm to 2am at Funkoo Bar, 56 Peace St, Greater Tainan (台南市和平街56號). Admission costs NT$150, which includes one beer
House music will be the name of the game when Peter Burke, JonB, Duckie and Paul Nice man the decks at Vanity, Kaohsiung's hottest club, for the seventh annual Technophobia, the longest-running Halloween party in the south. The best dressed in the costume contest will receive NT$7,777, an auspicious amount of prize money.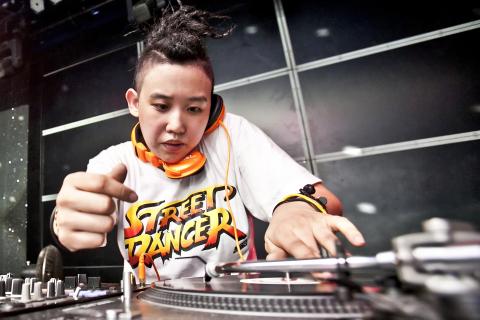 Noodles, the only female DMC finalist ever, will to make the Red House Theater bounce on Halloween.
Photo courtesy of DJ Noodles
‧ Spin Records and trust present Technophobia tomorrow from 10pm to 4am at Vanity Club and Lounge, 176 Siwei 4th Rd, Greater Kaohsiung (高雄市四維四路176號). Admission is NT$500, which includes two drinks
The Brass Monkey is doing it up this year with its Halloween Bash, featuring Dom. Ladies in costume enter for free and get free drinks from 9pm until midnight. Those without a costume pay NT$150. Costumed gents get in for NT$150; those not costumed pay NT$300 (both prices include a drink). And the venue isn't monkeying around with its costume competition, which begins at 11pm. Grand prizes include NT$5,000 for the sexiest costume and NT$5,000 for best dressed. Be sure to check out the Brass Monkey's Web site for a video of last year's bash.
‧ Halloween Bash starts at 9pm tomorrow at the Brass Monkey, 166 Fuxing N Rd, Taipei City (台北市復興北路166號), tel: (02) 2547-5050. On the Net: www.brassmonkeytaipei.com
Trick or treat? It's definitely a "treat" at Roof, where admission (with or without a costume) is free, with a NT$20,000 grand prize for the best costume. Bobo and Nina will cater to house-music monsters.
‧ Roof Halloween tomorrow from 10pm to 3am at Roof Island, 51 Liwen Rd, Zuoying Dist, Greater Kaohsiung (高雄市左營區立文路51號)
The scariest destination in Ximending is Resurrection II at the Red House Theater (西門町紅樓劇場). The historical venue has never been rented out for a party before. Eight DJs and two bands will provide the music, while a whopping NT$25,000 in costume prizes is up for grabs. For the post-party crowd, Resurrection goes until 6am. "Halloween, along with New Year's, is one of the biggest nights of the year, so that's why we do something special. We thought, let's hire the oldest and coolest venue in Taiwan and do a huge party," said Angus Yeats, director of promotions for Frog in the Sock, the outfit that's organizing the party.
‧ Red House Theater, 177, Xining S Rd, Taipei City (台北市西寧南路177號). The party runs from 9pm to 6am with Noodles, Marcus Aurelius, Yoshi and Robi Roka. Bands include local reggae favorites High Tide and the funked-out tunes of LEO37 and his band Funky Bunch. Advance tickets were still available as of press time for NT$700 at On Tap, 21, Alley 11, Ln 216, Zhongxiao E Rd Sec 4, Taipei City (忠孝東路四段216巷11弄21號) and Toasteria in the Shida area, 1, Alley 72, Yunhe St, Taipei City (台北市雲和街72巷1號). NT$900 will get you in at the door
Tickets for Brodinski at The Wall (這牆) sold out, so good luck catching the French celebrity DJ. He plays alongside Gesaffelstein and a handful of Taiwanese talents. "Last year, Brodinski opened for Soulwax and played a chill set. This year, he is headlining so you can expect some serious groove from his set. He and Gesaffelstein will be playing from 1:30am until close," said event organizer Spykee Fat.
‧ Dance Rock Taipei presents Brodinski and Gesaffelstein at The Wall (這牆), B1, 200, Roosevelt Rd Sec 4, Taipei City (台北市羅斯福路四段200號B1), tel: (02) 2365-7746. Doors open at 10pm
If you finish your hair and makeup early and don't mind exercising a little bit of patience, Room 18 is once again opening up its rooftop.
The event has become such a rager that in previous years, a long line has circled the venue for much of the night. "Join Alice, the Mad Hatter, the Cheshire Cat and your favorite characters from Alice in Wonderland at Taipei's only outdoor Halloween party," said Andrew Ford, music director for the Room 18 group. If you were lucky enough to score an invitation and are dressed in full costume, the event is free, but will cost those not in costume NT$800. Hunting down a staff member at Room 18 tonight might get you an invitation. Otherwise, admission is NT$1,000. Downstairs, the show goes on.
‧ Admission to Room 18 is NT$1,000, but free before midnight for those dressed up. The address is B1, 88 Songren Rd, Taipei City (台北市松仁路88號B1), tel: (02) 2345-2778. Both events start at 9pm
If you would rather not spend your Halloween standing in a line, head around the corner to the newly opened Club Myst — the capacity for more than 1,200 people means a much better chance of getting in. The maestros for the night are DMC champion Kid and Ground.
‧ Myst Club is located in the newly renovated ATT 4 Fun building, 9F, 12, Songshou Rd, Taipei City (台北市松壽路12號9樓). Call 0958-914-777 for more information and to make reservations in English. Alternatively, send an e-mail to jh@club-myst.com. Entry is free before 1am for those in costume and cover is NT$800 all night for guests not in costume. Doors open at 10pm
Revolver (formerly known as The Source) will host three floors of Halloween fun tomorrow night. The first floor features Physical Sister, YJ and KM, and the second floor has Wanghart. Reserve time for the third floor where there will be face painting and photography. Winner of a fancy dress competition will receive NT$5,000. Entry is free to those in fancy dress and NT$300 for everyone else (includes one drink).
‧ Tomorrow from 9pm to 5am at Revolver, 1-2, Roosevelt Rd Sec 1, Taipei City (台北市羅斯福路一段1-2號), tel: (02) 3393-1678
Comments will be moderated. Keep comments relevant to the article. Remarks containing abusive and obscene language, personal attacks of any kind or promotion will be removed and the user banned. Final decision will be at the discretion of the Taipei Times.