Pop Stop
Frankie Gao's (高凌風) domestic issues have reached a new level with the entertainer's arrival back in Taiwan yesterday, after news that his wife Chin Yu-chuang (金友莊), who is nearly 20 years his junior, was seeing another man. Photos of Chin kissing a man identified as Chang Chih-chien (張志堅) were released by Chinese-language media, eliciting an anguished response from Gao.
Chang has denied the affair in an online statement, and Gao has announced — retracting previous statements that he would end things with Chin — that he would take this statement at face value, and not take issue with various inconsistencies and dubious points. In a Liberty Times report yesterday, Gao went so far as to say he would undergo plastic surgery to improve his looks.
"In the past, Chin saw me as shark's fin, but now all she sees is tilapia [a common fish on Taiwanese tables]," he is quoted as saying. "I need to change that perception."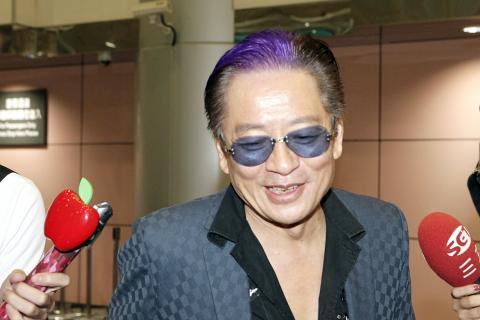 Frankie Gao: When the cat's away ...
Photo: Taipei times
Suggestions that he would also undergo penis enhancement, made after previous spats with his wife, were rejected. "I don't have any problems in that area at the moment," he said.
According to the Apple Daily, Chin has undergone surgery on four occasions to improve her looks over the past two years, including breast enhancement and liposuction. It was suggested that the surgery was directly related to her involvement with Chang. It is not a little ironic that Gao should resort to the same superficial remedies in saving his marriage: Perhaps the two really do deserve each other.
Another celebrity who has been undergoing close media scrutiny over the past week as been Dee Hsu (徐熙娣), better known as Little S, who has confirmed that she is pregnant once again. She has two daughters already, and this is yet another try at bringing forth a son and heir. Husband Mike Hsu (許雅鈞) and his family have notoriously put huge pressure on Dee to provide a son, and on this occasion there are also reports of her being pressed to use various folk medicines to ensure the birth of a baby boy.
Two well-known fortune-tellers consulted by the Apple Daily, using different methodologies, both suggest that a third girl was the more likely result. Given her husband's reputation for domestic violence and his intense desire for a son, this does not bode well for domestic bliss.
Other shifts in the celebrity firmament were captured by the tireless cameras of Next Magazine, which is speculating on the possible ditching of Aboriginal singer Biung Tak-Banuaz (王宏恩) by busty beauty Chantel Liu (劉香慈). Following 18 days of surveillance, the magazine claims that she has fallen for an unnamed playboy who the magazine dubbed the "Bentley Man" (賓利男), after his ostentatious car.
Liu is a rapidly rising star who became a household name following the success of the series Rookies' Diary (新兵日記) last year. Although she has consistently denied a romantic connection with Biung, Next magazine has equally insisted that she was "the other woman" in his long-term relationship with singer Irene Luo (羅美玲). According to Next, by heading out into the night with "Bentley Man" (two documented overnight visits to is lavish apartment in Dazhi), Liu has categorically left Biung out in the cold. In a side note, Luo has gained considerable media attention of late for her role in the big-budget war film Seediq Bale (賽德克‧巴萊), which has achieved unprecedented success for a local film in the multiplex.
There seem to be an increasing number of local celebrities who believe that taking off their clothes is the quickest way to fame and fortune. Kuo Yi-ling (郭怡伶), also known as Little Call (小Call), has been thirsting for exposure throughout her five years in the entertainment industry, and she has recently released a book of nude photos that leave nothing to the imagination.
"I have looked through many celebrity photo albums in recent years," she is quoted in Next magazine as saying, "but I think these albums are little more than lingerie catalogues. I think you need to show it all."
Kuo's album, which has plenty of the coy and cute, does not shy away from "showing the three points" (露三點). The magazine reports that this willingness to show it all followed close on the heels of breast enhancement surgery that lifted the starlet into the 32C category of mammary excitation. Next has applauded her daring with a three-page spread, and it is likely that Kuo will be someone to watch — or at least salivate over on the sly.
Comments will be moderated. Keep comments relevant to the article. Remarks containing abusive and obscene language, personal attacks of any kind or promotion will be removed and the user banned. Final decision will be at the discretion of the Taipei Times.