The Vinyl Word
When DJs first start spinning, they must worry about the BPM (beats per minute) of one song fitting with the next track. It's very hard to mix a soul song (average 70BPM to 85BPM) with a house song (average 120BPM to 128BPM) because their tempos are so far apart. When DJs get into making their own music, there are production programs that can bend and stretch songs so that they fit together, but it can still be a challenge.
Then there are people like Mr Uppity (Scott Lelievre), a local DJ and producer who will be playing at the Havana pool party tomorrow. Whenever he hears a song he wants to remix, the tempo doesn't matter — he knows he can make it work.
"I hear tracks ranging from The Beatles to Bel Biv Devoe to Men Without Hats and I tell myself, 'I'm gonna house that,'" Uppity said in an e-mail interview. "I start by chopping out key vocals and sounds. The breaks and bass lines come next. Then I time-stretch the vocals so that it doesn't sound like The Chipmunks. Most of the 40-plus tracks I have made have recognizable vocals from classic tracks and even movie quotes."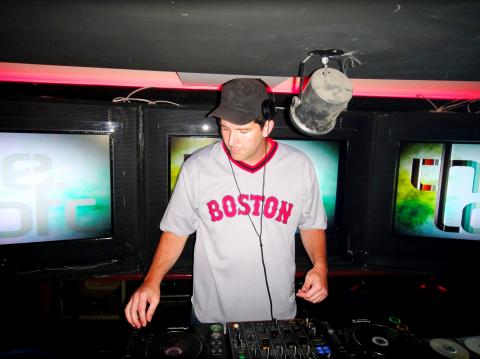 Mr Uppity wants you to get down tomorrow at the Havana pool party.
Photo courtesy of Mr Uppity
Even though it's all he plays nowadays, Uppity hasn't always been a house head.
"I started deejaying in 1999 and pretty much love all pre-2000 hip-hop and have doubles of it all on vinyl," he said. "I stopped playing it when the Soulja Boy dance took off because that killed hip-hop for me for a while."
After seeing legends like Derrick Carter, Mark Farina, Honey Dijon and Green Velvet play in Canada and New York City, house music grew on Uppity. When he moved to Taipei a year and a half ago with a girlfriend, he didn't plan on deejaying because he thought he would only be here six months.
"All my equipment and vinyl records are at home collecting basement dust," Uppity said. "The thing with the girl failed and Lorenzo [Pierucci] gave me a Wednesday spot at Luxy, which turned into a five times a month gig there for about seven months. Now I play at Marquee a few times a month, thanks to Anti Hero, who went to my high school."
The music played at the clubs in Taiwan surprised Uppity when he started going out. "The scene in Taiwan is too trancey and mainstream, but mainstream means more people like it so I guess I am the weird one out," Uppity said.
With a unique taste in music and a disdain for anything pop-ish, Uppity is carving his own way. "I love live instrument samples like guitars, pianos, and pretty much anything brass," Uppity said.
But don't expect him to play your song.
"I am a no-requests and I-got-nothing-you've-heard-of-anyways house DJ. My sets are Guetta-free with up-tempo beat grinders and melodic classics."
Uppity plays an early evening set at Frog in a Sock's Havana pool party tomorrow at the Taipei Country Club, 1 Qingyun St, Taipei City (台北市青雲街1號). From 11am until 9pm. Free entry from 11am until 1:30pm. After 1:30pm, admission is NT$250 for women and NT$350 for men, which includes one margarita. On the Net: www.froginasock.com.tw.
Comments will be moderated. Keep comments relevant to the article. Remarks containing abusive and obscene language, personal attacks of any kind or promotion will be removed and the user banned. Final decision will be at the discretion of the Taipei Times.