The magnificent seven
The I Dreamed a Dream 100 Concert brings together seven of the nation's top performers to celebrate the ROC's centennial anniversary
In celebration of the 100th anniversary of the founding of the Republic of China, the ROC Centenary Foundation (中華民國建國一百年基金會) will orchestrate a four-hour concert titled I Dreamed A Dream 100 Concert (聽見未來.夢想一百.演唱會) at Kaohsiung National Stadium (高雄國家體育場) on Nov. 12.
With a reported NT$50 million invested in it, the unprecedented event will be the "largest-scaled Mando-pop concert in history," according to the China Times. The event will accommodate 35,000 audience members at the stadium and be broadcast on TVBS the next day.
"Pop music is a cultural element that the public adores and is familiar with; it's the musical common denominator that people use to express their dreams and thoughts," Council for Cultural Affairs Minister Emile Sheng (盛治仁) told the Taipei Times in an e-mail. "We hope to convey to the world how Taiwanese people are flourishing in this democratic nation and are expressing their joy through pop music."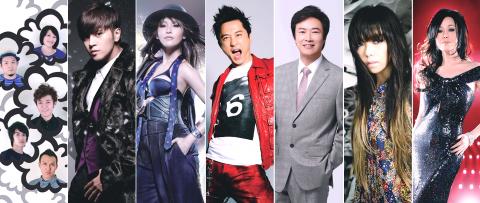 From left to right: Sodagreen, Show Luo, Elva Hsiao, Harlem Yu, Fei Yu-Ching, A-mei, and Jody Chiang.
Photo courtesy of Republic of China Centenary Foundation
The concert boasts a stellar roster of seven heavyweights: A-mei (aka Chang Hui-mei, 張惠妹), Elva Hsiao (蕭亞軒), Show Luo (羅志祥), Harlem Yu (庾澄慶), Sodagreen (蘇打綠), Jody Chiang (江蕙) and Fei Yu-Ching (費玉清). Fei will serve as the opening act, with A-mei performing the finale.
"We selected these seven acts because they are the most representative singers across the spectrum," concert director Linda Chuang (莊佩禎) told the Taipei Times on Tuesday. "Needless to say, A-mei is the most iconic of Taiwan's pop divas; and Elva and Show represent the commercial and popular taste. Jody caters to the Hoklo [commonly known as Taiwanese] audiences, while Fei delivers the timeless classics of Mando-pop oldies. Sodagreen offers a taste for the culturati and the indie spirit."
Sheng highlighted the country's role in the region's music industry.
"Taiwan's music industry has been the pioneer and leader in the global Mando-pop world; pop music carries the significance of cultural evolution," he said. "With this concert, we want to use music to connect Taiwan's past, present and future to sing about the deepest voices from the different eras of Taiwan."
Publication Notes
PERFORMANCE NOTES
WHAT: I Dreamed a Dream 100 Concert (聽見未來.夢想一百.演唱會)
WHEN: Nov. 12 from 6:30pm to 10:30pm
WHERE: Kaohsiung National Stadium (高雄國家體育場), 200, World Games Blvd, Zuoying Dist, Greater Kaohsiung (高雄市左營區世運大道200號)
ADMISSION: Tickets are NT$250 to NT$1,200, available through Kham Ticketing System (寬宏售票系統) at www.kham.com.tw or by calling (07) 780-9900. Tickets between NT$800 and NT$1,200 are sold out, seats from NT$250 to NT$600 are still available
On the Net: taiwanroc100.tw/100concert
Comments will be moderated. Keep comments relevant to the article. Remarks containing abusive and obscene language, personal attacks of any kind or promotion will be removed and the user banned. Final decision will be at the discretion of the Taipei Times.