Movie review: You are the Apple of My Eye 那些年,我們ㄧ起追的女孩
Best-selling writer Jiubadao's feature debut revisits a tale of puppy love from the author's youth
Puppy love, hormones and masturbation are what being a teenager is all about, so it's not surprising they play prominently in best-selling writer Jiubadao's (九把刀 or "Nine Knives") feature debut about his adolescent years.
You Are the Apple of My Eye (那些年,我們ㄧ起追的女孩) is based on a real-life romance that took place back when the novelist was still known by his real name, Giddens Ko (柯景騰). The highly anticipated movie is guaranteed to be a hit with Jiubadao's readers and others who have an appetite for a bit of juvenile fun.
Newbie actor Ko Chen-tung (柯震東) plays Ko-teng, a teenage boy whose life revolves around hanging out with school buddies and goofing off. But there is one thing Ko-teng does not understand about his mates: They all have a crush on Shen Chia-yi (Michelle Chen, 陳妍希), an honor student in their class.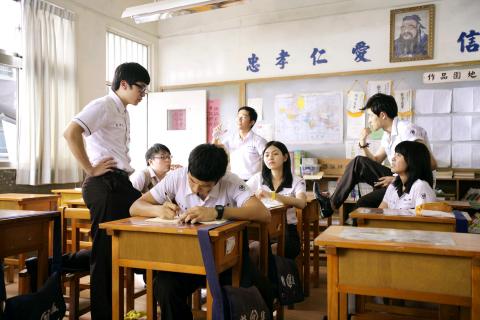 You Are the Apple of My Eye rages with hormones.
Photo Courtesy of Sony Music Entertainment Taiwan
When the teacher asks Shen to keep an eye on the prank-loving boy, he falls for her too. The pair are drawn to each other, and yet Ko-teng, afraid of being rejected, cannot bring himself to ask Shen to be his girlfriend.
Their love continues after the two go to different colleges until one night, a big fight puts an end to their youthful romance. Several years later, Ko-teng, now a writer, and his high school mates watch Shen walking down the aisle with another man, appearing as beautiful as they remember.
With a well-selected cast and a brisk pace, Jiubadao's polished freshman effort manages to keep up a high level of energy throughout, frequently brandishing boyish humor that often involves a fixation with the male sex organ. One amusing example is a fantasy sequence in which the boys masturbate in a dance number while a teacher shows off some sexy moves in front of the class.
Although the penis jokes can get a bit tiring after a while, the director deserves a special mention for capturing adolescent urges with a fun, manga-esque punch.
The puppy love story would be less convincing if not for the two leading actors, who convey youthful innocence with what appears to be little effort. Jiubadao's on-screen alter-ego Ko Chen-tung arrests attention with his charisma, and the up-and-coming Chen emerges from her supporting role in the romantic comedy Hear Me (聽說, 2009) as another one to watch.
The movie is at its best when it reminds viewers of their own lost youths. The 33-year-old director has repeatedly said it is like a time machine that takes him back to the past, and insisted on shooting the film at his old high school in Changhua.
One's adolescence is a rich source of inspiration to many filmmakers. Think Tom Lin Shu-yu (林書宇) and his autobiographic debut feature Winds of September (九降風, 2008) and Lin Yu-hsien's (林育賢) Jump Ashin! (翻滾吧!阿信), which is currently showing in theaters. You Are the Apple has potential but lacks the much-needed association of the personal with the collective that makes the other works shine.
Still, the film could be another feather in the cap for Jiubadao, as it appears the author has created a summer blockbuster. Since its soft opening on Friday last week, both the Liberty Times (the Taipei Times' sister newspaper) and the Apple Daily have reported that the film has pulled in more than NT$20 million, making it the first Taiwanese film to do so before its official opening today.
Publication Notes
Film Notes
You are the Apple
of My Eye 那些年,我們ㄧ起追的女孩
Directed by: Jiubadao (九把刀)
Starring: Ko Chen-tung (柯震東) as Ko-teng, Michelle Chen (陳妍希) as Shen Chia-yi, Steven Hao (郝劭文) as A-ho, Ao-Chuan (敖犬) as Tsao, Yen Sheng-yu (鄢勝宇) as Boner, Tsai Chang-hsien (蔡昌憲) as Groin, Hu Chia-wei (胡家瑋) as Wan Wan
Running Time: 109 Minutes
Language: Mandarin with Chinese and English subtitles
Taiwan Release:Currently Showing
Comments will be moderated. Keep comments relevant to the article. Remarks containing abusive and obscene language, personal attacks of any kind or promotion will be removed and the user banned. Final decision will be at the discretion of the Taipei Times.