Thinking theater
Taipei Arts Festival shows the philosophical side of theater with a lineup featuring works by prominent international artists who might otherwise go unnoticed in Taiwan
A choreographer who dissects his practice with computing tools. A character loosely based on the great philosopher Ludwig Wittgenstein. These figures epitomize what the Taipei Arts Festival (臺北藝術節) wants to do this year with its lineup of performances and exhibitions by international heavyweights who rarely, if ever, come to Taiwan.
"Theater is a total art. It constantly fuses with other arts like literature, architecture and visual arts. This year [at the festival], it is fused with philosophical thinking," said Victoria Wang (王文儀), Taipei Arts Festival's executive director.
The performing arts fest opened yesterday with a sold-out production of Ritter, Dene, Voss by the Narodowy Stary Teatr from Poland. Penned by provocative Austrian writer Thomas Bernhard in 1984, the plot involves an attempt by two sisters to bring their brother Ludwig, a fictional representation of Wittgenstein, home from a mental sanatorium. It is presented in only three scenes, which take place before, during and after lunch.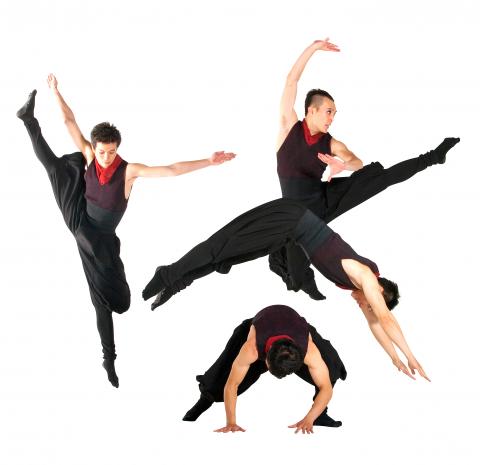 Eastern Tale is a collaboration between Dance Forum Taipei and the Taipei Chinese Orchestra.
Photo Courtesy of Hsu Pin and Yan Han-cheng
"The forms and formats we used for the past few editions of the festival were young and trendy," Wang said. "For example, there were lots of video and cross-disciplinary works. We attracted theatergoers with big names and young productions. Having expanded the audience size, this year we hope to return to the type of theater people almost forget."
With Ritter, Dene, Voss, local theater fans can finally savor the work of director Krystian Lupa, who is revered as a leading artist of our time, with their own eyes. The play's three actors are also masterful artists in their own right, having played the three siblings since the company first staged the play in 1996. Lupa will hold a talk after the performance on Sunday.
The name William Forsythe may sound more familiar to local audiences, as the Bavarian State Ballet brought the world-renowned choreographer's 1990 Limb's Theorem to Taipei five years ago. This time, however, Forsythe's choreography is not performed but rather studied, analyzed and conceptualized through a series of exhibitions the artist curated specifically for the festival. For example, videos of three dance pieces — Antipodes I/II, Solo and Suspense — are played in loop on four monitors and used to illustrate the three aspects of motion: "restriction of motion, un-restriction of motion and artificial motion," according to the festival pamphlet.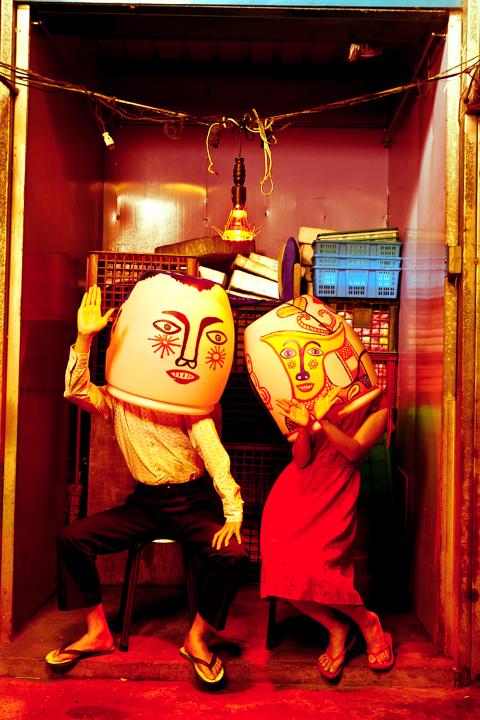 Who's Hung Tung by The Puppet and Its Double Theater.
Photo Courtesy of Chen Yu-wei
Also on the festival bill is Nowhere and Everywhere at the Same Time, which emphasizes the act of creating by inviting audiences to move in between 400 pendulums hanging from the ceiling. American artist Brock Labrenze, who collaborated with Forsythe on the project when it premiered in 2005, will be on the site from 4pm to 8pm Thursdays to Sundays during the festival period creating new works.
Perhaps the most ambitious festival item is Synchronous Objects, through which Forsythe asks a question: "What else, besides the body, could physical thinking look like?" He finds his answer in the project that the Forsythe Company co-developed with the Advanced Computing Center for the Arts and Design and the Department of Dance at the Ohio State University.
Forsythe uses computers to transform his 2000 dance piece, One Flat Thing Reproduced, into intelligible data that is then studied and presented in the form of digital graphics and visuals. The whole project aims to study choreography, or the process of choreographing, as an object that can be dissected into three systems: movement material, cuing (dancers' relationships with other dancers) and alignment (dancers' relationships with space and time). To the artist, the three systems represent the organizing principles based on the concept of counterpoint.
International masters aside, this year's festival pays tribute to two giants in Taiwan's art world who Wang says have slipped off the radar. One is Hung Tung (洪通), a self-taught artist who gained fame in the 1970s. The late painter's colorful creations have been brought back to life by the Puppet and Its Double Theater (無獨有偶工作室劇團).
Directed by Wu Jin-tao (伍錦濤) and starring songstress Christine Hsu (許景淳), The Dreamy Fallacy is a musical production weaving together 29 Taiwanese poems and 29 songs by legendary musician and composer Lee Tai-hsiang (李泰祥), who has suffered from Parkinson's disease for more than 20 years.
But the 13th edition of the Taipei Arts Festival is not all about serious thinkers and timeless masters. Xarxa Teatre from Castellon, Spain, will bring its Valencian pyrotechnic celebration to the outdoor plaza in front of Taipei City Hall (台北市政府) on Sept. 3 and Sept. 4. The troupe's free double-bill performances are exhilarating spectacles that mix together fireworks, street theater and live music.
Most of the festival productions are accompanied by pre-performance talks and/or after-performance discussions. There will also be a panel discussion about Forsythe's exhibition tomorrow at 10:30am at Warehouse 4 at Songshan Cultural and Creative Park (松山文創園區). A former tobacco factory built during the Japanese colonial era, the park is listed as a place of historical interest by the Taipei City Government and is being opened to the public for the very first time in conjunction with the festival.
"Performing arts are not limited to the stage ... As a city art festival, our choices of venue are not theaters but the whole city," Wang said. "People will remember they once saw such-and-such performances in different parts of the city. I think it is an experience a metropolitan audience should have."
Publication Notes
Festival Notes
What: 2011 Taipei Arts Festival (第13屆臺北藝術節)
When: Through Sept. 4
Where: Warehouse 4 (四號倉庫), Songshan Cultural and Creative Park (松山文創園區), 133 Guangfu S Rd, Taipei City (台北市光復南路133號) and Zhongshan Hall (台北市中山堂), 98 Yanping S Rd, Taipei City (台北市延平南路98號)
Admission: Tickets for festival shows are available through NTCH ticketing. Call (02) 3393-9888 or visit www.artsticket.com.tw
On the Net: www.taipeifestival.org (Chinese and English)
Comments will be moderated. Keep comments relevant to the article. Remarks containing abusive and obscene language, personal attacks of any kind or promotion will be removed and the user banned. Final decision will be at the discretion of the Taipei Times.