Restaurant review: Lacuz Thai Fusion Cuisine
Located near Zhongxiao Dunhua MRT Station (忠孝敦化捷運站), Lacuz Thai Fusion Cuisine offers an enticing proposition — Thai food that costs just NT$450 to order an all-you-can-eat selection from 65 options. (You can also pay NT$390 to select from a 38 item menu.) The array of dishes offered is extremely broad and the quality varies widely, but when the food is good, it is very good.
At Lacuz, you order from a menu instead of serving yourself from a buffet, which prevents the chaotic crowds and feeding trough atmosphere seen at many all-you-can-eat restaurants while allowing you to choose the spiciness of your dishes. The restaurant's busy servers are attentive once you flag them down, but the best thing to do is to get as many dishes as possible in your first round of ordering; otherwise, you might be in for a long wait. Each plate is very small, which allows you to sample many flavors without leaving uncomfortably bloated.
First off, the dishes you can skip to save space in your stomach for worthier options. The pineapple fried rice could not decide if it wanted to be an entree or dessert. In addition to chunks of the fruit and the cashew nuts usually found in the dish, Lacuz's version also included a lot of raisins and very sweet rousong (肉鬆), or dried pork floss. All it needed was some coconut milk to turn it into a pudding.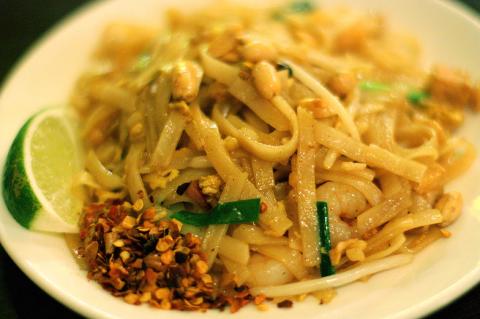 Lacuz Thai Fusion Cuisine is an all-you-can-eat restaurant that manages to avoid making diners feel like pigs at a trough.
Photo: Catherine Shu, Taipei Times
(Raisins seem to be a signature Lacuz vice. On a recent visit to Lacuz's sit-down restaurant in the Bellavita shopping mall, my friend and I also had to pick tonnes of the dried fruit out of an otherwise excellent fried rice).
The best part of the deep-fried shrimp cake was its sweet and sour dipping sauce. The shrimp cake itself was not served hot and did not taste freshly made. Our deep-fried chicken in curry sauce was fine, but the curry was bland and not spicy at all.
Lacuz's must-order dishes include the steamed sea bass, which was served whole on a small chaffing dish. Cooked in a fantastic lime and garlic sauce, the mellow-tasting meat was tender and easy to slip off the bone. The deep-fried shrimp rolls are served in a few tiny pieces to an order, but they are so packed with flavor in their crispy skins that just a few bites is enough.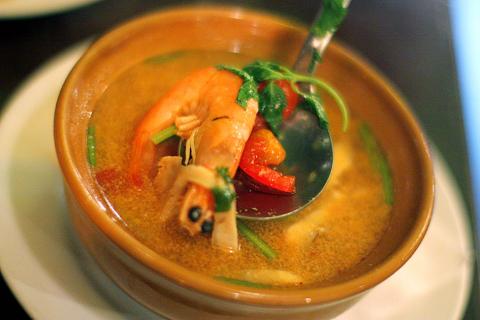 Lacuz Thai Fusion Cuisine is an all-you-can-eat restaurant that manages to avoid making diners feel like pigs at a trough.
Photo: Catherine Shu, Taipei Times
The small portion of papaya salad was a refreshing counterpoint to our more flavorful, oilier entrees, while our other cold dishes, like the century egg salad (just a couple of slices of egg topped with a sweet and sour sauce) and raw prawns with chopped raw garlic and chili, were also good.
Lacuz's pad Thai (called stir-fried kway tewo Thai style on the restaurant's English menu) is plated in an unappealing lump, but the firm rice noodles were the right texture and the lime juice and chili sauce were delicious. A refreshing tom yum shrimp soup was a good final dish and our dessert, included in the all-you-can-eat price, was a little bowl of black pudding rice with coconut milk.
The reason for Lacuz's 10 percent service charge is a bit of a mystery, considering that the servers only showed up at our table after we vigorously flagged them down. We were served the wrong dish two times during our dinner. On the other hand, all of our small plates arrived quickly and our waiters, when we did see them, were very easygoing as they patiently helped us navigate the huge menu.
Publication Notes
Lacuz Thai Fusion Cuisine
Address: 29, Ln 236, Dunhua S Rd Sec 1, Taipei City (台北市敦化南路一段236巷29號)
Telephone: (02) 2771-2033
Average meal: NT$390 to choose from a 38 option menu, NT$450 for 65 options. Lacuz's weekday lunch special is NT$250 for the smaller menu, NT$390 for the larger one. A 10 percent service charge is added to each bill
Open: Daily from noon to 3pm and 6pm to 1am
Details: Chinese and English menus, credit cards accepted
On the Net: www.lacuz.com.tw
Comments will be moderated. Keep comments relevant to the article. Remarks containing abusive and obscene language, personal attacks of any kind or promotion will be removed and the user banned. Final decision will be at the discretion of the Taipei Times.