Two friends, one Revolver
Though it became a nightlife hot spot a while ago, Revolver is just getting round to throwing an official opening party
The owners of Revolver — part pub, part nightclub, part pool room, and part live music venue — are finally having an official opening tomorrow, a mere seven months after they started doing business at what has become one of Taipei's rowdiest party places.
Aptly called Better Late Than Never, admission will be free — customers will even get a complimentary drink — and entertainment will include music from flamenco jam band Alma Itana and cover band Funky Brothers, rhymes by LEO37, and horn-heavy ska from Skaraoke. The night concludes with DJ Marcus Aurelius and DJ Twohands spinning until late.
Why such a long wait?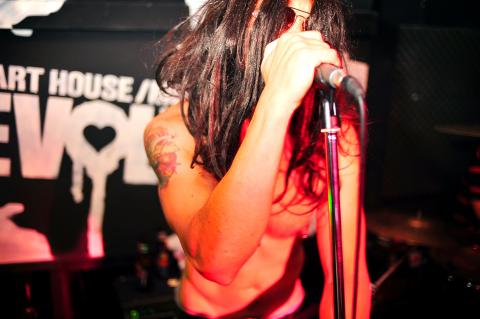 Black Sabbath tribute band Into the Void performs at Revolver on June 25.
Photo: Steve Vigar
"We didn't have any money at the time," co-owner Jez Gray told the Taipei Times last week. "This is our way of saying 'thank you' to close friends, DJs, promoters and bands for helping us out now that we are in a position where we can throw a free party and give away free drinks."
Business partner and friend of eight years Leeroy Ransom, who hails from British beach town Brighton, had been looking at places to open a restaurant when the opportunity came to snap up the three-story club, which was still operating as The Source at the time. "We had sat a few times saying, 'Wouldn't it be great if Taipei had a bar like Brighton,'" which Ransom describes as "the San Francisco of England."
He convinced Gray, who had worked in and managed bars for 14 years back in England, to come to Taiwan. "I thought long and hard, did a bit of research, got accountants and lawyers and I told Jez 'We're opening a bar in Taipei,'" Ransom said. "Between the time the idea happened and when we opened was two months … That was crazy. We went almost mental."
Though the two changed the appearance more than the structure, they did the work themselves. Gray, who has carpentry experience, built the stage and back bar, while Ransom used his design experience to work on the interior and his artwork to adorn the walls.
The pair said they aimed for the kind of place that they would want to drink in. "We wanted to create somewhere rock and roll," Gray said. "Three stories, crazy shit, steer it in a party direction … When the roof is about to go off and it's bumping we love it: people playing pool on the third floor, band on the second floor, pub on the main floor playing funk, and people sitting outside chatting."
They've also been luring the weekday crowd with theme nights: Tuesdays a belly dancer performs and there are drink specials, shisha pipes with flavored tobacco, and Arabic music. On Wednesdays and Thursdays, bands perform on the second floor and there's an NT$150 to NT$300 cover charge.
The last Thursday of the month is their Sit Down and Shut the Fuck Up acoustic night, when they schedule about 10 performers who play three songs each. Weekends feature live bands and DJs.
The layout allows Gray and Ransom to maintain a pub on the main floor that usually has no cover charge, so only people going upstairs to see the acts end up paying.
Now that they have the time, Ransom would like to incorporate "more of an artistic thing, gallery arty-farty parties" into the mix.
"Not pretentious, we like things that have character," Gray said.
Ransom points out that Gray is very opinionated, especially about music. He installed a "no" board above the bar listing music they don't want requested: "No Coldplay, No Oasis," for example. They say they get quite a reaction from Americans: "Oh ma gawd, no Bob Dylan! You've gawt ta be kidding!" says Ransom, doing a passable imitation of an American accent.
"We're proud of how it's turned out," Gray said. "The feeling we want to create encourages the kind of people we want to be here."
Publication Notes
Party Notes
What: Better Late Than Never — Revolver Opening Party
When: Tomorrow from 8pm until late
Where: Revolver, 1-2, Roosevelt Rd Sec 1, Taipei City (台北市羅斯福路一段1-2號), near Chiang Kai-shek Memorial Hall MRT Station (中正紀念堂捷運站) Exit 4. Tel: (02) 3393-1678
Admission: Free entry and one complimentary drink
On the Net: Search for "Revolver Taipei" on Facebook
Comments will be moderated. Keep comments relevant to the article. Remarks containing abusive and obscene language, personal attacks of any kind or promotion will be removed and the user banned. Final decision will be at the discretion of the Taipei Times.