Restaurant review: Mindong Restaurant
明洞館
A recent craving for Korean food prompted an eating spree that saw me popping into a few food courts and eateries including Mindong Restaurant, a fixture on the capital's dining scene for more than a decade. Judging by the big crowd and bustling atmosphere on a recent weekend night, it remains as popular as ever.
Foodies come for the long list of Korean staples such as barbecue and "Korean pancakes." Others are attracted by its celebrity clientele, such as pop stars including Jay Chou (周杰倫) and Stanley Huang (黃立行), who have signed their names on the wall.
Diners who wish to enjoy a slow meal should steer clear of the hot spot, but my dining companions and I appreciated the waitstaff's lightning-fast efficiency when we arrived on a Saturday night, starved and eager to try as many items on the menu as we could. Before long, our table was covered by a dazzling arrangement of dishes, leaving little room for the soju (NT$300 to NT$350 per bottle) we ordered.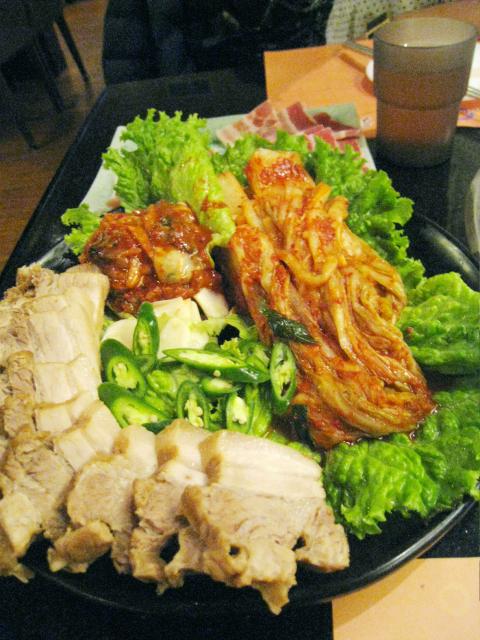 The kimchi pork roll, one of Mindong's highlights.
Photo: Ho Yi, Taipei Times
The kimchi pork roll (泡菜肉捲, NT$480), a Mindong highlight available only on weekends, impressed with its colossal serving of raw oysters, kimchi and pork streaked with white fat. The dish burst with the flavors of garlic, green chili and chili paste wrapped in kimchi, while the meat had a melt-on-the-tongue tenderness. The rich combo was a little too much for me after one roll, and was definitely cloying after two.
Chuncheon fried chicken (春川炒辣雞, NT$600) turned out to be our favorite. A platter of cabbage, carrot, rice cake, sweet potato chunks and marinated chicken was assembled into an appetizing hodgepodge on a grill built into the dining table. Everything can be eaten with lettuce, which comes in unlimited supply. The red sauce made the dish appear fiery hot, but it was in fact pleasantly mild, with just a hint of chili.
Our barbecue items included marbled beef (上等肥牛, NT$270) and streaky pork (豬五花肉, NT$260). Wrapped in crisp lettuce with slices of garlic, green chili and sauteed onion, the beef was luscious with a proper amount of fat. The chewy pork, on the other hand, failed to impress. Diners with a big appetite can try one of the restaurant's beef assortment plates (NT$650 and NT$880), or seafood combos (NT$650 and NT$880). Vegetable choices include green pepper (NT$60), onions (NT$60), a selection of mushrooms (priced between NT$60 and NT$120) and greens (蔬菜總匯, NT$270).
Mindong's rendition of seafood pajeon (海鮮煎餅, NT$280), or Korean pancake, has a relatively thick and moist batter filled with shrimp and squid. The rice in the dolsot bibimbap (石鍋拌飯, NT$200) — or hot stone bowl of rice topped with vegetables, eggs and meat — was cooked to a perfect golden brown and crunchiness on the bottom.
If the hearty Korean fare is a bit too heavy, the ginseng chicken soup (人蔘雞湯, NT$600) is a good choice to sooth the stomach with its light, savory broth seasoned with Chinese herbs.
Mindong has another location at 40-2, Ln 223, Zhongxiao E Rd Sec 4, Taipei City (台北市忠孝東路四段223巷40號之2). Tel: (02) 8772-3319.
Publication Notes
Mindong Restaurant
明洞館
Address: 4, Alley 5, Ln 107, Fuxing S Rd Sec 1, Taipei City (台北市復興南路一段107巷5弄4號)
Telephone: (02) 2773-6949
Average meal: NT$700
Details: Menu in Chinese and Korean, credit cards accepted
Open: Monday to Friday from 5:30pm to midnight, Saturday and Sunday from 11:30am to 2:30pm and 5:30pm to midnight
On the Net: www.mindong.com.tw
Comments will be moderated. Keep comments relevant to the article. Remarks containing abusive and obscene language, personal attacks of any kind or promotion will be removed and the user banned. Final decision will be at the discretion of the Taipei Times.