Music: On the side of angels
Some forlorn souls turn to the bottle, others favor the psychoanalyst's couch. But pop newcomer Henry Tseng (曾昱嘉) has a healthier, and cheaper, alternative: his music.
"My songs are sad but ultimately therapeutic," Tseng told the Taipei Times in a phone interview earlier this week. "I hope they will give listeners the strength to stand up again."
The rising star performs a solo concert at Riverside Live House (西門紅樓展演館) tomorrow night.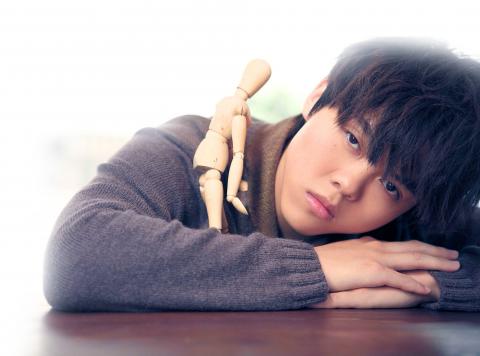 Henry Tseng extends his helping hand tomorrow at Riverside Live House.
Photo Courtesy of Seed Music
Tseng won the fourth season of the hit TV talent show Super Idol (超級偶像) last year. His debut album Listen, 10 delicately crafted gems about romantic obsession and the ability to survive heartbreak, received plaudits when it was released in December.
"These 10 songs tell 10 different love stories," Tseng. "I hope audiences will find their own stories in these songs."
In contrast to the more explosive vocals usually associated with male Mando-pop singers, Tseng's delicate and emotionally charged delivery is similar to that of Maggie Chiang (江美棋) and Fish Leong (梁靜茹).
"In private, I'm pretty silly and outgoing," he said. "But to sing, I draw on my sensitive side."
In the music video to Not Enough Tears (眼淚不夠), the second single release from Listen, Tseng portrays an angel who descends to Earth to collect people's tears and thus take their sadness away.
"My role as a singer, as I see it, is to help people shed their tears and renew their faith in life," Tseng said.
He cites Eason Chan (陳奕迅) as his favorite singer. "The best singing is not about technical prowess," he said. "It's about conveying emotions and allowing people to reminisce and make peace with their life experiences."
In order to realize his dream of becoming a pop star, Tseng shed 15kg, dropping from 85kg to 70kg within three months, while competing on Super Idol.
"I was in a rush to lose weight and didn't do it so healthily," Tseng said. "But I encourage people to lose weight in a healthy way, with a balanced diet, exercise and lots of water."
Publication Notes
PERFORMANCE NOTES:
WHAT: Henry Tseng solo concert
WHEN: Tomorrow at 8:30pm
WHERE: Riverside Live House (西門紅樓展演館), 177 Xining S Rd, Taipei City (台北市西寧南路177號), tel: (02) 2370-8805. On the Net: www.riverside.com.tw
ADMISSION: Tickets are NT$600 in advance, available online at www.riverside.com.tw or through 7-Eleven ibon kiosks, or NT$700 at the door
ON THE NET: a-ga.freebbs.tw
Comments will be moderated. Keep comments relevant to the article. Remarks containing abusive and obscene language, personal attacks of any kind or promotion will be removed and the user banned. Final decision will be at the discretion of the Taipei Times.